It's immensely exciting how much potential lies in digital signage in sports bars or large venues. Even when used to a minimal extent, sports fans will pay great attention to the content on screen. They've become a standard part of the experience, after all. Of course, the overwhelming majority of the content on these displays needs to be focused on sports to have this effect.
Naturally, this doesn't mean other content is off limits, but it's vital to balance the two and maintain the best experience for the audience. Here are some of these uses, both sport and non-sport related. It's up to you to identify which is useful to your particular context, and to which extent. 
Deploy digital menu boards
Nobody comes to a sports venue solely for the food and drink. And yet, these two are key elements in having a good time here! While your patrons will more than likely place an order for both, they don't really need to go through an overly extensive choice of selection or description thereof.
A digital menu board, ideally with mouthwatering images, is the perfect way to deliver appetizing product information without any fuss. Apart from the visually appealing delivery, they're also valuable for updating your content. If an item runs out due to high demand it's a breeze to swipe it off the menu. This also goes for pushing featured offers or discounts on food and drink combinations, especially if you notice a certain product is selling particularly well for certain sports fans, at certain types of events, or even throughout the day. 
When facing high traffic, use interactive digital menus through touchscreens or QR-codes to enable patrons to place orders as soon as they arrive. This is particularly useful in the middle of a big sports event to ensure orders are coming out hot and as fast as possible.
Broadcast third-party advertisements
Big sports venues have become known for sponsors and expensive advertisements. Of course, this, too, can apply for smaller venues which don't have Superbowl-sized resources. If there is enough viewership at your venue or bar, consider incorporating sponsored ads. Of course, as long as you don't go overboard, deploying ads in-between key breaks will typically be well embraced by your audience.
Deploy your own ads and content
Third party ads are a great way to establish an additional source of profit. On the other hand, creating and deploying your own content is an excellent use of your digital displays. As stated above, occasional ad breaks will usually be accepted by the audience. Though, by deploying your own ads from time to time, you reap a benefit of a different kind! 
An advertisement for an upcoming event will bring today's patrons back to your venue and gradually strengthen customer loyalty. Consider other ad ideas, such as upcoming local events, thematic gatherings, pop-up concepts, or events your venue is catering for, as well as featured drinks, tap takeovers, or other products, for instance. 
Give everyone at the venue a front row seat
Digital signage in larger sports venues can deliver a close look at the action to every viewer of the audience, regardless of their location. Of course, nothing beats actually sitting in the front row and watching the action up close. But digital displays can enhance the experience by using it to feature highlights and replays of key moments. Here's one astonishing example of a sports venue display in use. 
Furthermore, using a multitude of displays in such a way allows you to create a certain distance between the patrons, preventing the need for all of them to rush to one hotspot. Even if the place is smaller, having multiple displays can ensure everyone has a great time without piling in front of just one screen. Of course, having just one screen is acceptable, as long as it's large enough for everyone to see. So, set up the big screen to make sure every patron gets a clear view of the action.
Having a multitude of digital displays also has the added benefit of obtaining score information, remaining game time, information about a particular team or player—all of which could be obtained through interactivity, if you opt for it—as well as any announcements you have for the audience.
Engage the fans
Sports fans are some of the most passionate people on the planet! When it comes to big sports events, everyone goes to social media to express themselves. This is the perfect opportunity to feature some of that content on your displays and connect. Of course, it would be wise to review the posts first before deploying them, keeping the aforementioned passion in mind. 
You can do this by posting social media walls to your displays via digital signage apps. Another neat idea is to set up a hashtag via which users can share their experiences and thoughts to your displays. There is much potential in combining social media and digital signage in sports venues and bars. One random idea would be to offer discounts for those who post using a specific hashtag.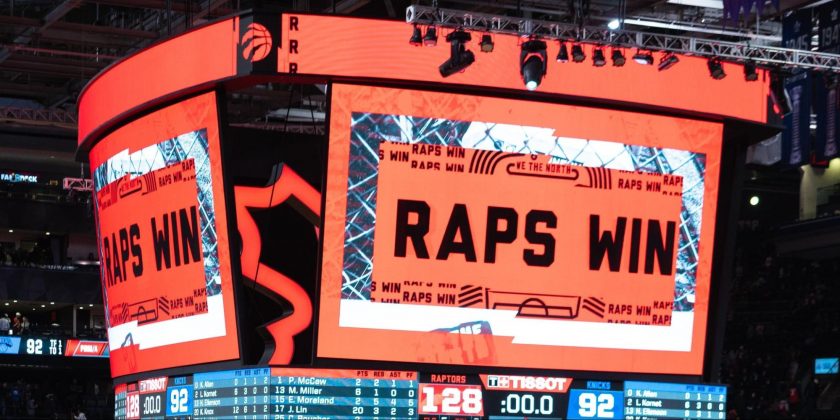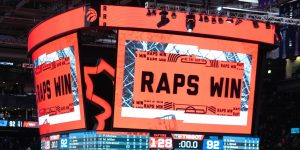 As another treat for the fans, plan out specific content for when a key point in the game emerges. For example, create custom campaigns to deploy to all displays when a certain team wins the match to really create hype at the venue!
Wayfinding
The final feature of this article doesn't really need an introduction, but we shall briefly mention it anyway. Using digital displays for wayfinding is the best feature for larger venues such as stadiums. Firstly, users can navigate to their seats in the midst of a crowd, as well as other key areas. And secondly, in case there is an emergency, digital displays can serve as wayfinding signals! They guide crowds to the nearest safe exit.
Blending all of these features of digital signage in sports venues brings much value. But when you're working with a passionate audience with their eyes locked on the event, you do need to be careful about how you interrupt this attention. Digital signage software like OnSign TV is the perfect tool to ensure content is delivered at the perfect time! Digital signage apps can even be set up to manually interrupt the current content on your displays. Explore other features of OnSign TV entirely for free, with a 14-day trial. No strings attached!