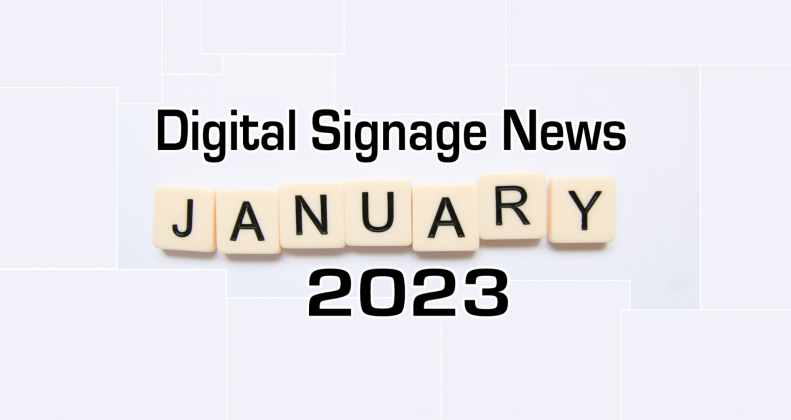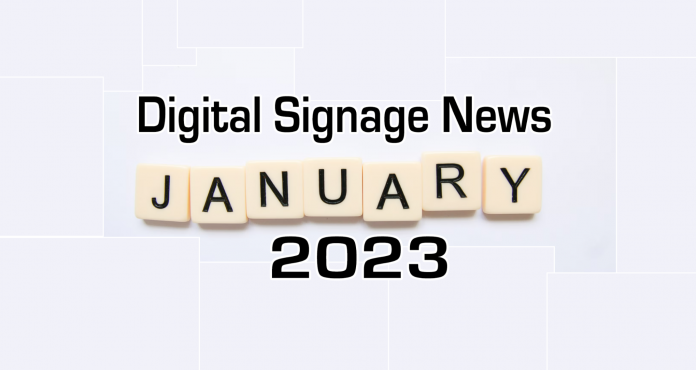 The first month of the new year is already behind us. Recent stats tell us that we may look forward to in the remaining eleven months ahead of us! In this news set we take a closer look at the impact of digital signage and how measurable it is. We'll also examine AI more closely to see if it's a threat to creatives in Out-of-Home advertising. Lastly, ISE 2023 is coming. In case you're attending, we hope you'll stop by the OnSign TV booth and say hello!   
High hopes for 2023
With a brand new year ahead of us, let's take a look at some stats from 2022, and what awaits us in the coming months. According to recent data by media research firm PQ Media, the global digital Out-of-Home media spending grew by 25% in 2022. More specifically for the US, the growth reached a whopping 36.9%. Global digital place-based network ad spend reached 25.7% ($12.29 billion) in 2022. Global digital billboards & signage reached 23.5% ($6.56 billion), driven primarily by healthcare, retail, sports & entertainment, transit, and cinema. 
PQ Media CEO, Patrick Quinn, added that the DOOH industry is expected to continue growing in 2023. This growth will mainly be driven by positive developments returning to the industry, including innovation, creativity, and expansion.
Is the impact of digital signage measurable?
According to a DPAA study from 2021, one in three respondents were unaware that digital Out-of-Home is a measurable asset. While this indicates the majority is familiar with it, it's unlikely they know everything about it. Indeed, digital Out-of-Home can be measured in many ways. Of course, the easiest is the direct approach through engagement, feedback, and tracking direct responses of consumers. In other instances, such as placing highly contextual ads or generating sales on the spot act as clear ways to measure the impact of your digital signage.
Think of the additional possibilities when other digital media channels are integrated with digital signage. In the aforementioned study, researchers concluded that DOOH bolsters many other channels when used in conjunction with them. As a conclusion, they added that "the absence of DOOH may limit the potential performance of other digital channels."
ISE 2023 is here!


In case you haven't noticed, ISE 2023 (Integrated Systems Europe) is just around the corner! From January 31st to February 3rd, ISE showcases the world's leading tech innovations and solution providers. This includes plenty of inspiring and educational conferences, exciting events and unique experiences. If you haven't already, head over to the official ISE website to register for the event.
This year, we're happy to announce that OnSign TV will be exhibiting at the show. If you're attending, drop by! Below is a snapshot of the floorplan and the location of our booth. Over 1,000 exhibitors are registered for the event, with roughly a third of those under the digital signage label. We look forward to seeing you there!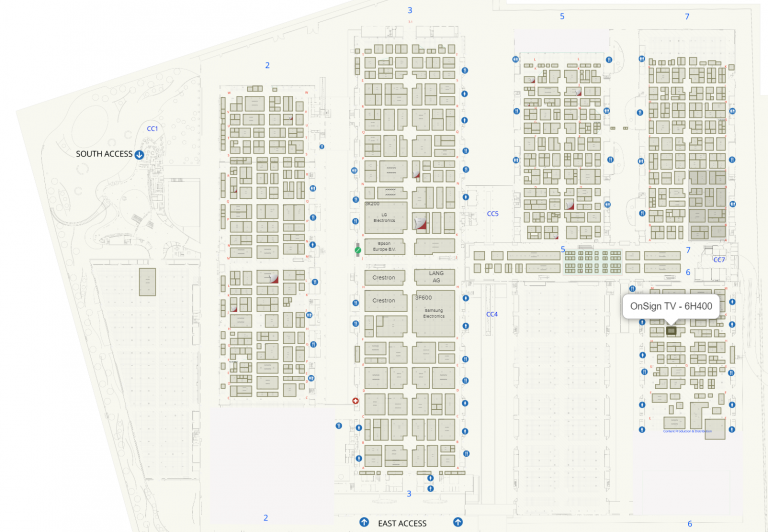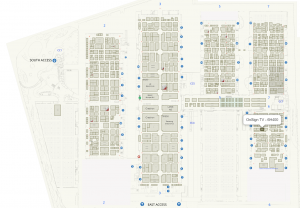 Is AI a threat to creatives in Out-of-Home?
Given the capabilities of AI in generating extremely convincing visuals, one can't help but wonder what this means for industries which rely on those visuals.
On one end, AI is a threat as it may replace the need for human design in certain cases. This applies to creatives who don't have the tools to illustrate well and want a simple solution. Meanwhile, for advanced creatives who formulate ideas superior to those of AI, they are simply irreplaceable. They can create powerful, authentic, human artwork which will always beat anything generated by Artificial Technology. There is also the argument that AI expresses its full potential only once properly driven by skilled artists.
We can conclude that it's important to observe this topic from all possible angles, both the negative and positive ones. For example, take a look at this recent article discussing a few convincing reasons why creatives should be embracing automation, and not shunning it.
Prepare for the rest of 2023!
This month on our blog, we focused on your upcoming plans in 2023 and how to best prepare for the year that awaits.
The year's beginning is also the perfect time to push forward loyalty programs and membership plans via your digital signage. Apart from looking forward and preparing for the future, now is the ideal time to look back at 2022 and see what you can learn from your analytics. Each year, a finite number of events constantly repeat themselves. With this in mind, nothing is stopping you to already begin preparing digital signage content for those events, all the way until the end of 2023. OnSign TV can help you prepare, schedule, or even create content from scratch. Get started!