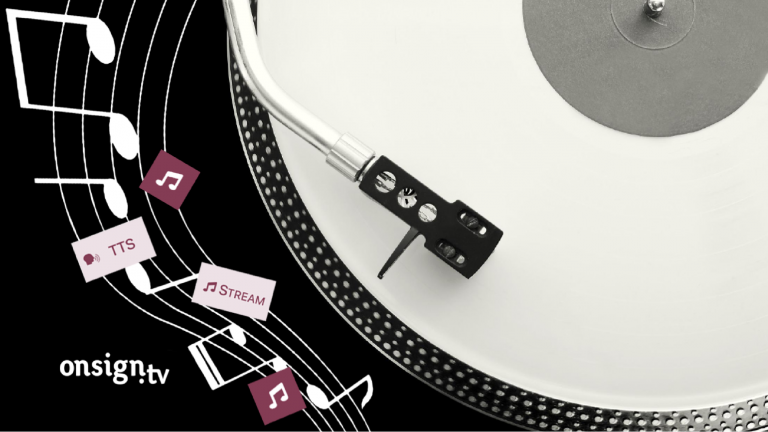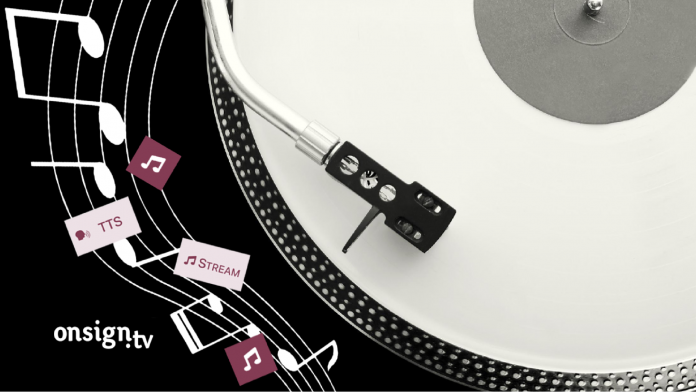 Your digital signage should not rely on audio to deliver a message. Instead, it should be used as a complementary element which enhances the content and the customer experience overall. When building your campaigns, it's possible to add custom audio by using the audio track of your campaign timeline. A menu, for example, can have an accompanying audio announcement of specials, or include mild sound effects to create the perfect shopping accompaniment. Naturally, all audio should be used with care. But you can take it a step further with the audio loop feature.
Deploy audio independently from the main content to create a specific ambiance, play audio announcements to shoppers, or even build your own radio station. Here are some of the best ways to use the audio loop to perfect the customer experience.
What is the Audio Loop?
The audio loop runs independently from your main content. This means you can play audio files and playlists on the audio loop without disturbing your main content. If your main content already has audio in it, you can set the audio loop to gently lower the main volume while it delivers its content. There are quite a few possibilities with this feature, and we'll explore some of them below. 
Meanwhile, for an up-close and personal look into the audio loop—including several step-by-step instructions on how to set up everything mentioned above—check out our Expert Tips video:
Closing time announcements
The audio loop is a great way to quickly deploy audio announcements. For a start, let's focus on the most predictable times in your business. What time periods are fixed in your schedule? Maybe compile a pleasant audio file to announce limited morning offers, announce time of day—noon, for example—the end of a shift or, of course, closing time! 


Using this text-to-speech app—or even by recording your own audio—you can make a special announcement for closing time an hour, 30 minutes, or even 10 minutes before closing. Furthermore, in case there is ever a reason you need to close early, deploy your audio as on-demand. This means it will wait for you to trigger manually whenever it's needed.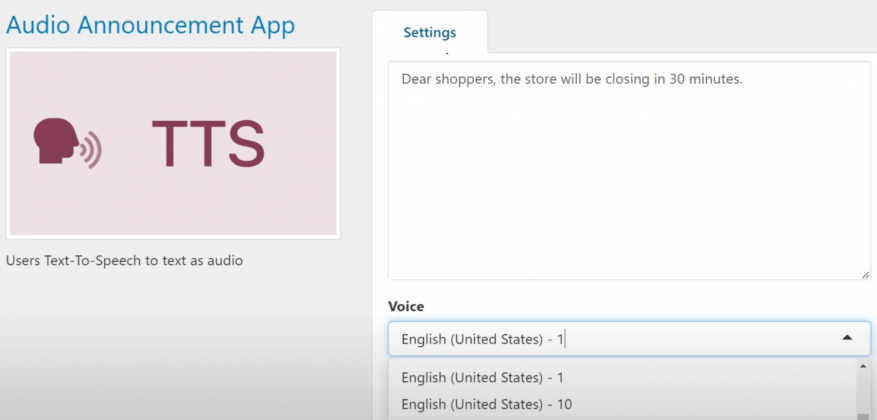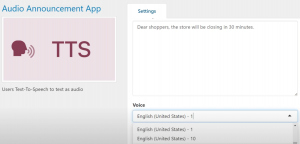 With the text-to-speech app, you don't need a professional audio studio. It has a variety of languages and voices. Play around with the settings until you find a voice you like, and you can even play with the pitch to make it more unique. If by some chance you are not an OnSign TV user yet, you can try the feature out for free in seconds! Make a free account, click on New > Apps, and search for the text-to-speech app called Audio Announcement App.
This text-to-speech app is excellent for scheduling announcements as well as on-demand playback.
Prepare a variety of on-demand campaigns
While we're on the topic of on-demand content, let's explore it. As you know, content you've published on-demand will not trigger immediately. It waits on your player until you manually trigger it. This can be done through pressing the play button next to the on-demand item in your web account, or even through a direct link, if you set this up.


With this in mind, you can prepare a variety of audio announcements for special occasions. The unexpected closing time example above is one idea, but it all depends on what your business needs. Supermarkets, for example, may announce that there is an extra check-out register opening, or call all employees to the cash registers when traffic spikes. Emergency announcements are other valuable assets, for obvious reasons. 
Good practice would be to observe when the need for on-demand announcements occurs in your business, then set them up for the future. With the text-to-speech feature, it's easy to set up your on-demand content in seconds, and save them for future use.
Feature daily offers or fresh deliveries
Set up daily or weekly offers for special discounts or new products. Build an audio playlist containing your announcements for the day, then schedule it to deploy every hour or two throughout the day. As days pass and new offers become available, simply swap out the outdated audio in your playlist with fresh audio which will automatically deploy itself at the scheduled time. 
Fresh deliveries usually arrive on the same days. If this is the case for your business, why not set up an audio playlist announcing this to consumers? These announcements are ideal for stores with perishable goods. Even if the announcement doesn't provoke them to buy right away, consumers will remember at what time of the week your produce is at its freshest.
Build your own radio station
Streaming live radio is very much an option, and a good way to provide background music for your digital signage. Going one step further, using audio playlists, you can build your own radio station which plays music and on occasion streams an audio ad for your customers. 


This involves building an audio playlist which contains two playlists inside. The first contains your music, and the second contains audio ads. Using OnSign TV settings, you can easily set up this radio playlist to play 5 songs, and then an ad or any announcement you want.
Prepare announcements for the holidays
Which holidays are most important for your business? If you run special campaigns during Christmas time, you may want to create some audio playlists specific for that time of year. From a Christmas-inspired radio station to unique promotions and seasonal discounts, everything can be prepared ahead of time. Re-use these campaigns on a yearly basis, or during other holidays.


Special occasion shopping is another big opportunity as people respond to signage which directs them to the ideal gifts. Studies have confirmed this! Accompany your digital displays with an audio announcement to make an even greater impact. Your shoppers will want to know which products you'd suggest as gifts. 
Use restrictions to manage audio times
Lastly, don't forget that OnSign TV offers a variety of ways to schedule and restrict playback. You may want to place restrictions on your audio so it doesn't play during specific hours. For example, you may want to let your digital signage run after closing time. Indeed, there are quite a few benefits for that. But you don't want or need your audio to continue playing in the middle of the night!
As for playing audio during the day, these tips are a great way to start brainstorming on how to best use the audio loop feature in your own business. Lastly, check out more tips on using audio in general with your digital signage.