The power of a good digital signage campaign lies in its message. However, despite having a clear message in mind, it can be a challenge to turn it into content people will understand. Today, we try to make this challenge a bit easier to handle as we take a look at what it takes to create a solid digital signage campaign from start to finish.
We'll provide you with tools, links and tips to find content, transform it into a presentable campaign and publish it to your displays. Below, you'll find categories which need to be met with at least one tool of your choosing. We'll have more than a few for you to try out!
1. Free stock images
Before you can bake a cake, you first need to get all of the ingredients. For digital signage being a primarily visual enterprise, the main ingredient in your campaign is going to be an image or a video. Let's start with images!
Ideally, you could have images which show your own business. For instance, your campaign could portray your restaurant or the food you sell, ensuring people get exactly what they expect to get when they step inside. However, if you currently don't have professional image material, you can always fill the gaps and diversify your content by including stock images. A few years back, when someone said "stock photo" you'd think of them as generic, artificial, and unspecified photos. Today, however, stock pages have evolved quite a bit!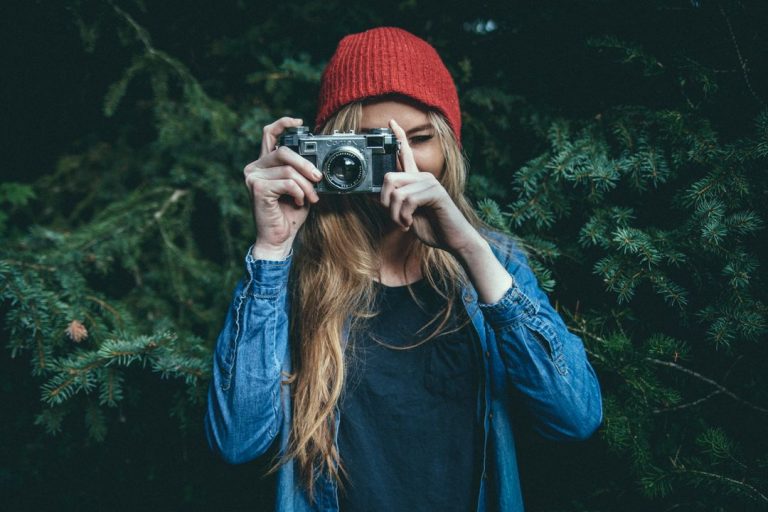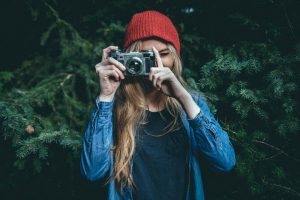 However, do keep in mind that stock photo websites aren't like search engines. They won't always show you the same result, and some pages are better in one category over the other. You can check out collections like Unsplash, Pixabay, Picography, or StockSnap. Another resource you can use is pikwizard. They offer plenty of stock photos in an abundance of categories, but their main asset are images with people in them. However, pay attention to the image licenses listed on the side, specifically the "Editorial use only" license, which you'd unlikely be able to use for most of your campaigns. 
2. Free stock videos
Videos can be a bit more tricky. They're not as quick to make or as small to upload as stock photos, there is definitely a smaller number of stock videos you'll find online. And with that in mind, it can be tricky to find the ideal one suited for your needs. Still, that doesn't mean you shouldn't give it a shot!
Pages with stock photos sometimes also support video content. Take a look at Pexels and Pixabay for a start. You can also check out pages with a special focus on video, like Videvo or Videezy.
Case in point, if this article were a video, we'd showcase video editing which we'll mention later on with a stock video like this:
3. Online/Offline Image editors
So, you've just downloaded a bunch of images to utilize in your campaigns. Keep in mind to be check the image/video usage permissions. The pages we mentioned above will allow you to use them freely without giving explicit credit, but always be sure to double-check!
Now that you have your images, maybe you want to adjust them a little bit, add a logo, cut off certain parts or resize it. Or, perhaps, you want to make more serious changes like adjust the color scheme, warp certain aspects of the image, etc.
Whatever you intend to do with the images you gathered, you'll need an image editor! If you'll edit images frequently, you should certainly find an editor which suits your needs and download it. A great start for example is GIMP. It provides a ton of professional functions, allowing you to adjust your images as you wish. It's as close as you can get to Photoshop for free. Even if you're new to editing, this tool won't take you long to handle.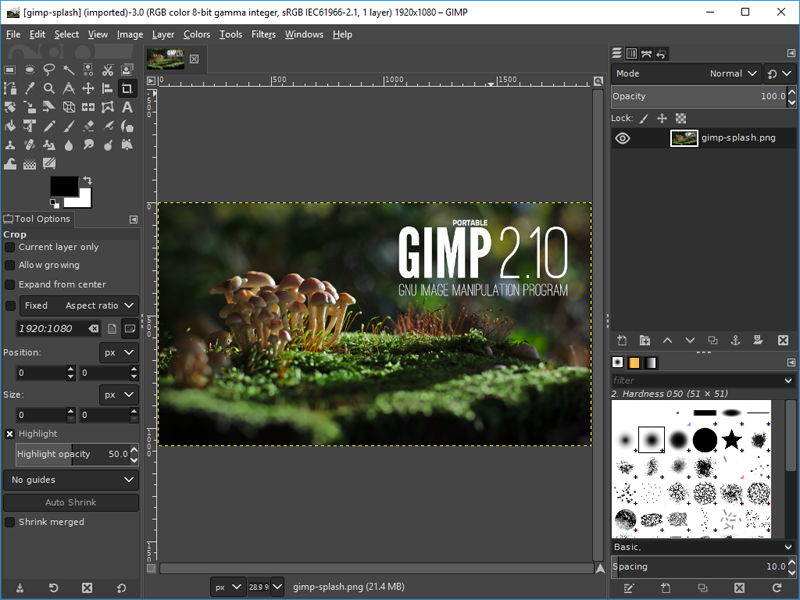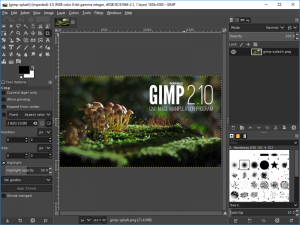 If you find GIMP doesn't suit you, be sure to check out other video editing software you can get for free!
Meanwhile, if you're looking for a quick fix on an image, you might find it a hassle to download software just for one editing session. There are free online editors like Canva which is always a reliable source for creating great layouts and digital fliers, for a start.
BeFunky is another good tool to use online, however, most of its features are accessible only to premium users. Still, there are plenty of options available for free. Take a look and see if it's for you.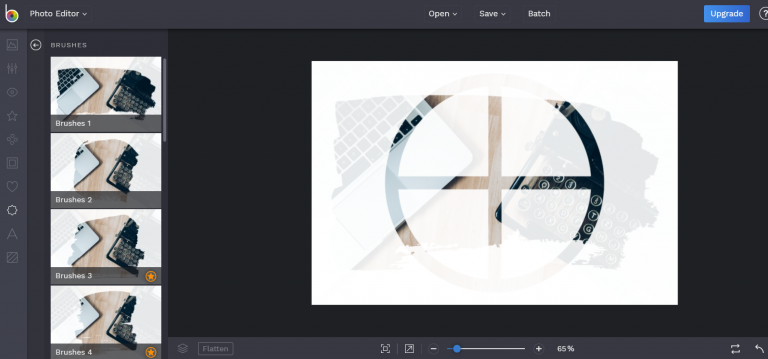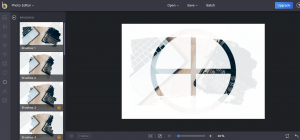 On the other hand, if all you need is a quick re-adjustment of size, with or without some basic text on it, you can always go for the self-explanatory freeonlinephotoeditor.
4. Online/Offline video editors
We've covered images, now let's get into the topic of videos. When it comes to downloadable options, there are plenty!
Blender is a good start, as this video editing tool offers manifold features you'll use for a standard digital signage campaign. However, do keep in mind that if you've never used a video editing tool before, this one may take a bit of time to learn, as it's targeted at somewhat more advanced users. Apart from advanced features like video masking, it allows for basic trimming which is what you'll mainly require.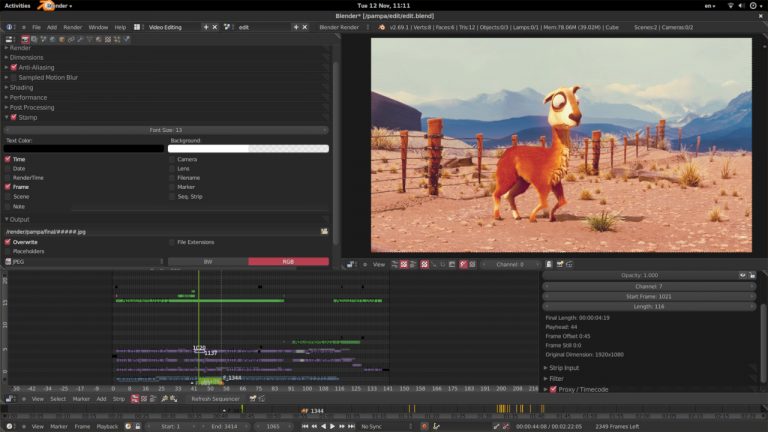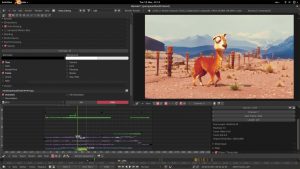 Shotcut is another viable and good option. One of its main advantages is that it supports 4K HD resolution, should you ever need it. When you build digital signage campaigns, it's likely you might!
When it comes to online editors, much like with images, you only want to use them for quick fixes or minor adjustments. For anything more, you should opt to download and install a video editor of your choice. With that said, an online video editor you should take a look at is FlexClip. It's easy to operate, professional, without watermark and free!
More online solutions can be found on this list. Pay attention to the pros and cons: not all editors are free. Therefore, see if you're willing to pay to have access to the features of the particular software. Also, some apply watermarks.
Another great online editor for your digital signage campaigns is ClipChamp. Although it doesn't have super advanced editing, it should suffice for your editing needs. Note that when using the stock content provided by the software, your finished video will have a watermark. But if you use your own content, it won't!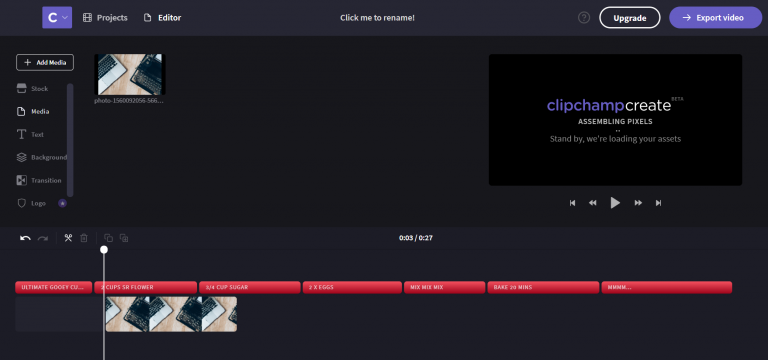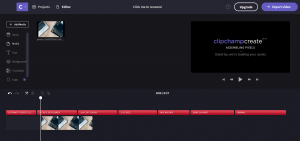 5. Font pages
And now, to the detail we only think of once we reach the editing process: fonts! Some look better, some look worse, based on background and context. The following are a page ideas to use to find the right font for your campaign.
FontSquirrel is an excellent start, offering a variety of fonts fully free to use, even commercially.
If you feel a little more artsy and unique, take a look at DaFont. There are some truly amazing fonts there, but be careful when browsing and downloading them. Some are permitted to use commercially for free, others are only accessible for private projects, and some require you to simply reach out to the creator. You can adjust your search settings to ensure you get the exact one you aim for!
6. Digital signage software
And here we are, waiting for you at the end. Once you've found your images or videos, edited them appropriately, added the right font and you've exported them, you've arrived at your destination. You have a complete video or image for your digital signage campaign. Now, it's time to deploy it.
Obviously, it is most likely that you have arranged for hardware and software before actually creating your campaign, but let's say, you haven't. Where do you go from here?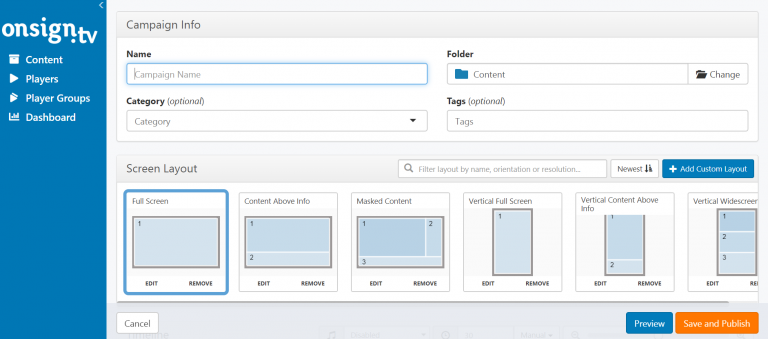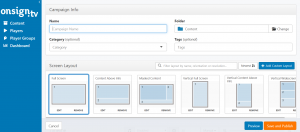 OnSign TV software allows you to unite all the previously accumulated pieces of content and publish them to your campaigns. The timeline allows you to organize your images and videos, section them on the screen (alongside other apps provided by the software), and push them to your screens immediately, on schedule, or upon being triggered by user activity or location.
There are a variety of digital signage software providers out there, ranging from free to premium. Although, you might not dive too deep into the video or image editing spheres, you should certainly do so when it comes to digital signage software, as it will help you to not only make good content, but also deploy it in the right way, at the right place and time.