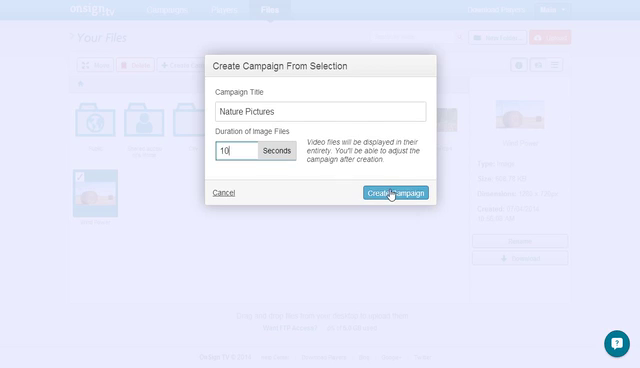 "It is quality rather than quantity that matters". This is a famous quote by Seneca. Well… how not to agree with such a famous philosopher? :)
We take that very seriously here at OnSign TV, that's why we're constantly enhancing our platform. Today we'll introduce you to a small, but very important change we've made. It's the implementation of our new feature: Campaign Creation from Selection. Now you have the chance of creating campaigns directly from your File Browser.
Just select the files or folders you want to have in your campaigns and then click on + Create Campaign. Give the campaign a title, set the duration for each file to be displayed on your campaign and that's it. Note that video files will be displayed in their entirety and also that you'll be able to adjust your campaign after creation. If you're a visual learner like me, probably the video below may be helpful to you:
You can also export data from other tools over to OnSign TV. Just make sure you save it as .pdf and upload it to our platform. This will work with most presentation tools, such as Google Slides and Microsoft Powerpoint. When you upload your presentations to OnSign TV, you'll see that a folder with all your presentation slides will be created. After that, you just have to select that folder, click on + Create Campaign and follow the instructions we wrote above.
Did you realize how such a small change can make your digital signage management so much easier? We hope that comes in handy for your organization! Is there anything you want to share about this new functionality and your experience with OnSign TV? Get in touch with us, our support team loves hearing from you and will promptly answer you.