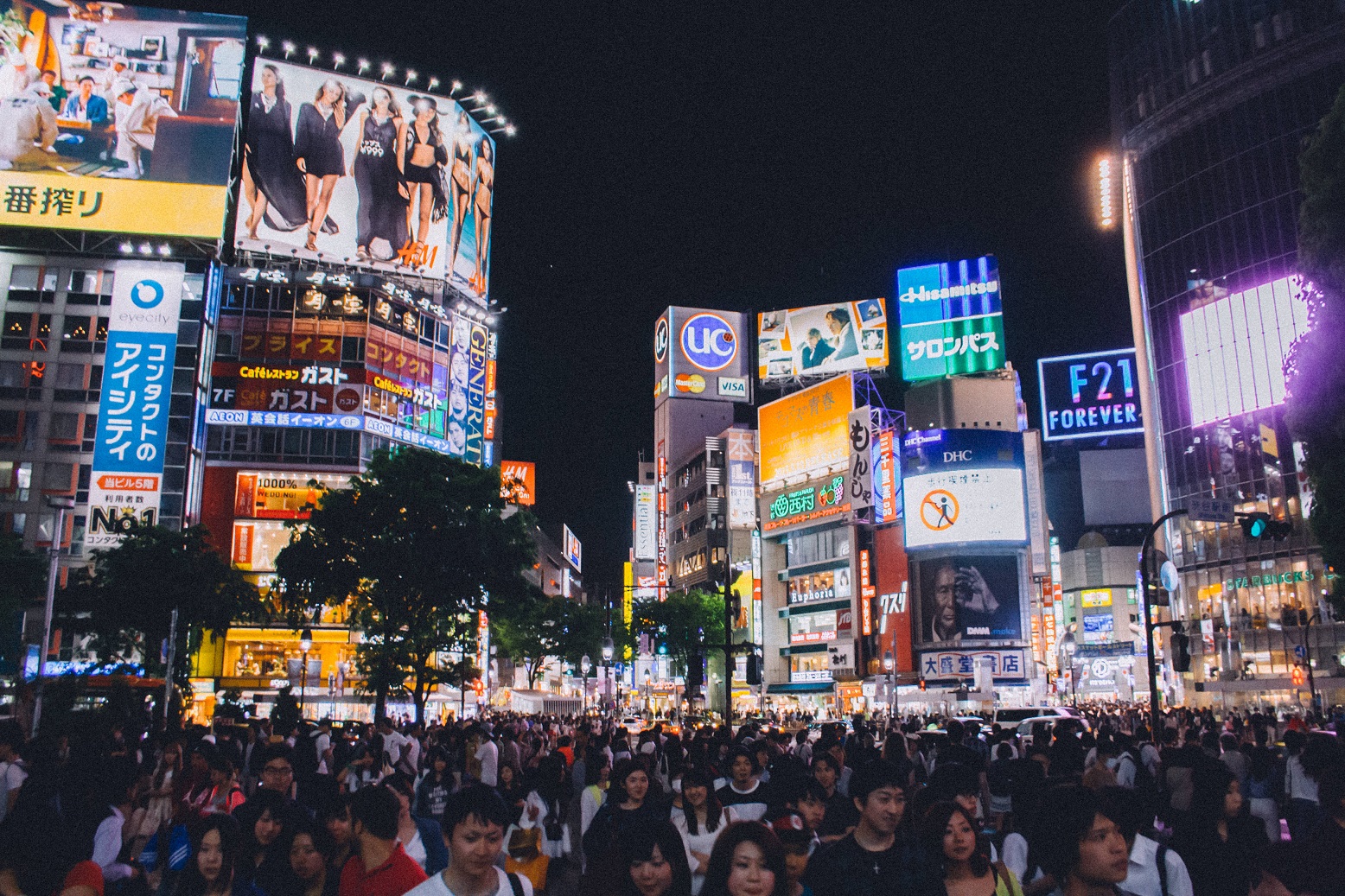 With the first half of 2017 left behind in distance, many reports and statistics on Q2 of 2017 are being released to show how leaders in the digital signage industry are doing. Reports overall for the status of the digital signage industry and revenue in various parts of the world show one common factor you should know by now.
There is a consensus about the success of digital signage worldwide, which can be seen in reports of rising revenue and profit for providers across the globe, from the U.S. to Australia. In fact, the reports frequently show such large percentages of growth that they leave traditional media behind in the dust. Digital outdoor advertising is now a strong lead.
Despite all the important statistics expected at the end of each quarter, one must not neglect current news about partnerships and technology development of the digital signage world.
Digital Out-Of-Home advertising revenue for the UK spikes
DOOH (Digital out-of-home) advertising revenue for the 2nd quarter, April to June, is reported to be 30% higher than Q2 2016, according to Outsmart. Additionally, digital now accounts for 46% of all OOH advertising revenue.
"The OOH industry is rebalancing as the digital transformation continues, but classic OOH will continue to have a vital role for advertisers with its scale, reach and frequency," Justin Cochrane, Chair of Outsmart explained.
Further Outsmart's stats claim that the total OOH revenue for this quarter is £278 million. This is up 1.7% year on year. Additional statistics can be found on Outsmart's site including revenue development in the current, as well as previous years.
Toys "R" Us deploys interactive screens and point-of-sale kiosks
Working with Cineplex Digital Media, Toys "R" Us jumps forward with a brand new item in its toolbox: interactive screens and point-of-sale kiosks. Included in the installation is a feature wall with 2x2 LCD displays, 55'' each, as well as six 18.6'' digital end caps and four POS integrated kiosks, as reported by Sixteen-Nine.com.
Toys "R" Us is a great example of how beneficial digital signage can be when used optimally. Visitors will be able to stroll through the "endless aisle" solution, allowing customers to not only browse on kiosks for items in stock, but also products they can order for a subsequent purchase. These kiosks will enable direct purchases and have products shipped to their home address.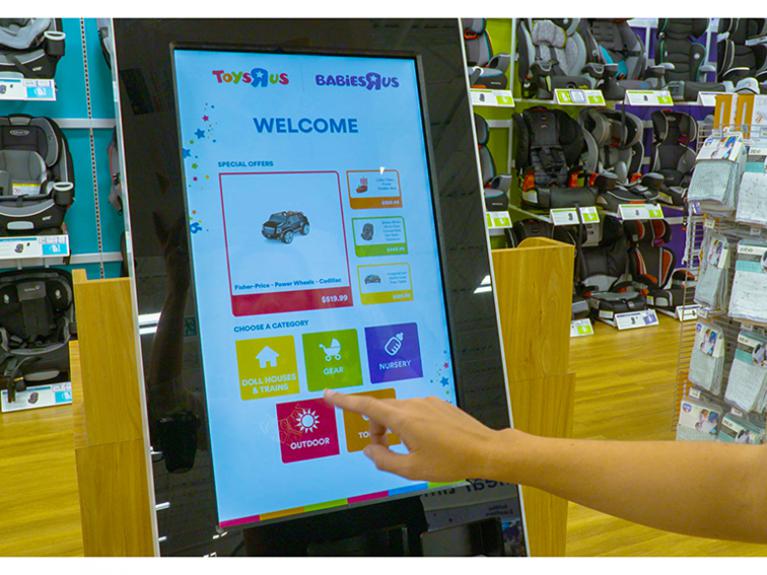 "The new integrated network elevates the shopping experience and makes it easier for customers to locate the products they are looking for, gain in-depth information and make their purchases directly from a number of kiosks located throughout the store," says the chain's VP, marketing and store planning, Clint Gaudry.
Outdoor Plus wins Hammersmith Towers
Outdoor Plus has recently signed the iconic Hammersmith Towers, the most prestigious set of double sided digital screens in London. The double-sided towers have been voted the "best original digital billboard" in 2012. They're located on the main arterial route from Heathrow Airport to Central London, and pass key luxury shopping destinations in the city.
Hammersmith Towers: This dynamic site is a truly exceptional example of digital signage. Reaching over 6.9 million people every two weeks, people of all audiences, this site has a powerful potential to influence many.
Upon choosing Outdoor Plus, following a competitive marketing process, a council spokesperson said the market leading position Outdoor Plus has in London will be very successful at generating additional revenue which can be reinvested in services for the residents.
The managing director at Outdoor Plus, Jonathan Lewis says: "We are delighted to welcome this new addition to our ever growing London portfolio. Another unmissable moment from Outdoor Plus for audiences on the move."
SEPTA to deploy 300 interactive displays with free Wi-Fi
Southeastern Pennsylvania Transportation Authority (SEPTA) has teamed up with Intersection and recently announced the official roll out of free gigabit Wi-Fi at the transit hub. This is merely one part of an overall digital technology upgrade aimed at providing instantaneous information to stations within the region.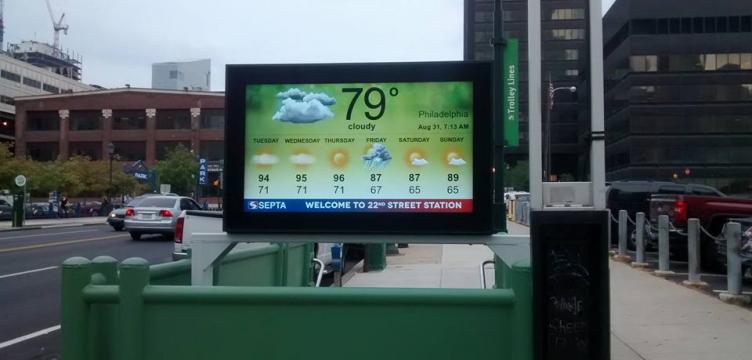 Serving around 25,000 customers daily places a heavy demand on any network. However, the station network will now benefit from high internet speed which will greatly enhance the experience of its travellers. With this number of customers in mind, SEPTA plans to deploy nearly 300 interactive displays to subway and commuter rail lines.
Interactive digital signage will ensure easier navigation and wayfinding for travelers, while simultaneously serving as a space for engaging advertising. SEPTA General Manager Jeffrey D. Knueppel says: "We are delighted that this partnership brings huge benefits to our riders at no cost to taxpayers."
This partnership is a very promising one with SEPTA being the 6th largest public transportation system in the U.S. with an approximated 1.1 million travellers, and Intersection having a digital signage kiosk network of a similar size in NY, called LinkedNYC.
OOH Advertising in the U.S. up by 1.5% in Q2 2017
Another regional stat about OOH advertising. We've previously seen what Q2 brought for the UK. As far as the U.S. goes, OOH advertising is up by 1.5% in between April and June 2017, compared to the previous year, according to the recent OAAA release.
"OOH continues to gain in media spend because of its contextual relevance, creative impact and integration with digital media," said OAAA President & CEO Nancy Fletcher.
According to the OAAA report, among the top 10 revenue categories, those performing the best were Miscellaneous Local Services and Amusements; Public Transportation, Hotels and Resorts; Government, Politics and Organizations; Financial; and Insurance and Real Estate.
oOh! media reports 18% growth in profit
Digital signage blooms in every fields at the moment, including the land down under.
oOh! Media, Australia's premier supplier of digital roadside billboards, reveal an 18% growth in its half-year profits report. The company's net profit has greatly risen, which safely predicts the future rise of outdoor advertising, whilst other media such as television, print, or radio will most likely stagnate.
"The returns from digital conversion remain compelling," chief executive Brendon Cook told analysts last Monday. Digital billboards get up to five times more revenue than traditional billboards, however they have a tendency to depreciate quicker.
Investors took the message as pleasant news with shares jumping by 7.92%, from $4.04 to $4.36 quickly after the status was announced.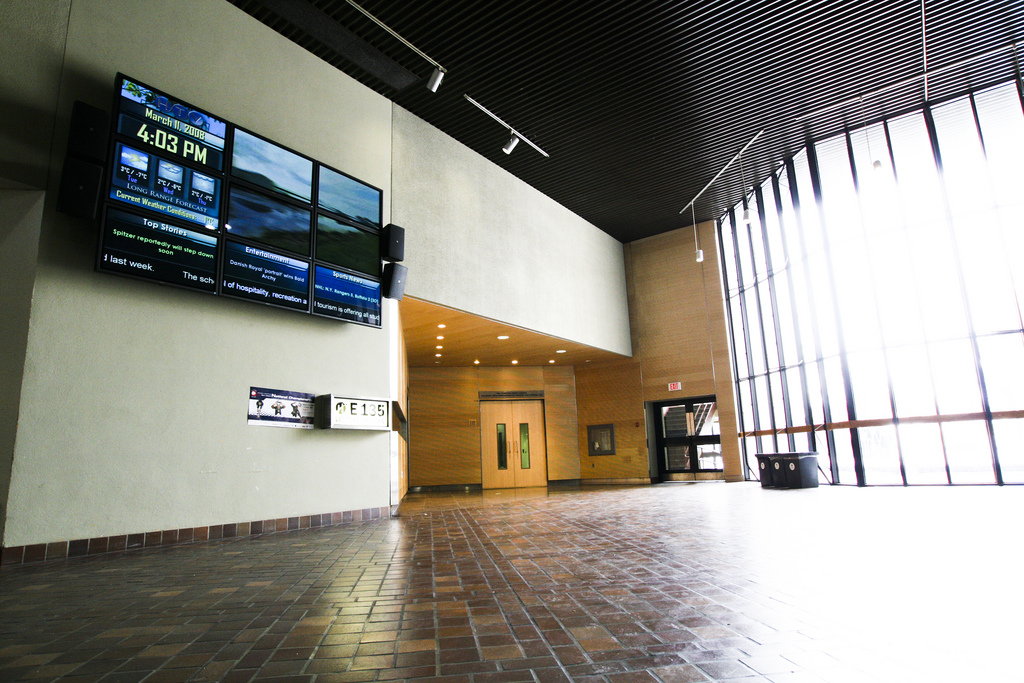 With the first half of 2017 behind us and all the necessary data in clear sight, we can look forward to a rising next quarter as well as the next half of the year.
There are many predictions for upcoming years in digital signage, and they primarily indicate success and the rise of revenue and profit for the leaders in this field. All of this data clearly highlights the fact that digital signage is not only a beneficial tool, but also a highly potent one when aiming to generate profit and revenue for any business.
Images by Chainstorage.com, PlanPhilly and Omar Davis.