Finally, we can wave goodbye to a year filled with things no one would have expected. It has undoubtedly been one of the rougher and tougher ones for all of us including the Out-of-Home world with at least the worst seeming to have passed. As we push onward to recovery, it is clear the road ahead is long. While hardly breaking news, we won't keep reminding you about it. Instead, let's take a look at some fresh news from this month. Thankfully there is mostly good news to report, ranging from touchless interaction to 2021 predictions. 
With the impact of the pandemic, touchless interaction is, unsurprisingly, rising. Touchscreens are not going away, but are merely one option for interactivity. We have the highly anticipated attendance numbers of the D=SIGN conference. Also, in the sea of good news, we take a closer look at just how bad the most recent quarter was for the industry.  
Touchless interaction rising
As consumers' appreciation for touchless tech rises, interactive signage providers are coming up with new solutions. Touchless interactivity with digital signage has always been present, but its value has increased in the recent months. According to survey data, most users find touchscreens unhygienic and would rather opt for a touchless interactive solution. Because of this response, companies are taking on the challenge in different ways. Some companies rely on QR codes displayed on a screen. There are also solutions which rely on the customer's gestures for input. Interaction through mobile devices is another common method.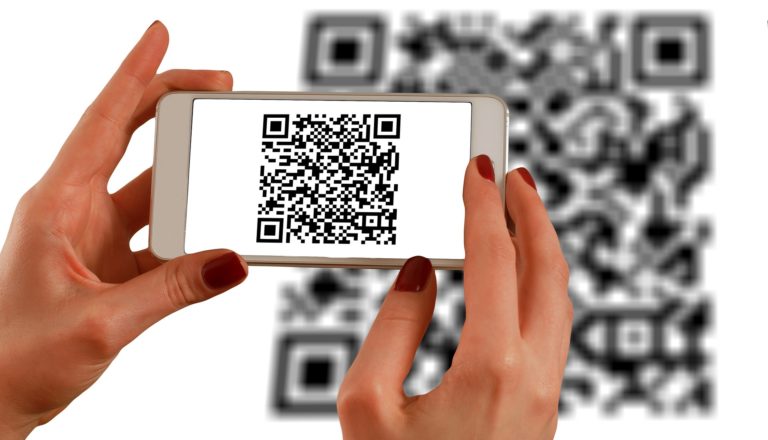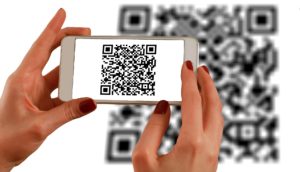 The issue with most touchless solutions, however, is that consumers need to download an app, which requires a bit of effort. People are less likely to do this in high transient environments, such as airports, where swift data access is needed. But in slower-paced locations, the adoption rate is higher. Overall, experts agree that the public will get used to touchless interaction where downloading a mobile app won't be such a strange thing. It is also likely this trend will continue even after the COVID-19 strain has ended.
The D=SIGN conference was a success 
With the disappearance of DSE this year, all eyes were on the new online conference organized by AVIXA and DSF, and it seems it didn't disappoint. The two organizations released the numbers for their D=SIGN conference in joint PR.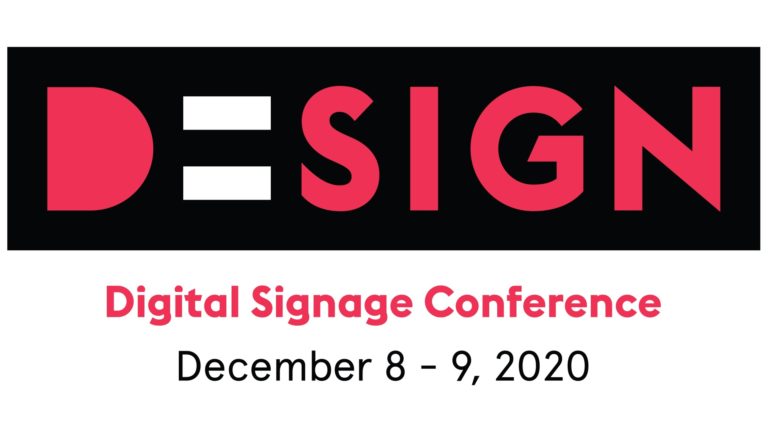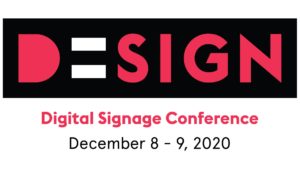 "Total registrations for D=SIGN came to 2,540, and 41% were from outside the U.S. During the highly interactive event hosted on THE rAVe Agency's LAVNCH virtual platform, 57,504 chat messages were exchanged, and 3,465 poll responses were received."
Given the success of the event, AVIXA and DSF have announced plans to do a physical version of the D=SIGN event at InfoComm 2021 in Orlando. Still, June is too far away to tell if that will indeed be a possibility if the recent COVID-19 cases in Florida are any indication.
Transparent electronics market to reach $20 billion by 2041
The global transparent electronics market was valued at $996 million in 2019. According to a new IDTechEx report, it is expected to be well above $20 billion by 2041. This is warranted by the rapidly expanding business of transparent electrics and optronics. 
There is a good possibility we'll see transparent tech in place of windows on city buildings, vehicles, and farm greenhouses. The more it becomes adopted, the greater the ways to use it. Chinese railways deployed interactive OLED train windows this year. As bigger companies become involved in transparent tech, it is likely that transparent billboards will be another common sight in the future. Still, it remains to be seen if the evaluation of the industry's growth will continue as predicted.
Yet another rough quarter for OOH
According to a recent Out-of-Home Advertising Association of America (OAAA) report, Q3 2020 brought $1.3 billion in revenue. This is a 36% drop over the same period last year. Still, it's better than Q2 which had revenues down 45% year-on-year. So, at the very least, we can say that the industry is recovering. In other "good news," OAAA reports that 40 of the top 100% OOH advertisers increased their spend in Q3 year-on-year.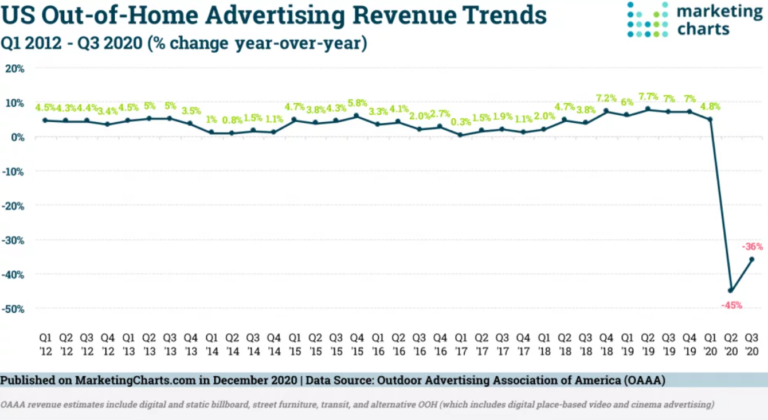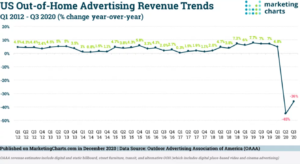 The top category for the quarter was Local Miscellaneous Services & Amusements with 26% of total spend. Retail is in second place with 10.3% of total spend. Media & Advertising saw the biggest year-on-year decrease, with a 56.6% drop. Below is a short list of the top categories and their spend percentage.
Local Miscellaneous Services & Amusements (26%)

Retail (10.3%) 

Insurance & Real Estate (8.3%) 

Restaurants (7.6%) 

Government, Politics & Organizations (7.2%) 
Media & Advertising ranked #6 and had the biggest year-on-year drop in spending, 56.6%. #6 is Public Transport, Hotels & Resorts with the ad spend dropping 43.9% year-on-year. Financial is #7 with a 43.3% drop.
Will programmatic be the savior of OOH in 2021?
Much of the news in the recent months has been talking about programmatic Out-of-Home and how it might help the industry recover in 2021. Naturally, the ability to deploy outdoor ads in much the same way we deploy online ads is quite important at this time. Even if we take the global pandemic out of the equation, it is a more efficient solution. Programmatic OOH is a flexible, transparent, and data driven solution, and in itself appears as a natural progression of the medium.
With or without, we can safely presume that 2021 won't be a very turbulent year of new innovations or trends. Solutions such as programmatic OOH will aim to stabilize and return the industry onto more solid ground. And so we bid farewell to 2020 as we prepare to move into a new year. We'll see you on the other side! By then, be sure to prepare and take a look at what else awaits us in the year ahead.