Outdoor digital signage has its pros and cons, but like we previously mentioned in our post "Outdoor Digital Signage: Is it a Smart Move?", it has improved significantly over the years. There's also the question of the benefits, which can only be obtained by placing digital signage outdoors.
A number of establishments have embraced this technology, and horse racing venues are now among the latest to feature outdoor digital signage. High profile tracks have begun installing their own versions, with the hopes of attracting more audiences as well as giving patrons something new and fresh.
Churchill Downs, home of the Kentucky Derby, made use of the technology in a big way – literally. The 2014 edition of the race saw the addition of the world's biggest 4K LED display to the course. It measures 170 feet wide by 90 feet tall and Reality Interactive mentioned that it was placed as a solution for attendees with limited view of the horses. Averaging 150,000 people in attendance, the venue gets crowded with race enthusiasts and some have no choice but to take a spot that doesn't have a great vantage point.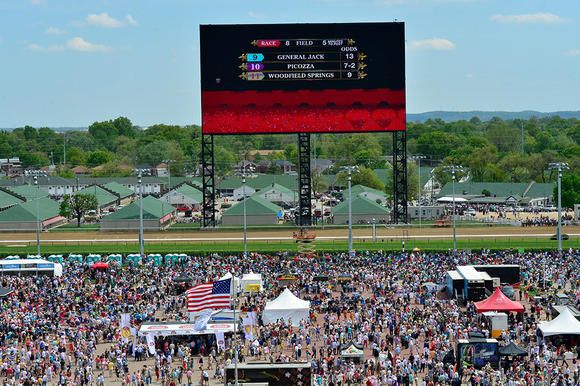 But more than that, the "Big Board" also serves as a source for other types of content aside from real-time info about the races. These include jockey interviews, shots of celebrities in attendance, and just about everything that's going on inside the track as well as advertisements.

We have already explained the digital signage role in event management, and that pertains to up-to-minute info, event updates or schedule changes. And given that the operators can change the content immediately, it's a more efficient means of delivering important information to the crowd.

On the other side of the Atlantic, racecourses in the UK have also applied similar concepts. In 2015, the five-day Qatar Goodwood Festival – a high profile event in flat-racing, partnered with ADI to install the digiBOARD. More than 120 metres of digital signage was fixed along the final furlong all the way to the finish post of the track. It's the first of its kind in the country.

Moreover, Installation International mentioned that over 100 iCONIC screens were added aside from the digiBOARD. iCONIC screens feature the world's highest resolution mobile LED displays. As a result, the innovation effectively boosted audience engagement at the course. ADI's Nick Robinson stated that the project "created a new attractive aesthetic in horse racing that's never been seen before in the UK."

Then just last year, Aintree Racecourse, which hosts The Grand National was added to the list of tracks that utilise digital signage. Before the improvement, digital content focusing on The Grand National was limited to websites and print publications, which delivered relevant info to horse racing enthusiasts prior to the events. However, due to the surge in mobile-friendly content and improved digital signage, race goers are now able to access content much easier. Accessing columns from esteemed trainers such as Paul Nicholls who contributes columns to Betfair's Grand National Daily Tipping, gives race fans the ideal go-to resource to learn about this prestigious race. Add to the fact that race fans who are attending the Grand National in person can rely on the digital signage for any real-time information and it shows how technology has provided multiple solutions for the racing world to stay up to date.

Creative Technology (CT) has changed the landscape of Aintree Racecourse for good after laying out 3500 metres of fiber network that connects to more than 100 LCD screens throughout the course. CT relayed in a post that the attendees enjoyed the action "regardless of where they were in the venue."

For the first time, on-site audiences were able to get news and updates about The Grand National through HD screens scattered across the course. Dominic Hill, the Project Manager exclaimed how great it was to "bring this horse-racing event up to the technical standard that it deserves."

Digital signage has once again proved to be an effective instrument in improving interactive experiences. Sufficed to say, a trip to the racetrack today is different and much more immersive.

Images by Kentucky Derby.

by