Located in Valencia, Spain's third largest city, BIOPARC Valencia is a large animal park that has been designed under the concept of "Zoo immersion".
Attracting visitors from all over the world, BioParc combines fun and entertainment while highlining the importance to protect nature in all its forms. Commitment to nature is present in every detail, including the Park's facilities designed to reuse and protect natural resources.
Following this motto, digital signage was set up with a clear promise in mind: "reduce the waste generated by paper signs". The good news is digital signage has also created a new way to communicate with visitors.
Using signage screens proved to be faster, cheaper and more flexible, greatly reducing amount of work required.
Promoting Awareness From Entrance to Exit
Displays are in various locations in the cities of Valencia and Fuengirola. Each location has a different purpose.
At the entrance, visitors can check out ticket prices and get information about where to go. Taking advantage of on-demand content, staff members can change the information at any time, for better managing the queue and correctly signaling open booths.
Digital Signage also helps making queue more pleasant and useful as visitors watch park news and entertaining info while waiting for their turn. Screens alternate latest events news, animal facts and figures, as well as heartwarming announcements of recent animal births like the one below:
In this video BioParc showcases the rare birth of an endangered gorilla species and more info on the Park's International Conservation Program.
In the Park's restaurant, displays show food and nutrition info next to the digital menu boards. The down time while resting and eating is furthermore filled with fun trivia and all sort of park info.
Along the park, many screens are directly connected to calendar applications for presenting the daily and weekly park activities.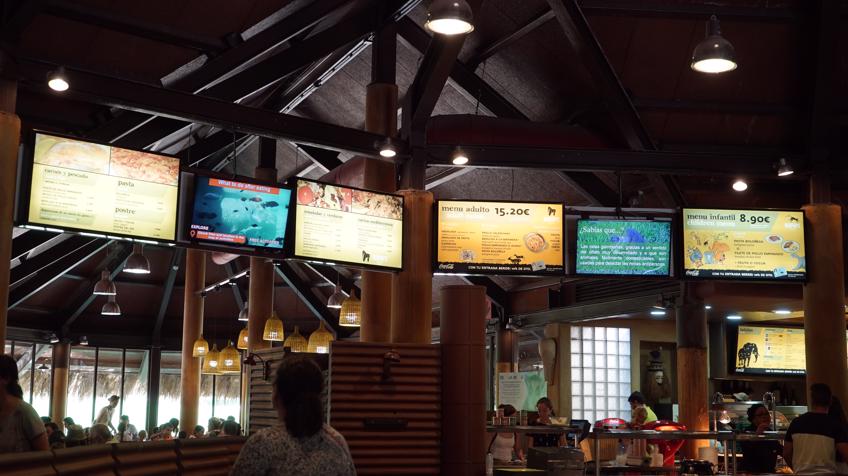 Decentralized management and real-time updates
For Amanda Sanchis the benefits of real-time remote update are invaluable:
"I have been to Costa Rica recently and had to update content last minute during the trip. It is amazing to be able to modify the park displays from the other side of the Atlantic and being able to check out the screens as they update through the player remote view."
Amanda is in charge of managing and monitoring the content on BioParc's network, but she is not the only one accessing the BioParc system. She counts on colleagues in BioParc locations outside Valencia.
Daniel Pons, commercial director, emphasized that one of the decisive factors that made him choose OnSign TV for their digital signage provider was the ease of use.
"The platform is really intuitive, meaning we didn't have to train other workers. The learning process was organic, they learn as they use it on a daily basis and can consult tutorial sections when needed. "