A Data Feed can be created by importing and keeping data in sync to external data sources.
For now, the Data Feed can connect to external RSS feeds, but soon we will add support to:
Facebook
Twitter
Instagram
Google Sheets
And more!
To create a Data Feed from an external source:
Go to the content menu
Click on the "New" Button
Select "Data Feed".
Give the Data Feed you are creating a name and select "Data feed from Source"
Select the type of data you are importing in this case "RSS"
Enter the Data Source URL, for example, https://rss.cnn.com/rss/edition.rss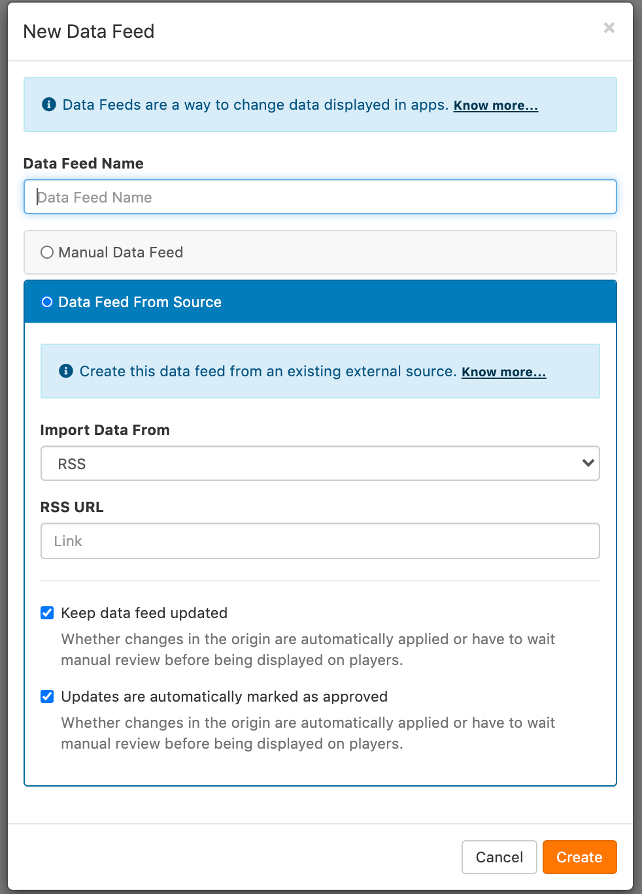 Finally, there are two options to configure:
Keep Data Feed Updated – Will automatically synchronize your data feed to the external source. This ensure new data on your external data source are automatically updated on your Data Feed.
Updates are automatically marked as approved – This will mark all data that is populated from the external source as "approved"
Here is an example of a Data Feed after importing an external RSS feed.