Besides tracking Campaign Playback, OnSign TV also makes it possible to track the individual playback of every media presented on every player.
To take advantage of Media Playback Reporting it is necessary to:
Enable playback report for every media that should be tracked
Enable Media Reporting on every Player that will be tracked
Important notes:
This feature is only available to selected accounts
Media playback logging will only start after the settings above are configured. This means it is not possible to create media playback reports for previous periods.
Enabling Media Playback Data Collection on the Player
Go to the "Player" page.
Select the player you want to get the report for.
Click on "Settings" on the left menu.
Enable "Media reporting". If you want to generate media reports across your network, then adjust it on Player Default Settings.
Click on "Save changes".
Activating Media Report for each specific Media File
Go to the "Content" page.
Right-click the media you want to get the report for. You can also select multiple files.
Hit "Enable reporting".
Hit "Enable" on the dialog.
An orange check icon will be shown on the file indicate that Media Reporting is enabled. To disable the Media Reporting just right-click the file and "Disable Media Reporting".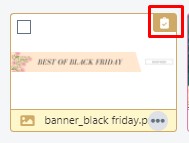 Creating media playback reports
This is very similar to creating campaign reports.
Click on "Reports".
Click on "New report" in the top-right corner.
Complete the required fields for filtering the report as desired.
Set the beginning and end date for your report. You can create single or recurring reports.
Select what players used for creating the report. (Remember that if the player has not been set to track media playback, they will not provide any media playback info)
On the "Content" box, click on "Media" and select the file you want to track. Note the selection box will only show media files that have the configured to "Enable Reporting".

Once all filters and fields are configured, click on the "Create Report" button.