When connecting a new device to your account, it will be empty. You need to publish the first campaign or playlist, so as to reach the audience with relevant content.
Depending on your signage setup, there may be content that is common for all devices. In this case, you can publish it while setting up the screen to the first time. Of course, you can also setup this basic content after you have connected multiple devices on the platform as well by adjusting the player settings.
Requirements:
In order to use this tool, you must:
Publish all player basic content to it.
Setting up player groups is a way of grouping screens that usually receive same media files, so as to simplify content publishing. All player that belong to a player group will download content that has been published to it.
The idea of a default player group is that you indicate on player setup to which group the device belongs. This way, the new player inherits content from group and download it automatically. You won't need to to modify player group and add a new player to it every time you expand your network.
For instance, in this tutorial we will setup the content that should be featured throughout an Inn's network: all screens should display, no matter their location, information about the city's attractions and images of amenities.

How to setup default content on new player
Click on player tab.
Hit "Setup player" on the top-right corner.
Add the code displayed on the OnSign TV App.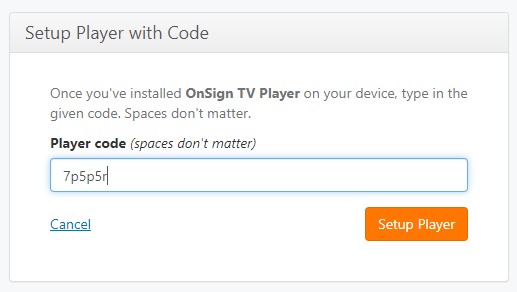 Name player and then select the group on "Player Groups".

Hit "Save Settings".
After authentication, the device will download all content from player group automatically.

How to setup default content on existing player
Click on player tab.
Select the device to which you want to apply the basic content.

Hit "Settings" on left menu.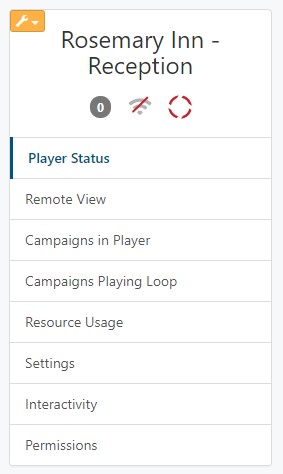 Select the group on "Default Player Group".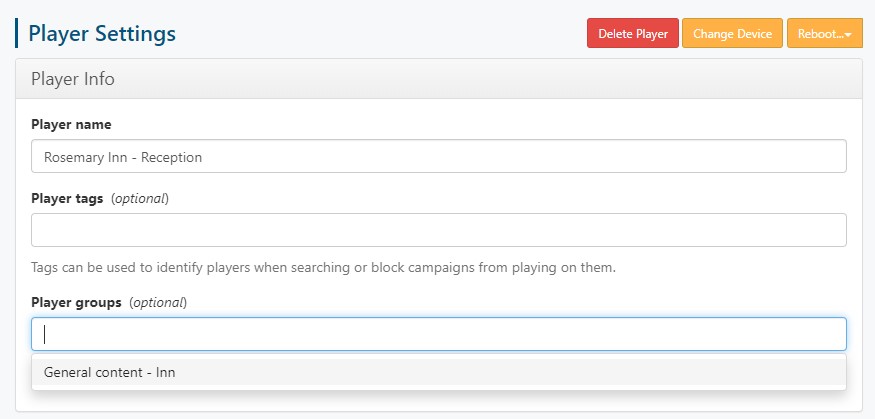 Hit on "Save Settings" on the bottom of the page.
The new content from the default player group will be synchronized.