Combine two different OnSign TV tools - QR code App and On-Demand Campaign - to let viewers interact with your products and content!
How does it work?
You can present content on your screen or in a region of a campaign layout and add a QR code in case the viewer wishes to obtain more info. Learn how to use QR Code app.
When scanning the QR code, OnSign TV will trigger related campaign on display, besides also triggering webpage on cellphone browser.
Step-by-step
Create a campaign with the additional info that you wish to trigger.
Save & Publish as with the on-demand restriction. It is possible to add a webpage that will trigger on user cellphone (optional).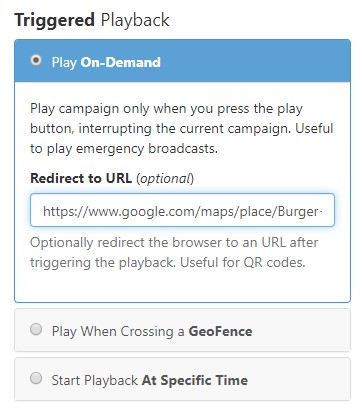 After publishing the on-demand campaign to player, copy the URL of the "Start Playback" button and paste it somewhere as you will need it later! You can find this button on player's "Campaign in Player" page.

Now, create the basic campaign in which you wish to add the QR code app.
Add the copied on-demand URL to the QR code app (learn how to create QR code app here).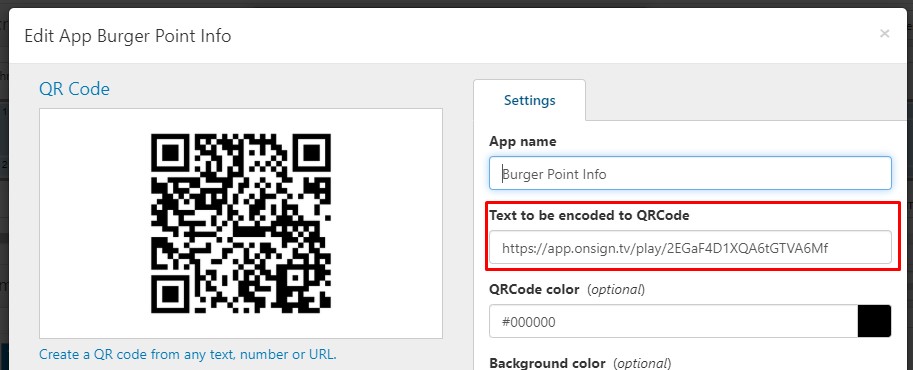 Publish campaign to primary loop.
Let users scan it and this will trigger your on-demand campaign! It will also immediately redirect your customer's phone browser to the URL of your choice.
---
Note: You can also print a QR-code using the on-demand campaign URL. Attach it next to a product and each time somebody scans it, the campaign will be triggered on the screen.