Encienda la pantalla y siga los pasos abajo para configurar OnSign TV. En pocos segundos podrá exhibir contenido al público. OnSign TV es compatible con las pantallas profesionales LG webOS 2.0 y LG WebOS 3.0:
WebOS 2.0 - SM5B, SM5KB, SM3B and UH5B.
WebOS 3.0 - SM5C, SM5KC, SM3C and UH5B.
webOS 3.2 - SM5D, SM5KD, EG5CD and EJ5D (ACTUALIZAR al firmware 04.00.60 o más nuevo)
Pulse en botón Settings hasta que se exhiba una caja con un ícono de chat dentro de un rectángulo en la esquina superior derecho.

Pulse los números 8 0 8 0 en el mando a distancia y pulse "Ok".
El Server Menu va a ser exhibido. Rellene los ajustes como indicado abajo: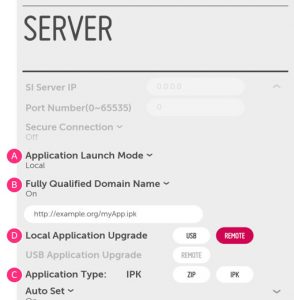 Application Launch Mode: Local
Fully Qualified Domain Name: ON
URL: https://app.onsign.tv/download/player/webos/ (asegurese de que haya escrito todos los caracteres, incluso el último "/")
Application type: IPK.*
Modo retrato: En las pantallas LG webOS 3, se puede ajustar la orientación de la pantalla en este menú. Asegurese que el firmware de la pantalla es 04.21.10 o superior. Para la versión LG webOS 2, siga las instrucciones de este tutorial.
*Si esta opción no está disponible, hay que hacer el upgrade del firmware de la pantalla. Trás hacerlo, reinicie la instalación.
Elija "REMOTE" al lado de la opción Local Application Upgrade, y pulse "OK" en el control remoto.
Apague y encienda la pantalla tras ver el mensaje de conclusión de instalación.