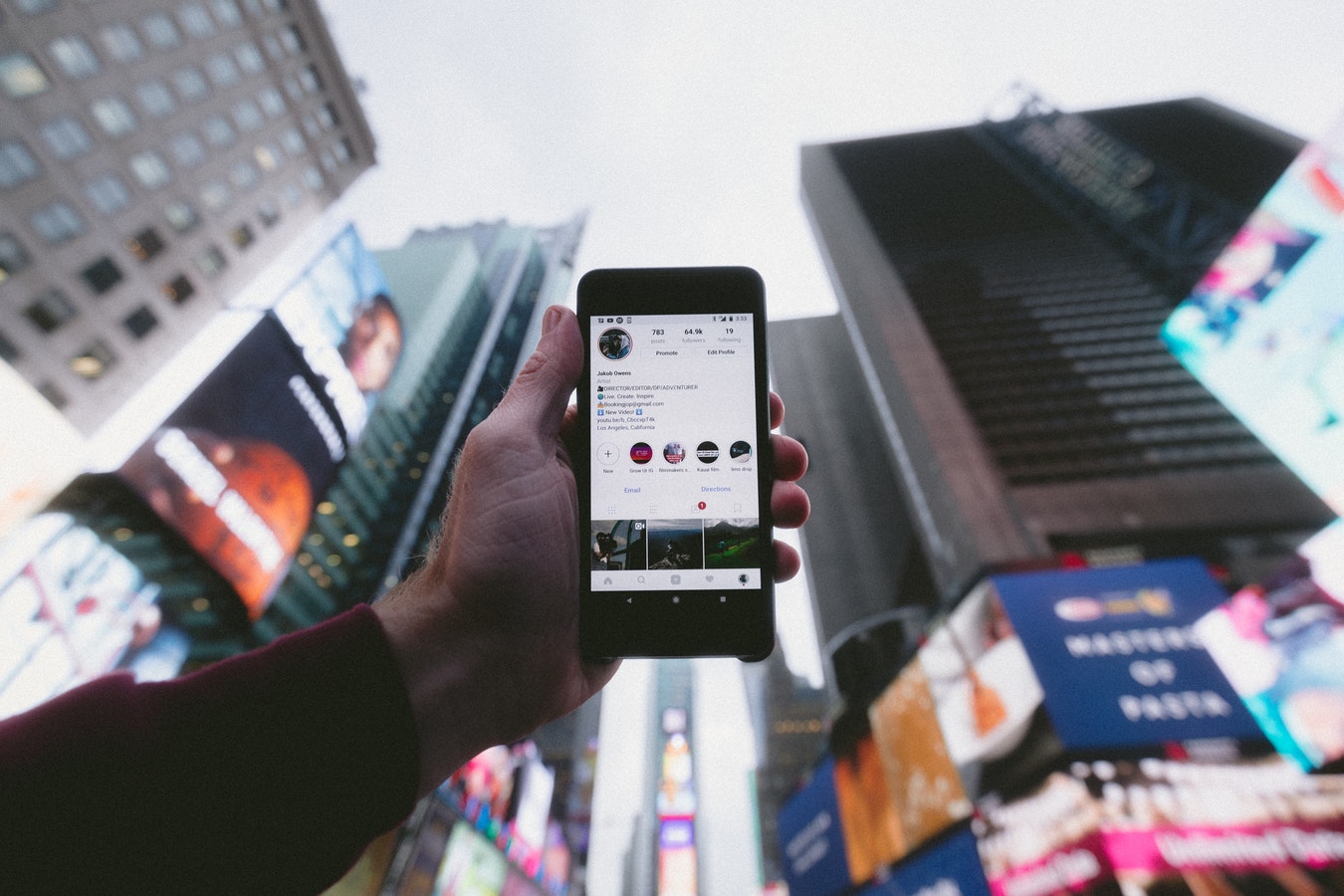 Social media and outdoor advertising are by all accounts polar opposites when looking at the way they attempt to reach their audience. One is rooted in the physical world, while the other is ideal for users who aren't big fans of the outdoors. However, despite their polarity, social media and digital or traditional outdoor advertising work phenomenally together.
A study from 2018 by Rapport even suggests that businesses which allocated 15% or more of their media budget to OOH, had a much higher social media presence than brands which shunned OOH completely. 
So, we know they work well together. Now, let us dive into some examples of where the combination of these two channels produced stellar results.
1. Spotify's "New Music Friday"
We've already talked about the extremely successful David Bowie campaign launched by Spotify. Spotify is back at it again! Their "New Music Friday" appears on a massive digital billboard in Times Square featuring new music releases weekly. Artists then share images or videos of the boards they appeared on via their social media channels, reaching millions of viewers online.
This is not only a great way to keep the audience interested in which artists had new releases recently, but also to provoke plenty of social media activity.
2. Gucci's Art Wall
Instagram is likely one of the most important social media sites to link with outdoor advertising. If an outdoor ad can successfully catch the attention of the viewer in an unexpected way, you can be sure it will end up on quite a few Instagram accounts. Many advertisers rely on this, especially fashion and lifestyle brands.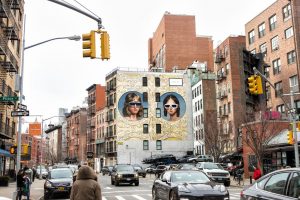 Gucci, for instance, unveiled its "Art Wall" project in 2017. This involved the sides of buildings in New York City and Milan being covered with massive murals. The image above was taken in New York City and featured two circle-framed women wearing Gucci's new sunglasses. This was quite the Instagram-friendly move, and it inspired other campaigns aiming to land on everyone's Instagram feed thereafter.
3. Koala's first billboard campaign
Social media isn't only great when it comes to sharing cool and awesome content: eye candy, if you will. Agreeable statements can also generate share-friendly content. Even though it may be your first thought, we wouldn't advise on political statements as this usually leads to polarizing your audience.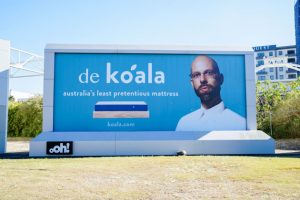 Take a look at Koala mattresses for inspiration! This startup had great success with their fun and engaging outdoor ads. Their first billboard campaign included a spoof of the infamous De Rucci campaigns—a somewhat more serious furniture brand—posted around Sydney airport. It certainly caused a digital buzz, and also lead to plenty of other ads which made an interesting statement!
Additionally, do note that this type of content can be used both for traditional and digital signage. Simply put, digital simply has more potential to achieve it, but traditional outdoor media, of course, still has plenty of potential to create a buzz on social media!
4. The Bud Light Knight
Sometimes it's not the content itself that inspires people to share on social media. Sometimes it can be the location of said content. FlyBy Ads teamed up with Bud Light to create and display 20,000 square foot signs placed on the flight paths for incoming planes. These signs also featured the Bud Light Knight in multiple locations, including the Centennial Olympic Park. They were quite successful as just one video of the FlyBy Ads rooftop sign received over 50,000 views.
This highlights the bond between outdoor advertising and social media. If the content is unique, creative and catchy in any way, its potential rises.
5. Spotify's "Your 2018 Wrapped" campaign
Spotify's "Wrapped" allows listeners to take a look at their listening habits in the year past. You could see how many minutes in total you spent listening, which artists you discovered, and more. In 2018, Spotify gave their Premium users a chance to share their listening statistics. These report cards would then be shown on billboards around the world, including NYC's Times Square.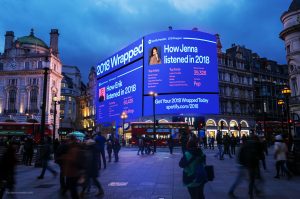 You can certainly imagine how this interaction caused quite the buzz on social media, alongside plenty of other Spotify campaigns.
Although these examples, like many other impactful ones, feature bigger brands making bigger moves, there is still plenty we can learn from them. If the content is fun, engaging and compelling, people will share it on social media. This can be either through visually appealing content or intriguing statements the viewer relates to. At any rate, if anything, we can safely conclude that the potential between social media and outdoor advertising is undeniable.