If you have been using OnSign TV for a while, you have probably seen this message quite a few times:

Almost every week new features and improvements are released. Here at OnSign TV we have a development pipeline that ensures a constant stream of enhancements being deployed. Just yesterday, we released a new Android Digital Signage Player App version and a major server side update. As I write this, last week's new features are being validated and once approved will be released next week.

This endless stream of updates allows us to support a larger number of devices and, more importantly, keep improving our digital signage platform to bring new features to you. It also helps us to provide you with a more stable and reliable service.

Server side improvements are easily deployed and require no action on your side. Once our software engineering team makes them, the new code is immediately available to you. Android Digital Signage Player App updates, on the other hand, require replacing the software on your device. Every time we have a new player version, the server checks your players and shows you the "New version available" message.

Technically, you do not need to update your digital signage software every time a new version comes out. On the other hand, newer versions of OnSign TV bring benefits and improvements that could enhance your digital signage network offerings and we highly recommend upgrading.

Manually updating every single device on a network is time consuming and costly, especially if your digital signage players are spread out over a large geographical area. The solution is simple: automatic upgrades.

We believe that keeping your digital signage network up to date is so important, that this ability should be a requirement from the start. When planning out your digital signage network, your software installation and hardware characteristics will determine whether automatic upgrades will work or not. There are two main types of automatic updates: Google Play Store Updates and OnSign TV Managed Updates.

1) Google Play Store Updates

If you have installed your digital signage software through the Google Play Store, you are required to update it through the Google Play App. Remote updating from the OnSign TV console is not possible if you have installed OnSign TV through the Google Play Store.

The good news is that the Google Play App can manage automatic updates and you just need to enable it. In order to do that, you should check Google's official instructions here.

The downside of this, is that you have no control of when the Play Store decides to update your app. This could happen in the middle of an important event or be delayed by a couple of days. Anyway, you will always have the option to disable automatic updates and do it yourself through the Google Play Store whenever suits you best. If you manually installed the app from our download page, you have more options as you can read below.

2) OnSign TV Remote Updates

By default, a regular Android App cannot update itself or install other apps without user intervention due to security restrictions. If you are using our System App, you are in luck, because the System App is not a regular application.

The System App is digitally signed with the manufacturer's system key and can perform many functions otherwise forbidden to regular apps. This means that the System App can update itself remotely without user intervention.

If your player is compatible with the System App and you are not using it, we suggest you uninstall the current OnSign TV application and replace it with the System App. If your player is not compatible with the System App, but is currently rooted, not all is lost!

OnSign TV can also remotely update a rooted device running the regular app. In order for this to work, make sure your player is correctly configured, using this guide. So, if you are running the System App or the Standard App on a rooted Android device, you have two remote update options: On Demand Updates and Automatic Updates.

- On Demand Updates

Once the player detects that an update is available, it downloads the update file and notifies the server. It then waits for a command from the server to do the actual update. All you need to do is click on the Update Software button that will appear on your Player Settings page.

When you click the button, the server immediately sends a message to the player and your digital signage software will be updated. Make sure your player is online and connected to a stable power source. A power failure during any update (manual or automatic) could require a manual reinstall!

- Automatic Updates

The other way to remotely update your devices is to check the "Update player software automatically on device initialization" option, on your Player Settings: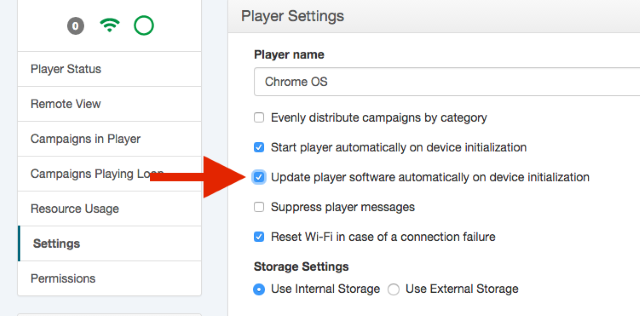 This option will make your player check for updates when the devices start up. If an update is available, it will automatically be applied. Please note that both of these options, On Demand Updates and Automatic Updates, are only shown if your player supports this feature.

If you have installed the Android Digital Signage Player App manually on a non-rooted device, there is no way to update it remotely. That's why we suggest that you should first try the following options:

Check if your device supports the System App.
If not, check if your device is rooted or if it supports root.

If none of the above options are available, installing the Play Store Version with Automatic updates enabled will allow you to keep your digital signage network up to date. As always, if you have any questions or comments, we would love to hear them. In the end, it all comes down to your experience with us!