"A brand is the sum total of the entire customer experience", says the well-known content marketer (Mark Burgess). If that's true - and I strongly agree with him - it means that everything your company says and does contributes to the collection of perceptions in the mind of the consumer about your brand.

You see where I'm going, right?

The content you show on your screens and your whole digital signage strategy matters in terms of brand awareness. Trust me! That doesn't mean you should only have content related to your business on your digital signage displays. In fact, you should always approach your digital signage content with the viewer in mind, not the business itself.

Entertainment is probably one of the best ways to hold your viewers' attention. Once you have an engaged audience, they'll act favorably when you tell them about your latest features/product. Ultimately, digital signage has the power to increase your customer loyalty. Again, believe me! I've seen that happen to some of our clients.

Based on that and thanks to our customers' feedback, we decided to offer 6 more options of digital signage widgets to help you create more attractive content to your audience:

1 - Analog Square Clock Widget

This is an adjustable analog square clock widget with customizable dial, hands and background colors. You can either use the digital signage widget itself or combine it with other content elements on a multi-zone layout. It'll automatically adjust to the size of your layout region.
2 - Analog Round Clock Widget

It's also an adjustable analog clock widget with customizable dial, hands and background colors. But this is a round clock instead of a square one. Plus, you can choose the dial type you want (Arabic Numerals, Roman Numeral, Strokes) and make your digital signage widget match the colors of your business brand.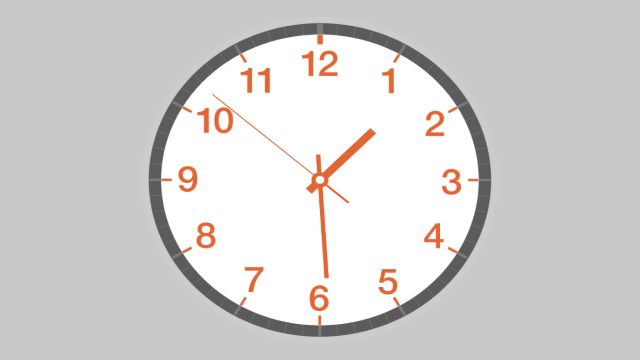 3 - Facebook Page Widget

This is the first social media widget we're launching and a feature request we used to see very often. It shows the 20 most recent posts of any Facebook Fan Page on fullscreen. Each post will be shown individually for as many seconds as you want in a rotating way.

Note that private posts won't be displayed on your screens, only public posts.

It was specially designed to make viewers feel like they're actually navigating facebook. The first sentence of your post will be in bold and displayed as a title. If your post has an image, it'll also be shown on the right side of your text, as you can see below: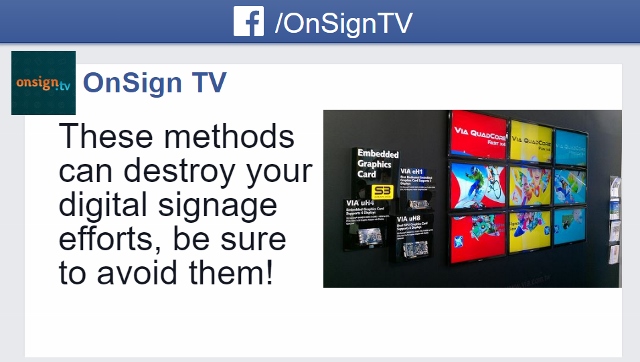 4 - Directory Widget

With this widget, you'll be able to organize information through directory lists. It's perfect for data classification and listing names, rooms, telephone numbers, etc. It makes so much easier for your viewers to find relevant info. Plus, this digital signage widget is also particularly useful for creating timetables.

It's super simple to configure its settings as well. Just make sure you separate columns with a comma and press enter to create new lines. Also, you have the option to select one of the background themes we offer (Business, Medical, Dentist, School and Sport) or upload an image to have it as a background.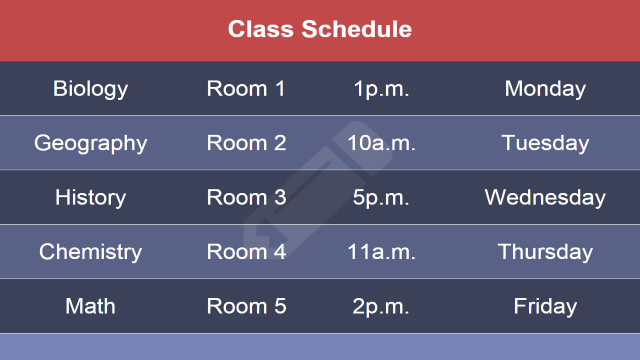 5 - Match Score Widget

How about tracking your favorite sports team while on the go? That's exactly the objective of this digital signage widget. It shows the scoring table of any championship you wish. Just enter the match scores you want displayed and select one of our background themes: baseball, basketball, football and soccer.

You can choose a different background image as well. So, no worries if your favorite sport was not listed as one of our themes. You are always able to customize it as you imagine! Plus, you get the option to include a championship logo, which will be shown right beside your digital signage widget title.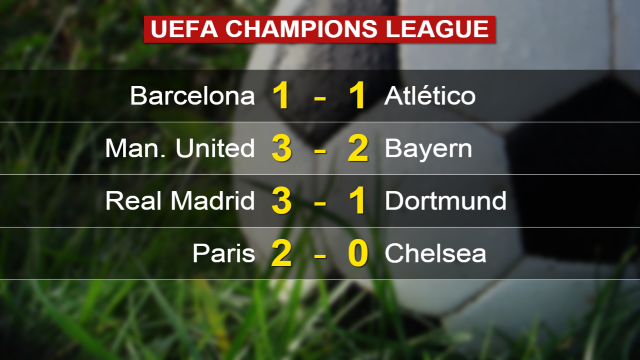 6 - Small Weather Widgets

This is a simplified version of a digital signage weather widget. It was specially designed to fit small regions of your screen layout. It shows a three-day weather forecast for any location you choose in a rotating way. Easy as pie!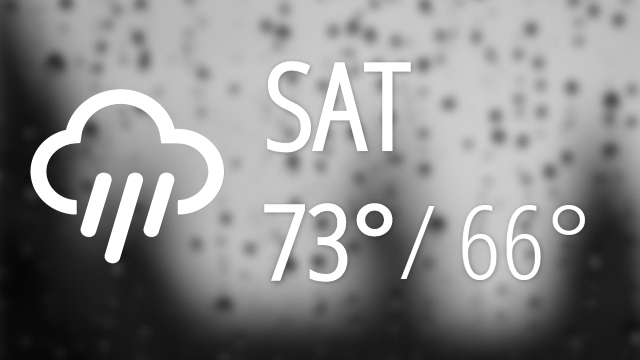 Showing the world how straightforward it can be to manage a digital signage network is part of OnSign TV's mission, it's in our DNA. But we also think that effective content creation shouldn't be a problem! That's why we're offering you all these new digital signage widgets. We believe it's important to have a good blend of entertainment and advertising to create compelling content for your business.

So the next couple of months are packed with more exciting digital signage widgets to keep your viewers informed and happy with what you show on your screens. We'll release instagram widgets, twitter widgets and many others soon. Stay tuned! Until then, feel free to ask questions and send us messages through our platform or social media channels.