The kiosk mode is a special feature that blocks users from leaving OnSign TV or being interrupted by notifications. When active OnSign TV will be the only application running preventing the user from launching other apps, going to settings, or reaching the home button, or home screen.
The kiosk mode is very helpful for touch screens displays installed in public areas, so all users can do is to interact with the content you have built using OnSign TV.
SAMSUNG DEVICES:
If you are using a Samsung device, OnSign TV offers a different kiosk mode setup that offers several advantages compared to the method described on this tutorial. To know more click here.
To configure your device to kiosk mode you will need:
A device with Android 5 or above
OnSign TV Android Player 5.1.6 or above
Setup your device so OnSign TV runs as a Device Owner App.
Please, note that once OnSign TV is a Device Owner, it cannot be removed. The only way to remove a Device Owner application is by doing a factory reset and erasing all data.
This tutorial describes in three parts all steps to enable kiosk mode:
Factory reset device
Install OnSign TV app
Run adb dpm command
Factory reset device
The factory reset will bring the device to a fresh state. In "Android Settings", click on the "Backup & Reset" menu.
Then, select "Factory data reset" and wait for the process to finish. Your device will reboot when ready.
Once the device reboots, you will need to re-enable Developer Mode as described on the ADB tutorial.
Download OnSign TV
After Developer Mode is enabled, it is time to use adb to install OnSign TV and activate it as a Device Owner.
Download the latest OnSign TV version on the website.
Connect your device to a PC using an USB cable. Open the Command Prompt and install OnSign TV by typing the following command:

adb install OnSignTV-NNN.apk

*OnSignTV-NNN.apk is the name of the file you downloaded.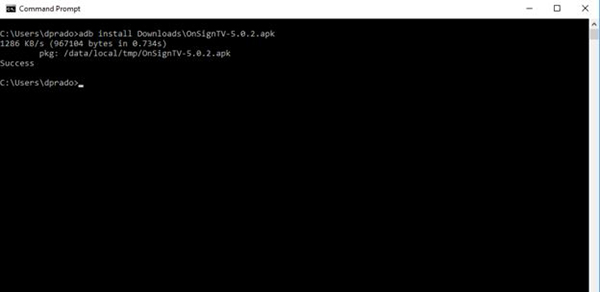 Run adb dpm command
Once the apk is successfully installed, activate the Device Owner by running the following command:

adb shell dpm set-device-owner tv.onsign/.sync.hw.owner.SignageAdminReceiver

From this point on, OnSign TV is active as the Device Owner and cannot be removed.
You should associate the player to your account by entering the code that is displayed on screen:
During association, you will be presented with an extra optional password field (Lock Password). Enter a password to exit OnSign TV kiosk application on your device. It is not compulsory though, and you might be able to exit the application even without password.