Add apps to your campaigns in order to make them much more dynamic and eye-catching.
For setting Apps on your campaigns, start by creating an app. You can do it through two different paths:
On Content Tab:
On your OnSign TV account, click on "Content" on the sidebar menu.
On the top of the page, hit "New" and then "App".
Then you can set an App so you can use as content on your campaign.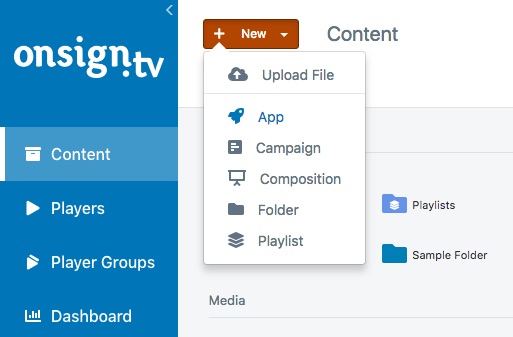 On Campaign:
Also, you can look for it on the Campaign page. If you open edit a campaign, scroll down to the bottom of the page until you see the Content box.
Hit "New", and then "App".
A pop-up window will be displayed with all apps available. Browse through different categories in the top menu bar.
Select the app you want to add to your campaign and fill the settings.
Check out how the app is turning out by clicking on "Preview".
If the result is satisfying, hit "Save App". The custom app will be automatically saved to your Content Library.
Drag an app to the timeline to add it to the campaign.
Each time you create a new campaign, you can reuse the custom app. There is no need to create it all over again. Just keep in mind that if you want to edit any preference, the changes will apply to all campaign in which the app is set.