Installing OnSign TV into your webOS screens is really simple and easy!
This tutorial is
compatible with all LG webOS 2.0 and LG webOS 3.0 professional displays
:
webOS 2.0 - SM5B, SM5KB, SM3B and UH5B.
webOS 3.0 - SM5C, SM5KC, SM3C and UH5B.
webOS 3.2 - SM5D, SM5KD, EG5CD and EJ5D (Compatible with firmware 04.00.60 or newer)
Installation process
Turn on your LG TV
Press and hold the Settings button on the remote control until a rectangular box with a chat icon appears in the top-right corner.

Press then the number sequence 8 0 8 0 and then click Ok button.
The LG Server Settings will be presented on the screen. Enter information as presented below: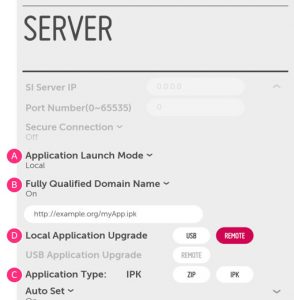 Application Launch Mode: Local
Fully Qualified Domain Name: ON
URL: https://app.onsign.tv/download/player/webos/ (make sure to type all characters, inclusing the last "/")
Application Type: IPK.* (*If this option is not available, it means you need to upgrade the TV firmware . Upgrade the firmware and then re-start the OnSign TV process again.)
Portrait Mode: In LG webOS 3, you can setup directly on this page the display orientation. Make sure your device has the latest firmware, or at least 04.21.10. For setting LG webOS 2 devices on portrait, you need to follow the nstructions given on this tutorial.
Next to the Local Application Upgrade label, select REMOTE and hit OK on the remote control.
Restart your device once the complete message shows up.