Publishing an "On demand campaign" is a great way whenever you need to trigger a specific content on one or multiple players!
This feature is ideal for displaying
emergency messages
,
fire sales
and type of 
any live content 
you would like to pop-up on your screens!
Follow these steps for publishing an on demand campaign, or playlist.
On your OnSign TV account homepage, press "Publish" under the campaign you wish to apply the settings
Click on "Publish to Player" button on the top right corner.
Select the players, our player groups you would like to publish your content.
Select "Play on Demand" under Triggered Playback title.
Once published, your On Demand campaigns will show on each player and player groups as follows.
How to trigger Published On Demand published content 
Triggering content published to a player.
Click on Players tab at the header.
Click on the Player where you have set the campaign.
Select "campaign in players" on the left bar menu.
Below the Primary Campaign Loop list, your campaign on demand will be placed under Triggered Campaigns header. Beside the campaign thumbnail, click on play button next to "Play on demand".
NOTE - Triggering on demand campaign on player groups follow a similar process: select the target player group where the content has been published; click on "Campaigns in Group". All other steps are the same.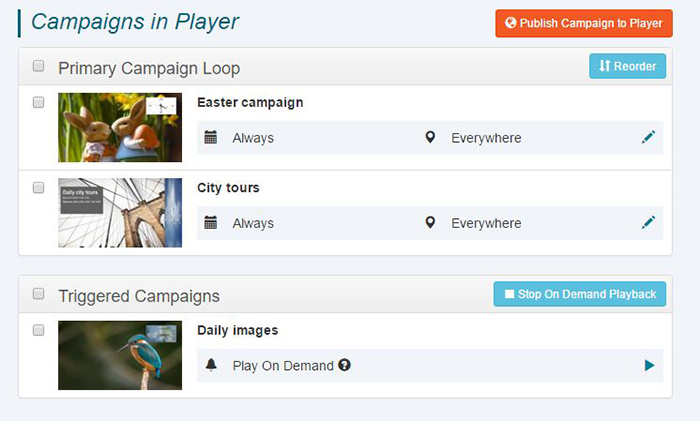 A pop-up window will request how many times in a row you want the campaign to be displayed in the player. If you want to be displayed infinitely, insert "0".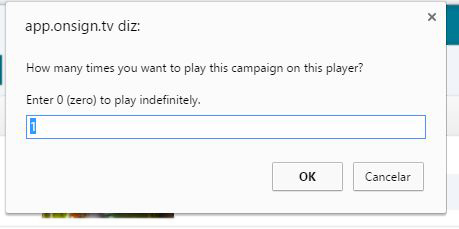 Stopping an On Demand playback
Whenever you want to pause the campaign playback, press "Stop on demand playback" on the Triggered Campaigns header.