The field of transportation is one of the best industries for digital signage as there is no shortage of uses for displays in buses, trains, stations, and especially airports. Being one of the most crowded areas of the transportation world, airports welcome a tool which can guide and inform thousands of travelers daily. With that in mind, airport digital signage has many possibilities!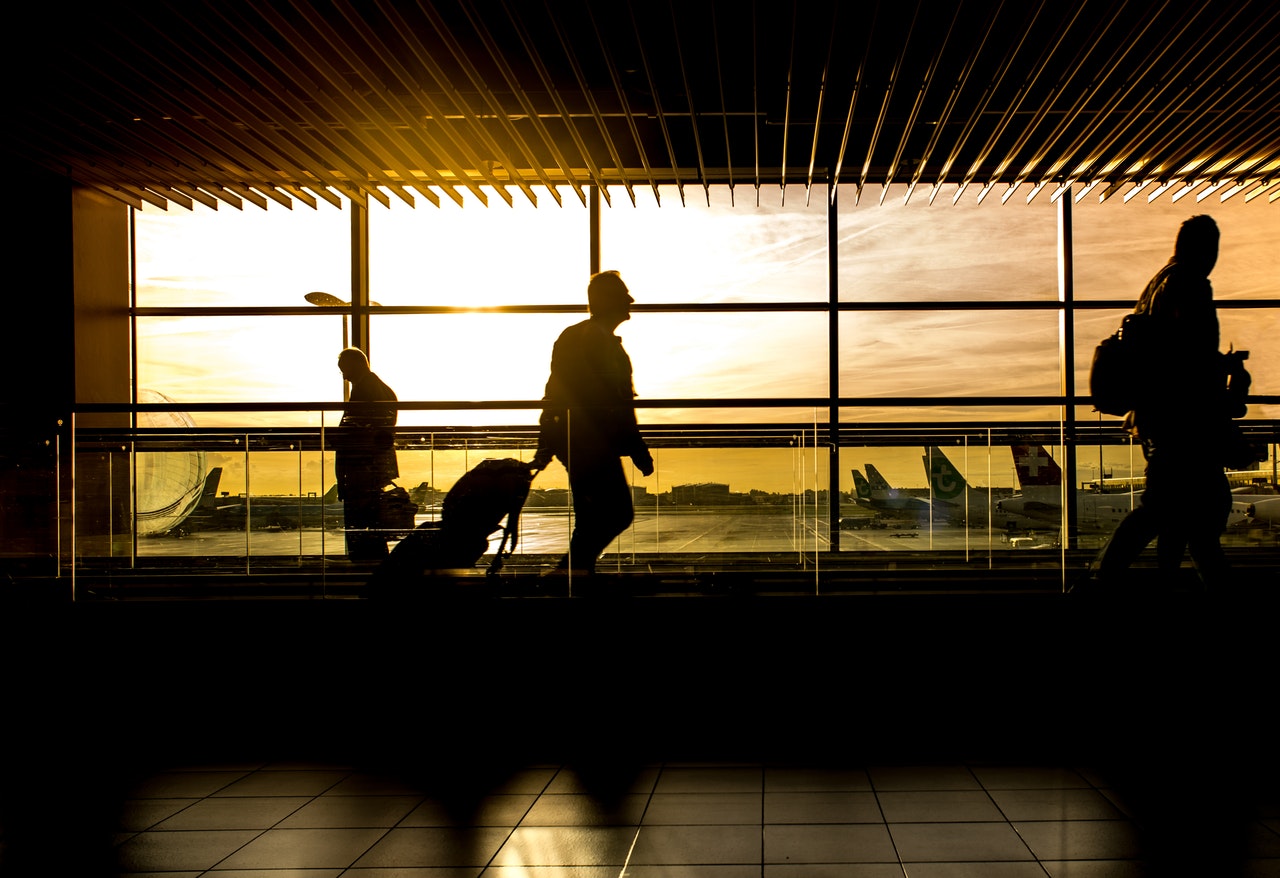 You are most likely familiar with many great reasons and uses for digital signage in public transportation, but when it comes to airports, it truly goes to a completely different level. Airports are almost like small cities! And they have a great amount of potential for a tool as versatile as digital signage.
#1 Keep travelers well informed
An airport is a location packed with information. Conventional signs simply don't do the trick!  And you can't possibly expect for a few, let alone one, information terminal to be able to accommodate for thousands of travelers every day. Keep in mind that people often find it simpler to ask than to work on getting an answer on their own. Thus, you should provide them with the means to do so!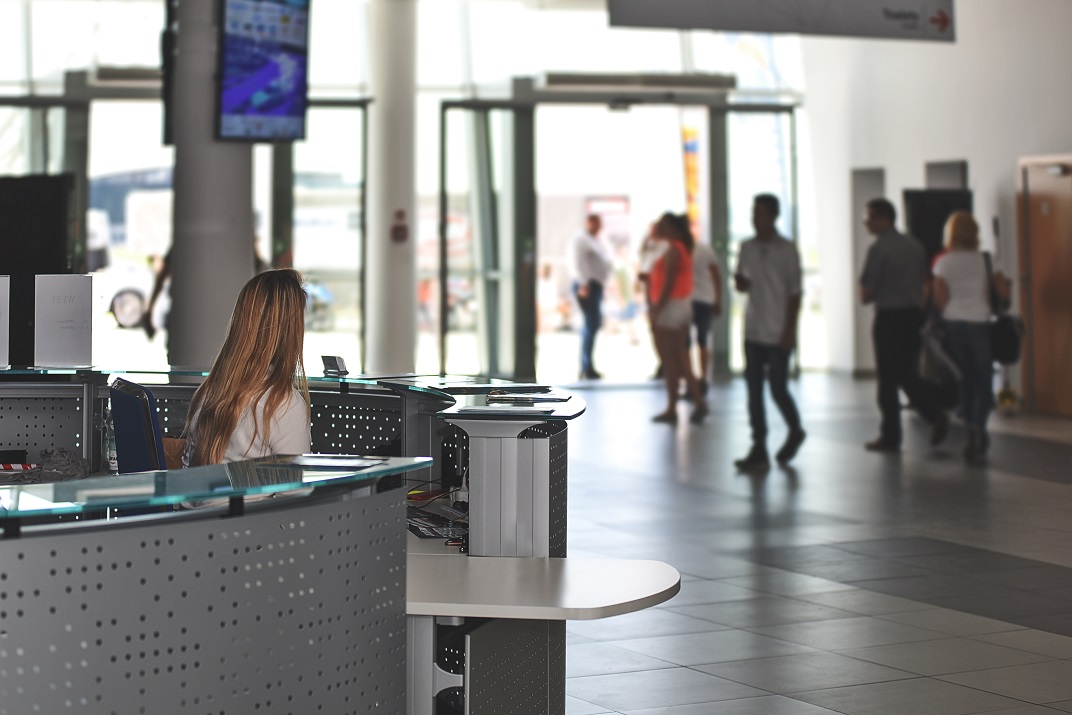 Primarily, an airport digital signage setup can ensure travelers are aware of flight schedules, and more importantly, any unexpected changes which may occur. Cancelled or delayed flights is important information! Alongside a digital display, or even video wall dedicated to flight information, individual and even interactive displays can be very beneficial for travelers to find specific information they're after.
Interactivity is quite the trend in the airport digital signage world, especially using LED displays to create immersive environments for passengers. This is only one of several trends emerging for airport digital signage.
#2 Amazing advertising potential
An airport is a dense intersection which leads to many roads, but just how many? Well, one example is the Dublin Airport which had a staggering 27,9 million passengers pass through it in 2016. If that doesn't define a perfect location for advertising, I don't know what does!
Advertising for any business at an airport will be highly effective. Still, companies in industries related to travel and recreation will gain the most benefits in this field. Providing an advertising field for third party companies can bring in an additional revenue stream for property owners. In essence, if you are not using the advertising space for your own business growth, selling that space to a third party is the way to go!
Advertising is highly effective here, especially if you focus on the "dwell" time wasted at the airport, which is mainly spend waiting in line, at customs, baggage claims, or for boarding etc.
#3 Entertainment makes waiting more pleasant
Airports are different from bus or train stations for many reasons, the primary being, without a doubt, the amount of waiting time. It doesn't come as a surprise to spend several hours at an airport. Rightfully so, of course. It is an elaborate procedure and one should appreciate the security and effort put into it. However, that doesn't make you any more comfortable when you find yourself in that position.
Entertainment is a great way to lower perceived wait times, which comes as a blessing at an airport. There's lots of distracting content you can use, like weather or the news. Sometimes, even advertisements can be interesting to watch, but if you truly want to hit the nail on the head when it comes to customer experience, go for pure entertainment. Any type of non-commercial content will do the trick, cartoons included!
#4 Help travellers navigate the airport
Wayfinding is one of the most common uses for digital signage, and surely you've heard how it can be used. Digital displays are extremely useful in helping travelers navigate their surroundings, especially in a location such as an airport where there are so many different paths to take. Airport digital signage can serve as a map to not only show travelers where they are in the airport landscape, but also show what the most direct and efficient route to their destination is.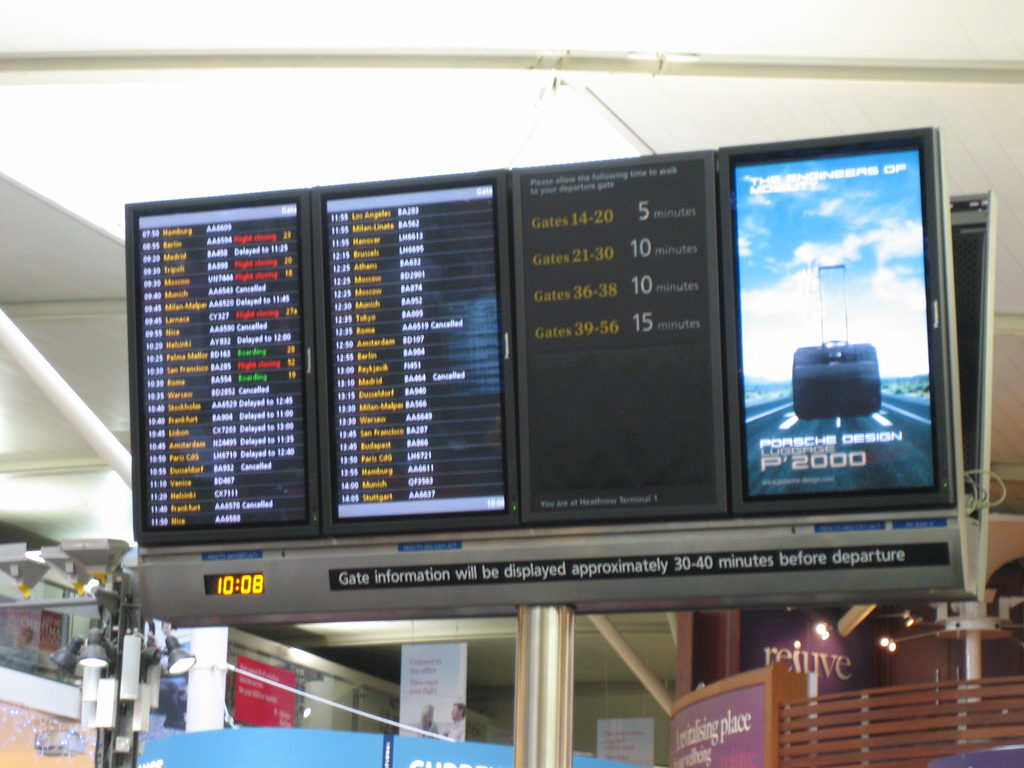 Image by Rene Schwietzke
Wayfinding is especially beneficial in an airport environment, given how large certain airports can be. Not knowing the path might even result in a person missing a flight.
#5 Smoother internal communication
So far, all the benefits you've seen are focused on the customer in one way or another. That is the external audience, but digital signage can greatly benefit the internal one as well. This mainly includes managers, employees, and everyone who is on the other side of the fence.
Airports have a lot of staff for keeping things up and running, thus smooth communication is key. A digital display network can ensure information is easily exchanged across the entire airport, making it a lot easier for the staff to do their job. Strategically placed digital display can inform about weather alerts, safety procedures, or even security threats.
A security threat is the best example where smooth and quick communication is vital. One of the hallmarks of digital signage is its interconnectivity and ability to send out an alert with ease, specifically for security alerts. This doesn't only inform the staff on the current status, but can also instruct travelers on what action to take in case of an emergency.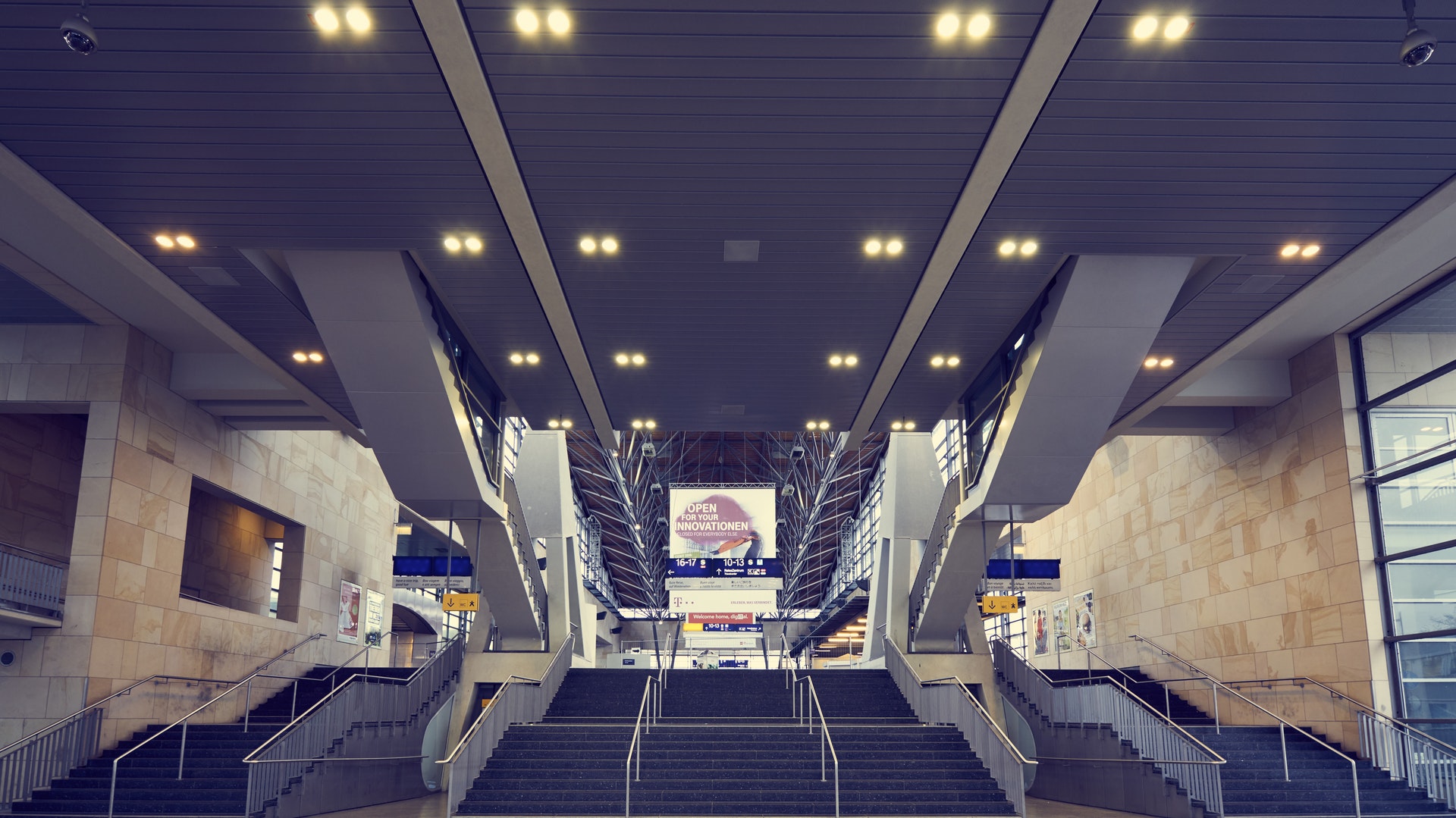 Airports are miniature cities bustling with people every single day. Digital signage is a tool of great power often used within limits when it comes to smaller environments. At an airport digital signage has the opportunity to be used to the extreme.

By providing information, instructions, directions, announcements, and news to passengers, the customer experience will surely improve. Likewise, on the other side of the fence, smoother internal communication between staff members can greatly be enhanced through a versatile and adaptive tool that is airport digital signage.

by