If you're an active user of OnSign TV, you've probably noticed that you have a new option when publishing a campaign: Play Campaign On Demand.

But what does that actually mean?

It basically gives you the opportunity to play any campaign you want at the click of a button. Campaigns On Demand will start playing instantaneously on your screens when you click that button, regardless of which other campaigns are playing that moment.

Campaigns On Demand will interrupt whatever campaign you're showing at your player and get back to the beginning of that campaign only after showing your whole Campaign On Demand. If you wish, you can also set your Campaign On Demand to be played several times or indefinitely.

You just need to click + Publish to Player, choose those players in which you want to have that campaign and click Play Campaign On Demand when publishing it. Note that when you publish a Campaign On Demand what you're actually doing is preloading that campaign so that it'll be ready to be shown whenever you want.

If you actually want to start playing your campaign, you should publish it AND click the magic button. Go to your Player Dashboard, click Campaigns in Player and then press the Play Button to the right. That's it, super easy!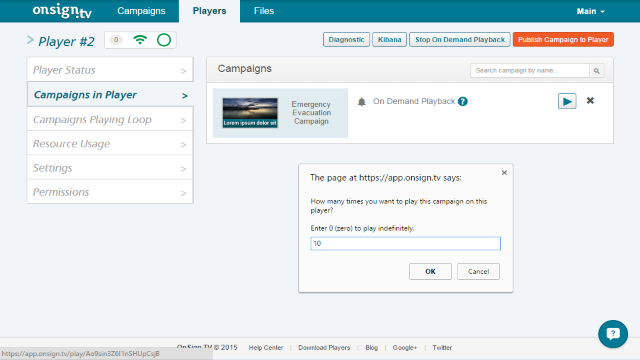 Campaigns On Demand are particularly useful for communicating emergency messages through digital displays. Our digital signage software allows you to easily create prevention campaigns explaining how to respond to disasters such as hurricanes, tornadoes, blizzards and floods.

More than that, OnSign TV enables you to show those campaigns immediately with the simple click of a button! Strategically placed signs can keep your staff safe and informed in the event of a crisis. They can even display life-saving tips on your screens by helping people to find the quickest escape route in emergencies.

Campaigns On Demand have many other uses, though! Emergency messages are probably just the most common use case for this feature. In fact, Campaigns On Demand are perfect for any time-sensitive message that is an exception to your regular campaign schedule. They're often used to promptly inform people about special events, news bulletins and short-time discount promotions.

As long as this feature proves helpful for you and your business, we're happy!

Just make sure your OnSign TV Android Player Version is 0.11.15 or later and that your player is connected to the Internet to have access to all this. Friendly reminder: always create and preload those Campaigns On Demand you know you'll use in the future beforehand. After that, just click Play Button whenever you want to show a message right at the moment.

Do you want to see the magic happen? Try it out and let us know what you think!

by