Wouldn't it be great to set a campaign to always be played when there's nothing else scheduled to play on your screens? That's exactly what Fallback Campaigns do!

They automatically start playing when no other campaigns are set to play. Companies usually put institutional messages as fallback campaigns to fill in the gap between scheduled campaigns. But, in fact, you can choose any campaign or campaign playlist you wish to have as fallback campaigns.

Fallback Campaigns are also really useful in case of technical issues affecting your hardware settings. Let's say your player resets and for unknown reasons it doesn't show the accurate time anymore. Don't worry! Viewers will never get a "no campaign available" status message on the screen. When you make use of this feature, you can rest assured there will always be messages playing on your players.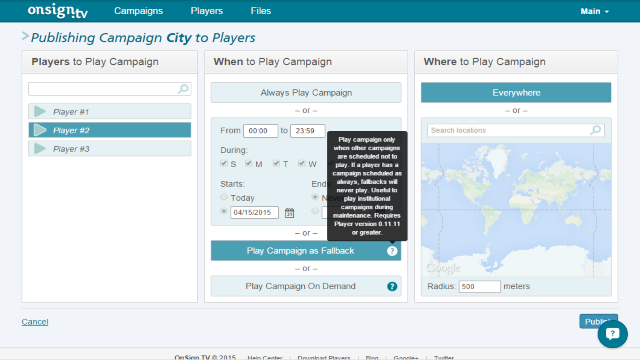 As you can see above, it's super easy to publish Fallback Campaigns through OnSign TV. First, create your campaign or group of campaigns as usual. After that, click + Publish to Player, choose those players in which you want to have that campaign and click Play Campaign as Fallback before publishing it. Easy, right? Just make sure your OnSign TV Android Player Version is 0.11.11 or later to be able to do all that.

So, how do you like our new feature?

Our team is very glad with this progress and we hope it comes in handy for your business. Not only are we releasing a long-requested feature, but also we know Fallback Campaigns can make your digital signage something easier to be managed. If you have any feedback on this, please let us know. Plus, don't forget to stay tuned for upcoming posts!

by