There are many uses for digital signage that are commonly known to its users, but it can get a bit tiring if you're constantly displaying the same type of information. You'll do well to freshen up your campaigns with some additional information types which can engage your customers and make digital signage a fun attraction as much as a useful one.
Creativity is a skill which foremost is sparked by inspiration, and with that in mind, here are some great uses to inspire you to use digital signage to its full potential.
#1 Use Social Media properly
A type of media that can be used in any environment or industry, social media is a great method to bring in customer testimonials and provide product information at the same time. However, you need to know how to use it optimally to make the best impact.
An excellent example of social media via digital signage can be seen at London-based optician Kite GB. A touchscreen mirror was installed at one of its locations, allowing users to snap pictures of the glasses they tried on and share them with their friends on social media.
You can already see the benefits: customers are more engaged, the customer experience is positive and it provokes word-of-mouth advertising over social media.
Here are some main points why you should definitely include social media in your digital signage campaigns:
Social media gets viewers more involved than any other type of content. If you provide a life feed to social media posts, users will be drawn in to post something and see it appear on the display.

Who doesn't like free? You get free testimonials and free word-of-mouth advertising. By using your digital signage, you make this information easier to access by the average viewer.

It is content you do not have to create as it's automated and it takes minimal effort to establish.

It balances out advertisements and promotions, involving a more interesting and fun factor into the mix whilst still helping your business flourish.

Although primarily appealing to your customers, it can also act as a great feedback system which grants insight into the positive and negative sides of the business. You may hesitate to share the negative sides, but it provides a note of honesty and makes it clear that you pay attention to negative feedback too.
Now, what can you do with social media in your business? If your business provides a visual component like eyewear or clothing, you can easily do something similar. Additionally, your brand can contribute to your social media feeds by directly interacting with customers who reach out to you.
Many brands, especially larger restaurants, frequently interact with their customers and/or other businesses or media outlets on social media, which results in some interesting, if not hilarious social media feeds that are bound to bring attention.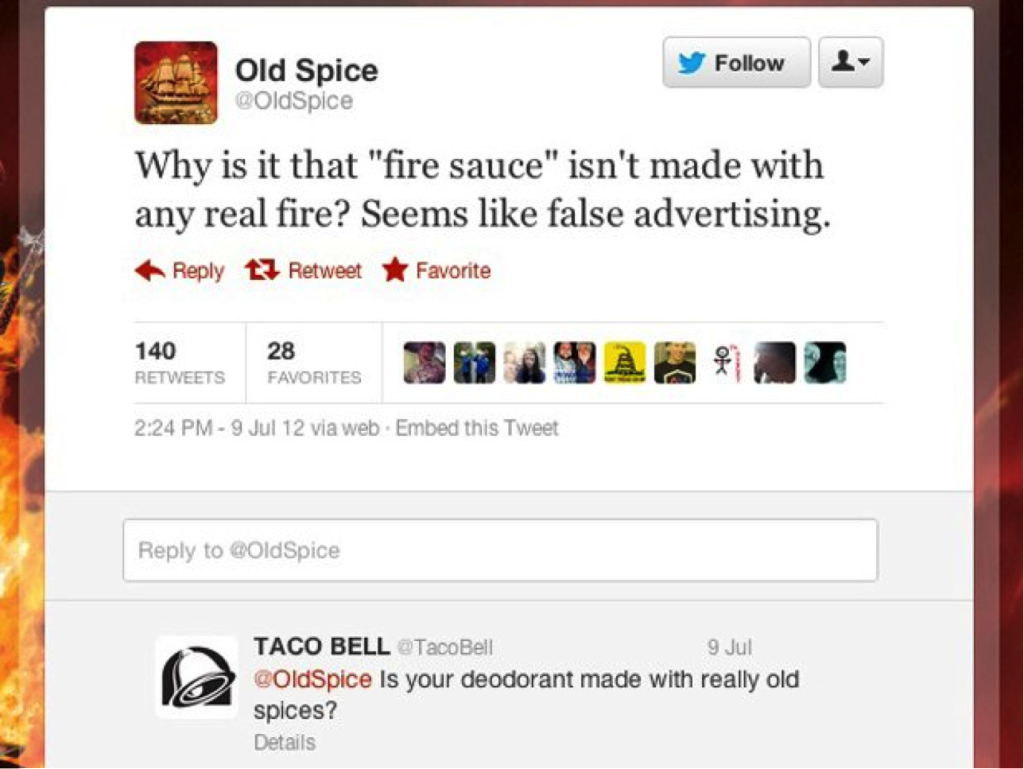 #2 Display your website
Among the many types of content a business can display, the website is frequently forgotten. If you have created a pleasant website with all the information a customer could want, why not show it off?
As part of your campaigns, a teaser of your website can invite viewers to visit and engage directly with your business. This can be done through video instructions, images, and you can even include a QR code visitors can scan to visit your website immediately.
If alongside your website you also have a blog or information relating specifically to your industry, this is great content you can briefly share over your digital signage network. You can include latest titles as a preview to what great content a viewer can find on your website.
#3 To boost engagement, make it fun!
It's great when people want to interact with your digital signage and share your brand on social media, but as we've seen, it has to make the viewer satisfied to yield truly epic results. If you make interaction fun, people are more likely engaged.
Nice. From Elevate Digital at #dse2015 pic.twitter.com/dTSra4tapa

— DigitalSignageToday (@DigSignageToday) March 11, 2015
This is one of the many examples seen at DSE 2015 where an application from Elevate Digital used facial recognition to replace people's heads with orangutan faces, kitty faces or the head of Homer Simpson. If you walked past and saw yourself like that, you'd probably stop to take a closer look. Such fun applications of digital signage make people share your brand and extend your reach.
Although facial recognition and direct interaction are great ways to engage the customer and make them pay attention to your signage, they are not the only way. You can engage customers by displaying fun content that entertains them. However, if you want to reach the interactive level, you don't have to have expensive technology or a touchscreen. You can use codes your viewers can scan or provide clear instructions to allow users to interact with your content. Digital signage software makes this easy to achieve with features designed to make interaction and engagement easy.
#4 Provide inspirational quotes
Inspirational quotes are a great burst of positive energy in any moment. Websites and tools often use these to provide that little push in the right direction, especially social apps. This little nugget makes people feel more positive about a location, a brand - or themselves.
You can carry the positive notes into your own brand by incorporating inspiring quotes as a part of your digital signage campaigns. This is one of the more subtle uses for digital signage, but it can still make a noticeable impact to the mood of the viewer.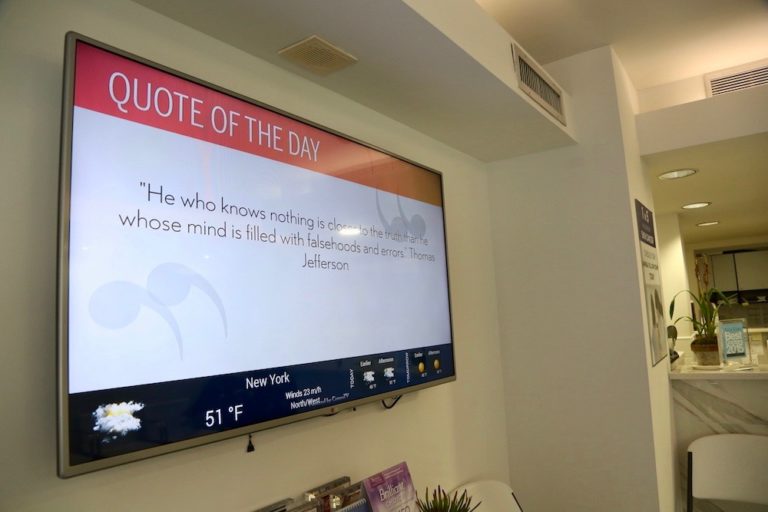 They don't have to be anything too elaborate or excessive. You can include them as an addition to more static campaigns you display on your screens. Current weather and news are great places where you can include an inspiring quote. "It is darkest before the dawn," can be an inspiring quote during a thunderstorm, or a hilarious quote at 5 AM, if your business work hours permit it.
Digital signage software such as OnSign TV provides apps that make quotes very simple to create and present, especially if you want to adjust or customize quotes by adding certain images. You can create an inspiring presentation and adjust all the parameters as you see fit, then include them as a brief part of your campaigns to occasionally inspire your viewers.

Get inspired and create epic content!

These are all great ideas you can replicate and make them fit your own business mold, but if you're seeking for that awesome idea you can use yourself, to make your business memorable and make people pay attention to you fully, you need to think that one up by yourself.

"It's not about the shiny new objects or the shiny new tech. At the end of the day, it's all about the imagination that you can actually use," says Tham Khai Meng, Co-Chairman & Worldwide CCO, Ogilvy Worldwide. He is one of the several Creative industry ambassadors who were interviewed by Ocean and Campaign on the subject of creativity and their perceptions of the Digital Out of Home world and its future. If you want to gain a fresh perspective on creativity in DOOH, you should definitely take a look.

Tham Khai Meng, Co-Chairman & Worldwide Chief Creative Officer, Ogilvy Worldwide from Ocean Outdoor on Vimeo.

by