According to a new report just released by Global Market Insights, Inc., Digital Signage
Will keep its positive trend.
To understand such a strong growth, it is important to take a look at some of the driving forces sustaining such a high trend:
Increasing of signage solutions in bars, restaurants, and similar establishments to enrich the customer experience will fuel the digital signage media player market demand over the future. To replace the traditional way of informing customers through menu cards, these devices are utilized to power screens to display attention-grabbing advertisements and providing significant opportunities to the industry.
The penetration of devices in the retail sector is on the rise following the increasing need for brand visibility, fueling the digital signage media player market demand.
The utilization of media players in the retail sector is increasing owing to the demand for enhancing customer interaction and streamlining business operations. In retail, the digital signage has evolved as a significant marketing & advertising tool for reinforcing the branding and customer experience.
The screens displaying content in integration with the media players contribute to the brand equity and customer vibe while promoting products & values in a smart way.
The rising popularity of these devices can be attributed to the compact, small, and easy-to-install features suitable for the outdoor environment, video wall applications, and professional installations contributing towards the growth of the digital signage media player market.
Getting data just released, the Digital Signage Media Player Market size was valued at over USD 950 million with a global shipment of over 2.5 million units in 2016.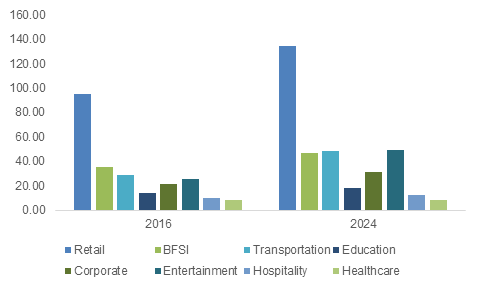 Get complete report information here!