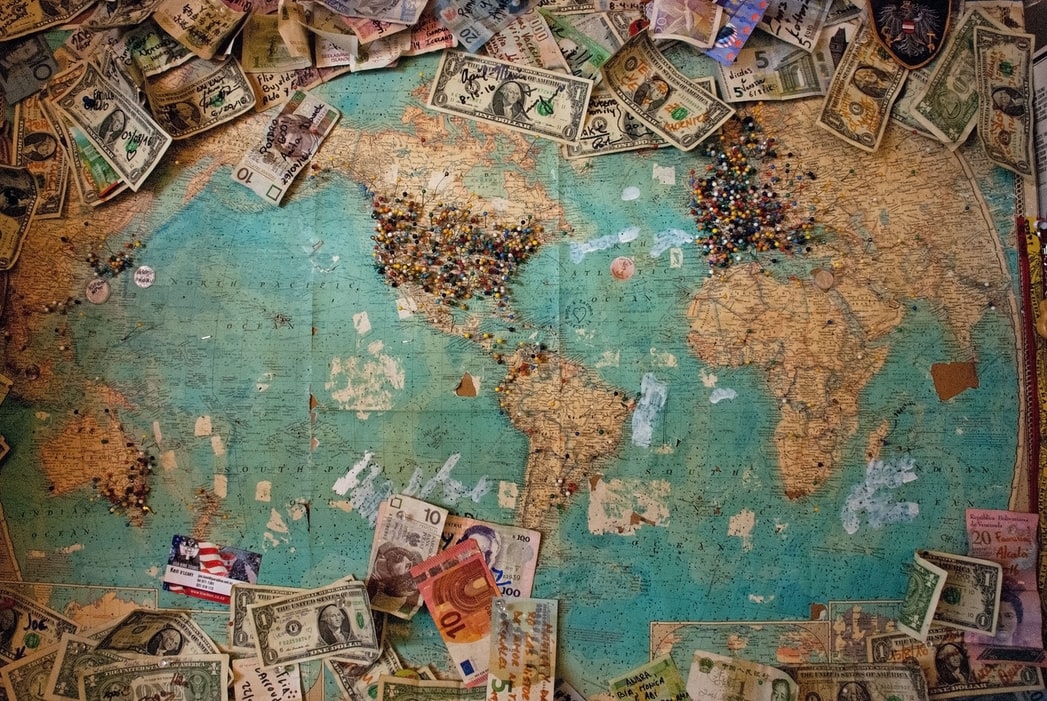 Time flies, and the end of 2019 is closer than its beginning. As we await for concise details on the performance of the second quarter of the year (which will undoubtedly show positive results), we can take a look at the first quarter as well as other statistics and research we obtained in the first half of the year. 
You won't need to read far into this report to understand the out-of-home industry is doing well, but if you want to see it in more detail, especially how it fared in challenging times, read on!
UK ad expenditure grows despite doubts
Although the outlook on business for the UK in 2019 wasn't the best prior to the original Brexit date of March 29th, the first quarter passed reasonably well. This was the case with digital media and includes online radio, TV, and most importantly, digital-out-of-home. The latest Advertising Association/Warc Expenditure Report claims that digital advertising continues to act as a driving force.
The first quarter of 2019 for the UK had an overall digital advertising expenditure climb of 4.2% year-on-year, leading up to a total sum of £6 billion. Nevertheless, despite the successes of digital advertising overall, there have been a few low points for traditional media. National news brands saw ad investment fall by 9.1% year-on-year overall. Magazine brands had a drop of 10.8%. Another investment fall was seen for TV (-2.5%) and radio (-1.7%), despite stronger online growth. 
The only fields which managed to push upwards in traditional media were cinema (+12.3%) and OOH (+6.8%). If you'd like to confer more statistics regarding this time period for the UK, read on over at Mediatel. 
Australia's net media revenue on a steady rise
If UK's OOH managed to stay afloat in Q1, it won't come as a surprise to see it succeed in other places. Particularly Australia saw a 5.9% rise in net media revenue year-on-year for the OOH industry in Q1. Furthermore, the Outdoor Media Association (OMA) reported another increase in Q2. The digital revenue sits at a comfortable 55.5% of total net media revenue, compared to 49.8% last year and 55.1% in Q1.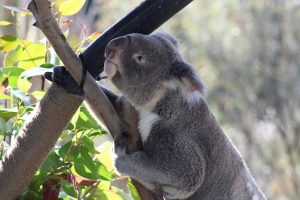 Charmain Moldrich, CEO of OMA, credits this growth to the investments in technology and research. "We continue to build a modern, dynamic channel with scale, now reaching 93% of Australians where they live, work and play," she added.
Additionally, as we cut 2019 in half, more stats rolled in on how the previous year, 2018, did in terms of revenue in OOH. According to OMA, Australia had a record-breaking 10.8% increase in OOH net media revenue in 2018. 
US reports growth in Q1 and shows top spenders in OOH
Moving further around the globe, we arrive at the United States. The overall growth in OOH advertising revenue here went up by 6% in Q1 of 2019, compared to the same period in 2018. This rise of 6% amounts to $1.78 billion in spending, based on the numbers released by OOH Advertising Association of America (OAAA).
When looking at the following stats it's important to keep in mind that OAAA doesn't distinguish between static and digital, but it is known that digital replaces traditional signage more and more.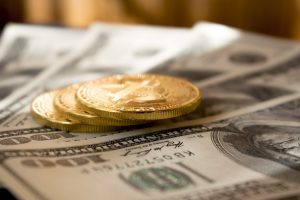 Of the top ten product categories, four posted an increase equal to—or greater than—the overall quarterly increase. These four product categories are:
Insurance & Real Estate (+18.2%)

Media & Advertising (+13.4%)

Miscellaneous Local Services & Amusements (+7.8%)

Financial (+6.0%)   
On the side of advertisers, of the top ten ranked in order, McDonald's was number one in OOH spending, followed by Apple and Geico. Additionally, 29 out of 100 top OOH advertisers more than doubled their OOH spend in Q1 2019, compared to the previous year. For a full list of the top ten spenders and more statistics, head over to Sixteen:Nine.
Just as we saw Australia's success in 2018, we can now see reports of how the US did in 2018. A report from OAAA shows that US OOH advertising went up by 4.5% in 2018. This presents a total spend of $8 billion, the greatest quarterly growth since before the Great Recession of 2008.  
OOH Reaches 90% of travelers in the US 
Not to belittle the value of revenue, but let's take a look at some other statistics in the OOH world that can trigger your interest! According to the latest Nielsen OOH study (2019), OOH reaches 90% of US travelers over the age of 16 in a month (80% in a week). 
This report proves to be the most in-depth indicator of the impact of OOH on consumers. It spanned across 15 media varieties, including billboards and street furniture. Take a closer look at the report as it reveals intriguing data such as: 
66% of smartphone users took action based on an OOH ad 

Over 40% looked up the brand they saw on OOH  

Adults aged 16-34 are the largest demographic responding to OOH ads 
Here's a quick breakdown at how US travelers notice OOH advertising around them.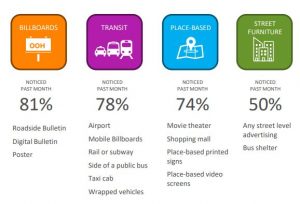 2019 proves to be another good year of statistics!
The growth of outdoor advertising, especially its digital form, can be attributed to ad spending and investments made in the industry. Yet, apart from the presence of digital advertising in the physical world, we must attribute it to the rise of interest in this field. This year's Digital Signage Expo (DSE) reported a 6% growth in attendance, which is quite noteworthy, given that it's the biggest exhibition in the industry. 
2019 seems to be a promising year indeed! Though, one might claim we say this about most years. With countries like the US maintaining a growth streak for 35 quarters in a row (that's just short of 9 years), the only real news would be an end to the streak which we hope is far in the future. Still, we are always on the look-out just how much better it gets each year, and the second half of 2019 will be grand, if its first half is any indication.