For car dealerships it is clear that giant inflatables, jingles and funny ads no longer suffice to make an impression. Marketing methods and audience preferences have moved in a new direction a long time ago. These days, one of your strongest bets for marketing success lies in digital signage. Leave those archaic methods behind as they won't do you much good anymore, and come join us in the present!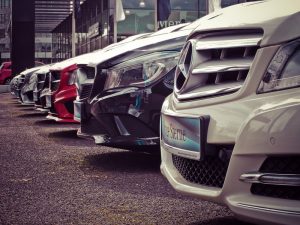 Digital signage is the gateway to success by providing you with several new ways to attract customers and keep them happy. Not only is it a cutting edge tool, it is also a must-have for a polished presentation towards customers. We'll discuss its indisputable value in detail later. For now, let's take a look at some of the obvious reasons why you need to set up digital signage in your car dealership.
1. Attracting people and establishing your brand
Car dealerships are a lot more than just a bunch of cars lined up for sale. Yes, a great deal of success lies in the product quality but also in the branding and customer experience. The former has your customers attach meaning to your product, while the latter gives the customer a feeling of joy. The overall atmosphere will determine how product in brand is viewed. For a product which is in part a status symbol, this cannot be stated enough.
First, outdoor displays with special offers, ads and product highlights draw people in. And second, an indoor network of digital displays makes sure those through your door are entertained and informed. After all people don't typically go to a car dealership just because they have a bit of spare time or they are out of milk.
You must keep in mind that buying a car is no small feat. People who buy a new car nearly every year are seasoned buyers and take pride in having the best model out there at all times. For others who buy a new car only about once every decade, the sense of a special occasion is even more prominent.
People like to talk and share their experiences when they buy a new car. If they have enjoyed the experience in your dealership, you can rest assured they will talk about you. The opposite is also the case, which can be to your detriment. This holds true even if they don't make a purchase. Being entertained and informed well can be a positive experience people will share. Word of mouth is a powerful tool even in this day and age, social media is evidence of this, and it should not be neglected.
2. Communication with customers who dread salespeople
Salespeople have always been a subject of discomfort for some. As new technologies develop, people realize they don't have to tolerate them anymore. Many of us swiftly change direction when we see a salesperson about to give their next pitch. The only issue is, they're not as easy to avoid in a car dealership.
Some people don't mind salespeople, but some do. With digital displays throughout your dealership, you can please both those who adore chatting with salespeople, and those who dread them. And then there are some. in particular millennials, who show an aversion to environments lacking in technology, especially car dealerships.
3. Providing clarity leads to more purchases
Not everyone is a car fanatic, and many people simply want to make the best choice they can in as few steps as possible. It can be overwhelming to be presented with a plethora of information regarding something one is unfamiliar with. A well designed digital signage interactive presentation can help customers learn all the details about the car they're interested in.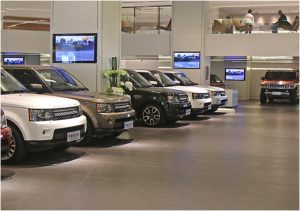 Pricing information is another vital component, especially with car dealerships offering customization, different payment methods, discounts, promotions, etc. All of this can be neatly presented to the customer through digital signage to ensure they are as informed as they can be. Not only does this provide clarity, it also greatly influences purchasing decisions. The more the customer knows about a product, the more they are confident about buying it.
4. Encouraging customers to take a ride
Now that we've covered some of the more important factual and technical advantages, let's dive into the fun ones. Those archaic methods we mentioned, funny jingles, flamboyant salespeople or amusing ads worked because of how they made the customer feel. They gradually became a cheesy and uninspiring approach, but digital signage can refresh those aspects.
Use your displays for ads which show the car in motion, driving down a beautiful countryside, or even ads which show how wild the car can drive and still maintain control. People love seeing cars in action and this can influence the customers to actually try the car out and get further involved with the product they're interested in. If you increase their appreciation of one specific car, they're that much more likely to buy it.
Additionally, not only does digital signage engage the customers, they also get a memorable experience.
5. Keeping your business in the present
The bottom line for car dealerships is that interactive and visual experiences are no longer optional. We've talked about the amazing benefits of digital signage, and hopefully this fact is very clear to you. Seeing these uses, you can understand that digital signage is a must in any modern business, also car dealerships.
Digital signage keeps your business current through outdoor LEDs which provide a high impact, drawing in customers through efficiently designed messages. Additionally, digital screens allow easier deployment of marketing strategies in this field through entertainment and ads. Interactive screens are great for these purposes but they also generally grant more access to customers. More access equals more customer satisfaction.
Even major brands like General Motors recognized the value of digital signage in car dealerships, viewing digital signage as a very important part of dealership facility requirements.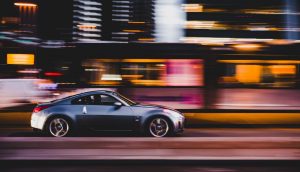 If you want to stay ahead of the game, digital signage technology is the way to go. As we know, car dealerships are places where important purchases take place, and their appearance and features within the dealership should reflect that. Digital signage is one of the major components to use if you want to keep your business current, engaging, and eye-catching for anyone who sees it.

by