Nightclubs, bars, casinos and everything in between is a unique environment. Your audience is dense and confined in a space where they will spend a great deal of time. This is essentially a captive audience, which means there is a higher chance of your patrons being influenced by the messages you display for them.
However, don't jump the gun! Keep in mind that to influence an audience, you first must attract it. The task becomes particularly challenging with the best pubs and clubs charging a cover or entry fee. You wouldn't pay unless you're certain you'll have a good time. Brand recognition, advertising and word of mouth are usually the tools of the trade when it comes to creating a buzz. Luckily, there is another!
Digital signage brings countless ways to keep your audience happy, but it also has exquisite power at attracting and persuading this audience to become an audience in the first place. People looking for the perfect place for their Friday evening won't only be lured in by any sign. Your digital signage can be what persuades them that the ideal evening lies behind the door of your establishment. And here are several ways to attract new patrons, and to keep them coming back for more!
Attract people to come in
Unlike a shop or even most restaurants, people who go into a club tend to stay there for a considerable amount of time. But how to make it your establishment the guests decide on entering? Bars, clubs and discotheques are all about mood, glamour and fun. Once guests find a place which can provide the perfect mood, they will stick around and certainly return in the future.
Digital signage has more visual options at its disposal than any poster to get the mood across to the people who are yet to set foot in your establishment. Clubs and discotheques can use a digital display in the front, showing live video from a raging party on the dance floor inside. Anyone passing by will immediately know where to go for a fun night out.
Highlighting the program of the day can spark people's interest and even create a trace of this effective fear of missing out which is at the center of success of hedonistic environments. You can present upcoming anticipated events. For instance, announce the 80's themed dance party next Friday, or display who the next big artist to perform is going to be. This is convenient because it already segments your audience into the right groups. Some people might not like 80's music, or dislike live music, but for others there could be no better event. Announcing upcoming themes can be a great way to let people know when the night tailored to their preferences is going to take place.
Set the mood with digital signage and video
Digital technology balances mood lighting and informative content. This combination is ideal for dim and dark places like bars and clubs. They enhance the atmosphere and if done well provide a dose of modern glamour and mood to the room.
Although video walls or similar digital installations are a heftier investment than a strobe light or mood lighting, you can't argue that it's not worth the effort. Use of digital signage in this fashion elevates the status of your establishment and makes people feel as if they've stepped into another world.
Using digital signage for setting the mood also contributes to the idea of custom themes. Planning an event on a hot Summer's day? Why not crank the AC up and create a winter wonderland? Meanwhile in winter, transport your patrons to a tiki bar by the beach. The possibilities are endless! The more and larger the mood displays, the more effective the transformation.
Use digital menu boards to elate patrons
Digital menu boards are mentioned frequently when we talk about display uses. Much like in restaurants, digital menu boards give a design upgrade to nightclubs or bars.
First, they provide the necessary information any patron wants, and second, they do it with style. The amazing advantage of digital signage is that it can make your offer fit in better with the environment. A visually appealing menu board, you can entice people to try that special cocktail over a plain longdrink.
Unlike restaurants, people come to bars to have a good time. They don't just quench a thirst the way a restaurant is often visited to still a hunger. Bars and nightclubs are entertainment. They are luxury and distractions from everyday life. This is not the place for rational decisions, its a place for impulse decisions. People want and are open to try new things. Use your digital signage to visually elate your patrons. Food and drinks are a lot more appetizing if you see what they look like, rather than mere words on a screen.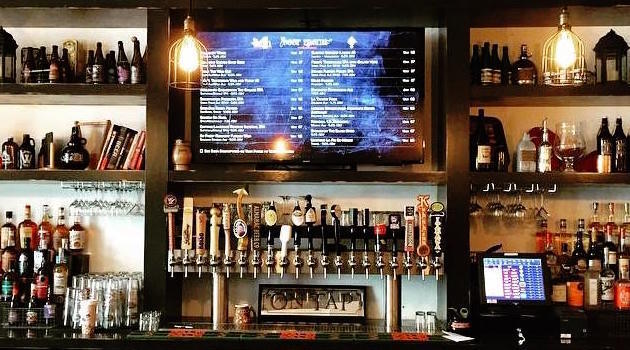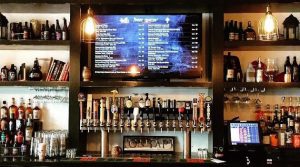 Appeal to everyone with rich content
The advantage of many people in one place can be both a blessing and a curse. You see, you have a bunch of people hanging out in one space for a longer period of time, which means your content will certainly be seen, but it must be rich and fresh.
Switching your content is an excellent way to approach the point of making everyone happy, because let's be honest, that point will never be fully reached. Digital signage ensures you come as close as possible.
Preferences include style, taste in drinks, background, entertainment, and interactive content, all of which can be adjusted and rotated in your campaigns, making them rich with content. Digital signage software makes this easy to do, so make sure you don't ignore this advantage.
Entertain through interactivity
People enjoy watching sports in bars because of the atmosphere and the companionship. You can draw on this aspect of human interaction even when there is no soccer game on the TV.
People come to bars to have fun, so why not open another road for them to do that! Any type of interactivity goes. Take games as an occasional occupation. Many people like them in bars. Just remember how big darts and pool still are.
Trivia nights are another collective entertainment with a regular spot in some bars' schedule. Bar trivia already has the reputation of being able to pack the house and create a loyal customer base. Imagine how well it would do if aided by digital signage. This opens the doors to weekly events people are used to attending, ensuring there will not be an empty seat in the house.
Promote and cross-promote!
Promotions and discotheques go hand in hand. It isn't for nothing that there are people employed as promoters to work the crowd in clubs and bars. Special offers, discounts, happy hours, and anything else you can think of is promoted a lot easier and better with the support of digital signage.
Alcohol brands will gladly pay good money for good promotion. A restless digital signage network supports the promoter to get the job done even more effective. The reach is stronger and the product promotion never stops, plus the visual appeal and style can't be matched.
Aside from the promotion of your own offers, you can cross-promote and include advertisements from local businesses. This is an excellent method to get extra profit from advertising space, because you have a captive audience certain to view it! Anyone seeking advertising space of that quality will be more than happy to pay extra.
Annoy your audience
This is, sadly, an unintentional yet common use of digital signage, and it's a use you do not wish to have. If you recall, we talked about the blessing and the curse of a captive audience. Know that, although everyone in the bar will look at your displays at one point, this isn't necessarily an advantage.
Since they don't have the ability to zone out the content or avoid it, patrons may become annoyed if your content is repetitive and dull. And let's not even talk about using audio. This is a big red flag as it will most certainly annoy people if they are forced to see and hear the same thing over and over again. Make it tasteful. Longer spams of background mood only slightly mixed in with upbeat promotions are a way to do it.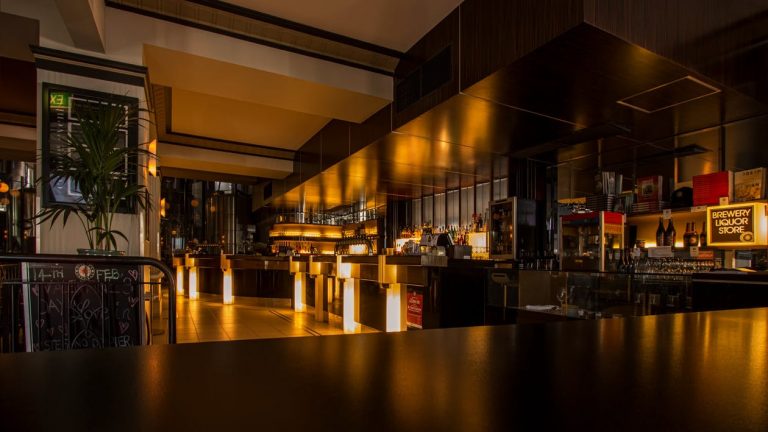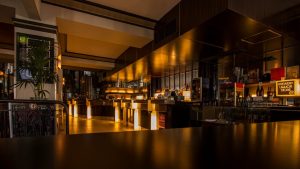 All of the aforementioned uses, excluding the one about annoying your audience, contribute to a better customer experience. To fully enhance this advantage, you can focus more on analytics and establish which content makes your patrons happy.
Overall, the goal is to create a more enjoyable experience for everyone coming to your establishment. Digital signage can ensure your offer is clear, it looks good and your patrons are entertained.