Small and medium sized businesses struggle to compete with corporate giants. Digital signage provides a helping hand in that struggle, by offering a platform to grab the attention of potential customers, help drive customer traffic and boost sales.
There are many[ stunning examples for digital signage](https://enplug.com/blog/best-digital-signage-examples-for-2015), which attract and interact with customers in ways to skyrocket business in record time.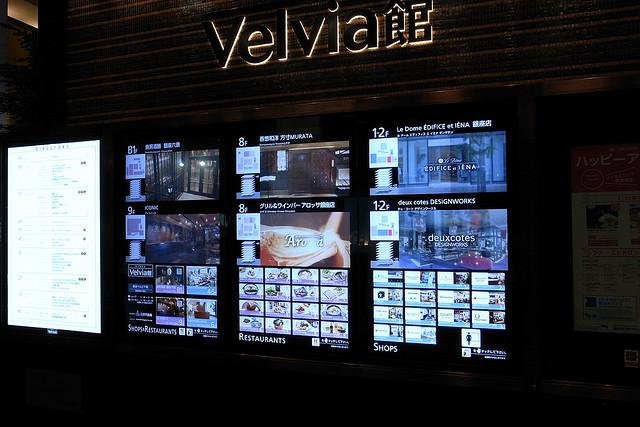 ## 1. Digital signage is spreading like wildfire
The reason why it's so effective for business is due to its appeal. Papers and banners have a certain appeal, but digital signage can be versatile in ways they can't. Mainly due to their ability of displaying various content, and also interactivity which they can use to pull the user in. Meanwhile the average customer was exposed to 14 minutes weekly of digital signage in 2013, which is expected to rise to 56 minutes by 2017. These are[ only some of the few surprising statistics](http://retailmotion.com.au/infographics-digital-signage-helps-business/) regarding digital signage, but despite that it's still not fully predictable where the future moves towards.
_In other news, digital signage is so popular, makeovers have begun to happen. Back in 2014, Samsung selected 5 winners out of 500 small businesses that entered their[ Small Business ReDESIGN contest.](http://www.digitalsignagetoday.com/news/5-small-businesses-win-digital-signage-makeover-from-samsung/) It goes to show that digital signage truly is a blank piece of paper begging to be filled._
## 2. How does it benefit your business?
The main thing you require from an average customer aside from money is trust. Without the second the first will only come once.[ Certain businesses may benefit from digital signage](http://www.thesmallbusinessplaybook.com/how-small-business-owners-can-benefit-from-digital-signage/) more than others. As long as you have a place where customers visit, it can be applied.
Dentists and doctors are perfect candidates for digital signage to name an example. While patients don't wait too long for admission, those few minutes shouldn't be wasted in boredom. For example I was accompanying a friend to the dentist's office and my 30 minutes of waiting passed quickly due to a big plasma screen showing a random show about some bomb on an airport. Granted the AC when it's 100 degrees out helped as well, but that's beside the point!
To give you another more specific example of digital signage application, you can see summarized tips on [how to grow a restaurant business with digital signage.](http://blog.logmein.com/it-guru/grow-restaurant-business-digital-signage)
## 3. Benefits aren't only seen on customers
Digital signage is always effective and provides[ more benefits to you](http://www.streetsmartchic.com/benefits-of-digital-signage-for-business/) than you usually take into account.
_A digital screen means the most flexible banner in the world._
You don't need to reprint every time you want to make a change. In business changes happen and the costs add up, but most importantly it's less of a hassle! You preserve time by simply pushing a few buttons, meanwhile with paper it takes longer and you might find yourself Googling, _"Why won't my printer connect"_ for the 36th time.
## 4. Should physical signage be ignored?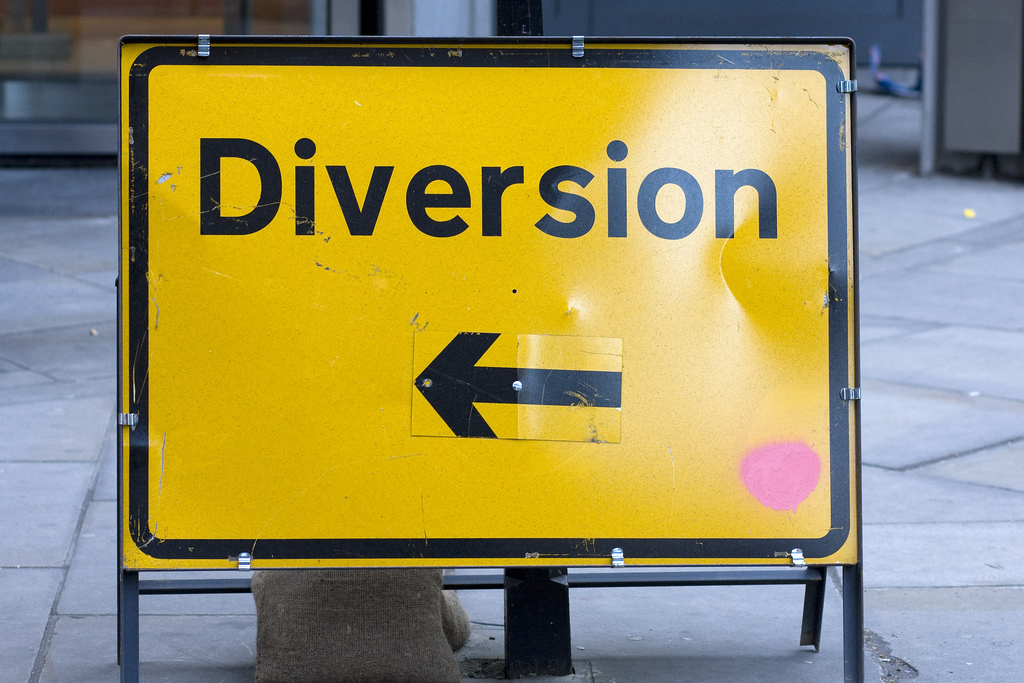 The choice between a screen and a blank piece of paper is an easy one, but if that's the case why hasn't physical signage evaporated yet? One might say digital signage is cheating because with physical you only have one chance to make a clear and appealing message. _You cannot take back the stroke of a brush_ – unless you have CTRL+Z.
According to one San Diego business owner, physical signage was more effective than word of mouth or other advertisements. His signage brought in 10 new customers within one week, 6 of which resulted in sales.[ ](http://www.inc.com/drew-hendricks/a-small-business-guide-to-designing-compelling-signage.html)
[Physical signage can also be a unique concept](http://www.inc.com/drew-hendricks/a-small-business-guide-to-designing-compelling-signage.html) which should be taken into account alongside digital signage and it truly means taking the time to develop something that represents you.
## 5. Digital signage is like taxes
Small businesses struggle to compete with larger companies and corporations, meanwhile digital signage provides an essential factor which can level the playing field. It's kind of like taxes – it scales and adapts to the amount of money in your pocket.
Small businesses have more flexibility than larger ones, allowing changes to occur rapidly. Digital signage is a great asset to use in such a setting. It can lead to[ one of many inspiring successful stories](http://www.digitalsignagetoday.com/articles/digital-signage-levels-the-playing-field-for-small-business/) for any business owner.
## 6. Is your business fitting for digital signage?
You probably noticed that most examples of small businesses always include coffee shops, food services, or other of the same kind. This doesn't mean digital signage is limited to a certain type of business. These examples are often most interesting to showcase, nevertheless it's important to remember that literally any business can benefit from it. In car service for example, you can bring your car to be serviced by simply referring to the data on the screen in front of you. In[ many cases digital signage is used purely for information](http://www.ravepubs.com/different-uses-digital-signage/) purposes which can cut costs and make management easier.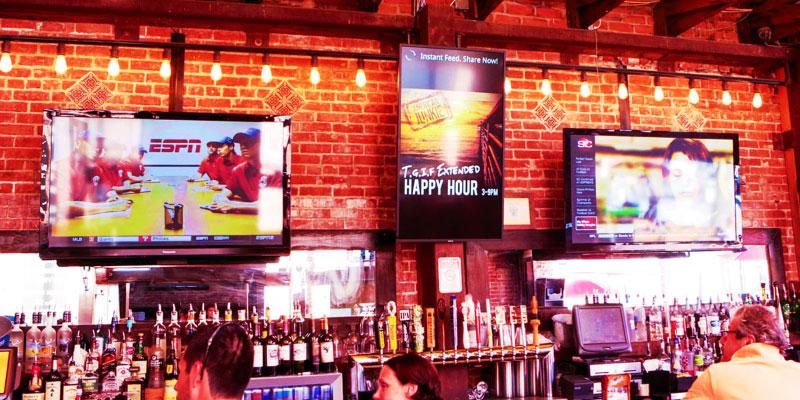 Digital signage can also be used to purely boost internal performance. You can update schedules for workers, display information vital for production or work, and also[ utilize displays for business conferences](http://www.videonationsltd.co.uk/2015/07/utilising-interactive-boards-for-business-conferences/), classroom or any other applicable location.
On a more general note, digital signage has applications beyond the walls of your business. Depending on the state of your business you can find[ many more creative uses for digital signage](https://www.fastsigns.com/Blog/qs/5-most-amazing-uses-for-digital-signs) which simply focus on attracting attention and comfort of the viewer.
## 7. Get to know the market
23 million small businesses present in the US account for 54% of all sales in the US – according to the US Small Business Administration stats in 2014. With such a large number the potential for digital signage is massive. Getting started is always a challenge, and this one may prove easier to handle if you have the[ knowledge that can guide you to start off strong.](http://www.soundandcommunications.com/digital-signage-rightthe-first-time/)
As mentioned it's growing and there's no sign of stopping. Unlike corporations and large businesses, small and medium ones don't have so much sway room and have certain demands when it comes to digital signage. Granted it's a smart investment, but it's hardly one size that fits all and it's important to select the appropriate digital signage for your business. Jeff Porter (Porter Digital Signage Consulting) did a detailed article on the current state of[ digital signage for the small and medium business market](http://porterds.blogspot.com/2015/03/digital-signage-for-smb-marketfeb-2015.html) which is definitely worth a look if you're starting out.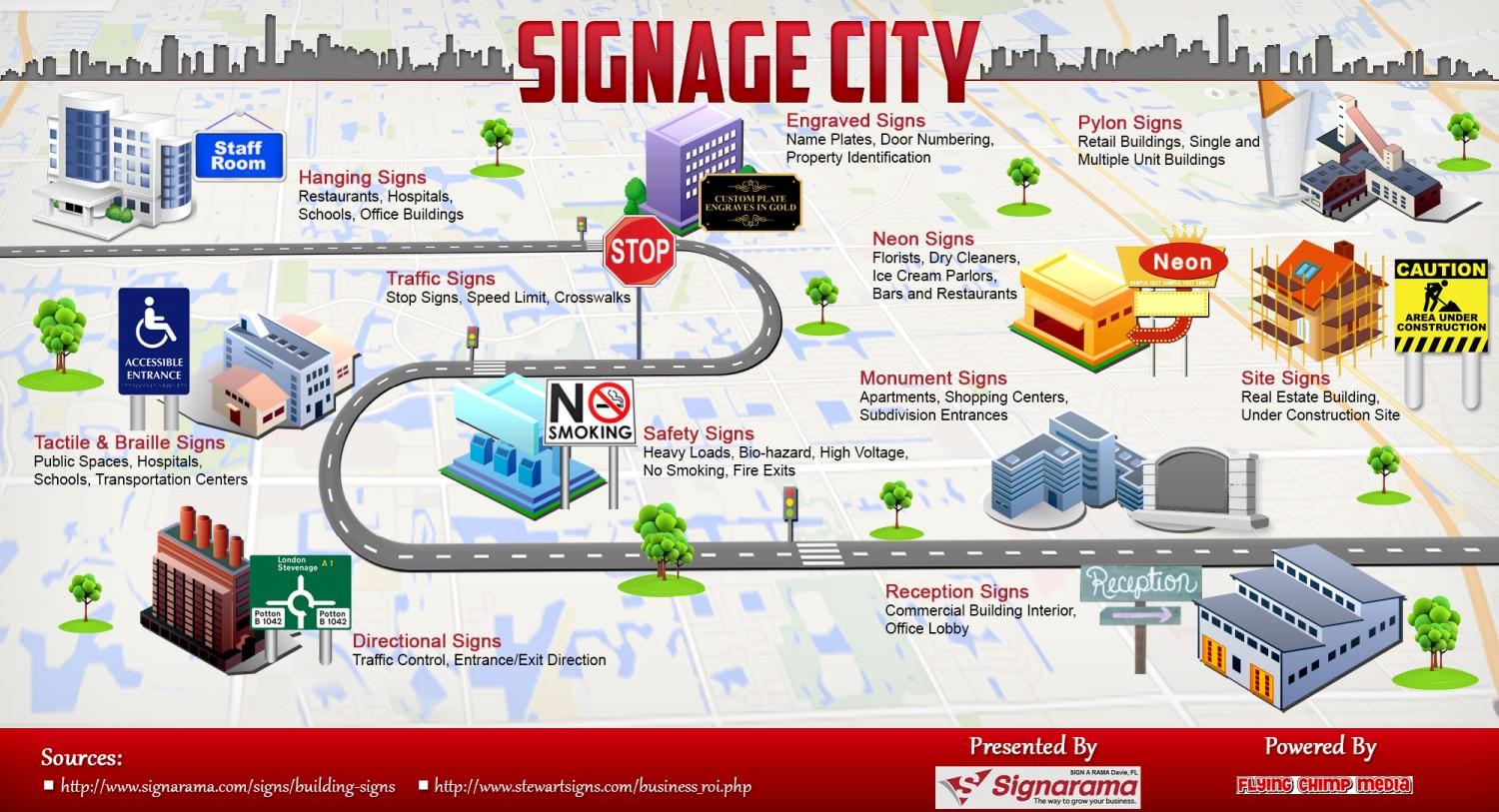 _In other news, in Germany, Austria and Switzerland, 75% of all digital signage projects in 2014 were installations of small and medium businesses with up to 50 displays each.[ The SMB sector and retail drive digital signage revenues](http://invidis.de/2015/04/ovab-europe-digital-signage-business-climate-index-the-smb-sector-and-retail-drives-digital-signage-revenues/). Lower prices of hardware resulted in a high demand for easy-to-use digital signage solutions in the small and medium business sector._
## 8. To DIY or not to DIY?
Doing things yourself allures with cost savings. It does require time and skill though. While there are several reasons[ why you should avoid DIY digital signage](http://www.ingrammicroadvisor.com/proav/why-you-should-avoid-diy-digital-signage), with a little learning anyone should be good to run their own signage.
Decisions to be made range from choosing a platform, installing equipment, creating and updating your content, and operating the screens once you have set-up your campaign. You may opt for going DIY all the way or just parts of it. Be sure to evaluate beforehand what you can and cannot do in terms of availability, expertise and even interest. The good news are that not only is digital signage more affordable today, it is easier, too.
This will sound overwhelming at first for a small business and you might not know where to start, or you are already running out to the store because you cannot wait to get started. Don't get stuck with incompatibility of your hard- and software. Choosing a digital signage SaaS solution first will give you flexibility and avoid crazy license fees. Then it's just getting a suitable player which integrates well with your selected platform. Place your screen in the wall and start pushing content to it.
A tip for newcomers: select a platform which is simple and straight forward, so you don't have to spend numerous hours to learn how to work it. If you have a developed IT structure in your business, you can[ cut expenses in your IT department](http://blog.lenovo.com/en/blog/control-smb-it-spending-without-compromising/) by establishing an effective infrastructure and finding solutions and tools for it.
## 9. The customer experience
The most entertaining and appealing aspect of every business is the customer experience.[ Digital signage can transform in-store and storefront experiences](http://onwardmag.com/digital-can-transform-store-storefront-experiences/). If the customer feels comfortable and relaxed, they are most likely to return and spread news about your business. While the main factors remain high quality at low prices, comfort has taken an increased value in the passing years.
Easier access to information, interactivity or plain old entertainment is just like that complementary piece of candy or drink you provide to[ leave an impression and motivate the customer to return.](http://www.digitalsocialretail.com/digital-signage-can-boost-customer-loyalty/)
## 10. Why shouldn't you use digital signage?
A few years ago digital signage was really expensive and complicated. The situation is very different today. If you aren't using digital signage, you're lagging behind and letting potential customers walk past you.
There are[ several myths regarding digital signage](http://bematechus.com/blog/2014/09/3-myths-prevent-small-businesses-using-digital-signage/) that oddly enough span even in today's time. Its cost is often debated, alongside the design and its complexity. The most debated factor is its effectiveness. Think of it as a magnifying glass for your business. If your business is not appealing, digital signage will only reflect that. Creative uses have always yielded great results.[ T](http://www.rmgnetworks.com/blog/bid/383724/Feel-like-a-winner-How-digital-signage-and-gamification-win-at-work)[ake digital signage and gamification for example](http://www.rmgnetworks.com/blog/bid/383724/Feel-like-a-winner-How-digital-signage-and-gamification-win-at-work).
## What are you waiting for?
If you haven't yet, now is the time to apply digital signage to your business. Even in the smallest form, the business can afford it. Your set-up can always be developed and will provide you with a starting point for growth and development.
Images by [Takashi Klso](https://www.flickr.com/photos/kisocci/3752836514/in/photolist-6HCgxQ-6HCh3E-aDjAkU-bfh5fF-46KARR-dLNpfE-9jNeU7-4kE9Cz-6tyFy2-q7aiUs-p2e47X-bDqBxP-q7akcN-7PxVgN-q9rMV2-q9ovDh-pRTukh-pS13on-8cVzjA-7cYUXP-7cYUYp-7q3pLt-5ePmsm-87zZ49-75Yab1-8MYv8-4xTkYK-4xTmkk-dtJcgN-hYSE4Y-axYFqB-rJ2n91-dRwndP-9RR4te-arxHSY-fNupJ6-5DkBb3-qC9gEs-rtS1oW-9UYXe8-7Bs5fR-9wAEMQ-MgPdu-9GDuVe-ebDJo-e9chws-e96C8r-e9chtf-e9chqu-e96Cck), [Michael Casey](https://www.flickr.com/photos/michaelcasey/2959557643/in/photolist-5vwvnV-725aBh-dmPQVb-6VvxXN-bTkADr-ssk6bc-t7hoWY-t7psW6-t7psgZ-ss2FoM-srR4LW-t7hmZS-ss2Egr-t7g7iC-t7g6P1-tmwqKS-t7hjPu-srR15h-toVDk8-toVCQF-toRWT6-t7hhaG-t7pkWp-t7p7z4-5Eo6MT-6c9ZjH-2zc9BP-dKMnrj-pwn3FM-6FE5sj-9Ej9mM-HyPTZ-dRhAnr-shgvby-rY6nox-rZY62D-bGDGS4-bGDGMa-btJTAm-bGDGBZ-fNQCQ5-aeHbNd-JdXb-hz2aDV-cmfkeC-6FE6h9-2WkN-r2WqXC-bBUGeG-9EmkVj), [American Junkie](http://www.americanjunkiechi.com/)