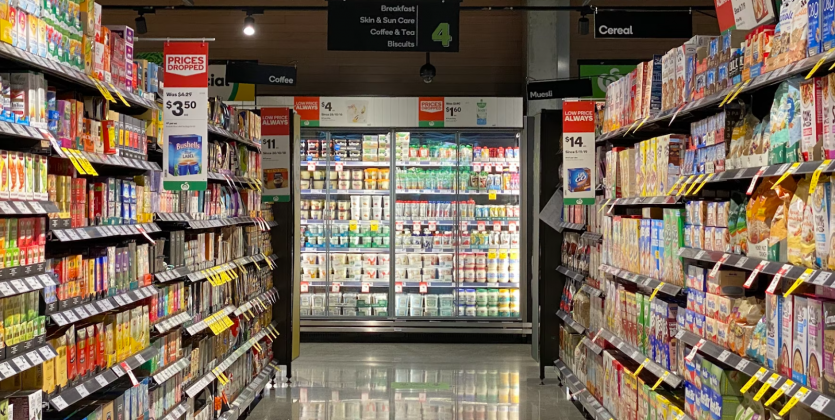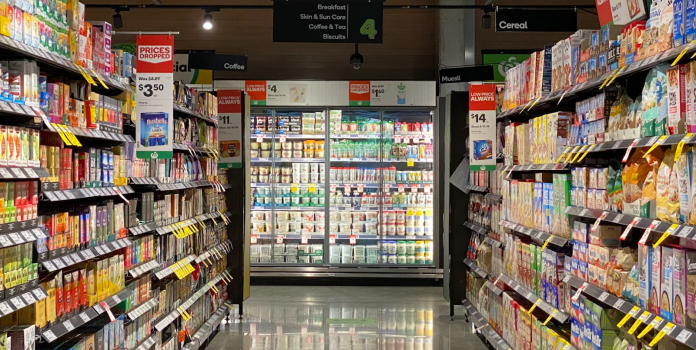 Make self-service easier
Self-service in supermarkets is not new. It has been around for quite some time, but even today there are customers who need a helping hand. This is especially true for parts of the world where self-service is not yet common for the vast majority of shoppers. It's a simple matter to rely on digital signage in a supermarket to resolve this issue!
While it might feel like overkill to dedicate an entire digital display to demonstrate to shoppers how self-checkout works, or how to weigh their own vegetables, one option is to easily make a demo available on demand. As displays show the regularly scheduled content, let shoppers trigger a demo when they require it through interaction.
In-store navigation and wayfinding
Wayfinding is a useful asset for any grocery story, but it truly shines through digital signage in a large supermarket. Here it can be challenging to find the aisle you're looking for. Sure, most of us enjoy occasional browsing through the entire store and discovering new things. But sometimes you just want to get what you need and go about your day. 
Set up displays at high-traffic areas in the supermarket, starting with the entrance, showing users a general layout of the store. Wayfinding becomes particularly useful when new products arrive, or the supermarket goes through a change in the way products are arranged.
Highlight key products
New products, weekly discounts, or variations of best-sellers are just a few examples of products to feature via digital signage. Highlighting them to shoppers, alongside a brief direction on how to find them, is an excellent way to boost sales. 
Furthermore, combining sales data with digital signage can be even more fruitful! Push products shoppers buy most frequently, feature product bundles, or even products which are complementary to best-sellers to further boost sales.
Provide additional product information
Shoppers at times need additional information before deciding to make a purchase. Expensive products and more serious investments are the prime example. Before buying a new vacuum, TV, or electronics, shoppers want to be certain they're making the right choice. Cosmetics is another category customers thoroughly think about. Help your customers feel more confident about their purchase by providing an interactive display which allows them to learn more about the product they're looking to buy.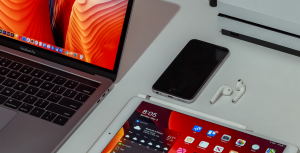 Demonstrations and testimonials
Providing valuable product information can play a vital role in influencing shopping decisions. Include testimonials from previous shoppers to alleviate some of the uncertainty new customers may have.
Take it even a step further and use digital signage to present a demo right there in the supermarket! Include a brief video demonstrations for products which are more complex to use. Show them how to set up a coffee maker, or how to set up a new vacuum before use. Of course, all products come with manuals, but most of us don't read them. Demos then can act as a way to show off the product and intrigue the viewer. They help educate the shopper before making their purchase. Even if the demo is dead simple, it demonstrates how easy a product is to set up and use.
Recipe ideas
A very simple example, recipe ideas are a gateway to a variety of content for your digital signage. For instance, recipes are a great way to spark imagination in shoppers and inspire them to try out something new. Show them how much a recipe for one batch of muffins costs, and highlight which ingredients they'll need. Of course, include colorful and highly appetizing visuals! It also helps if they see this message close to the ingredients needed.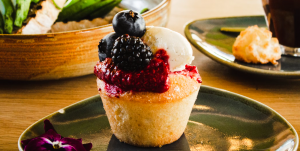 Even if they don't go for the exact recipe in question, this content gets the creative juices flowing and inspires shoppers to consider the products they aren't yet noticing. The concept of recipe ideas applies to other product categories. Show arts and crafts ideas near art supplies, or tasty cocktail ideas in the beverage section. 
Take shoppers online
If you have a strong online presence, invite shoppers to follow you. An up-to-date website with the latest offers will make it worth their time to visit and bookmark. In case you're sending out newsletters, or post the latest offers on your social media, take the opportunity of digital signage and direct your shoppers there.
Naturally, this is only useful if you take your online content very seriously. If your website is rarely updated and you don't yet have a strong social media strategy, it might be best to tackle those things first!
Bolster a sense of community
A powerful way of using digital signage is to bring attention to local community events and initiatives. Local partnerships, farmers' markets, charity events, and any other local activities will make a great addition to your digital signage content rotation. This not only brings more attention to such events but also shows that you care about the community which surrounds you.
Digital signage software simplifies the entire process and allows you to easily include such content in your regular content rotation. With OnSign TV, for example, you could even set up such content to be triggered manually precisely when the need arises. Explore this along with many other features our software offers with a free trial! Meanwhile, if you need more information on how digital signage helps reach consumers, take a look at its benefits in retail overall!
Cover image by Franki Chamaki.