With March behind us, the first quarter of 2022 is done! The official stats are not out yet, but it's clear that these quarterly numbers will be positive because we saw a really strong start for the year. In the meantime, let's focus on what exciting news we had this month. We start off with the latest info about an up-and-coming technological marvel, then we check out the great Out-of-Home opportunities coming with increased summer travel, and lastly, we wrap up with direct hands-on tips for digital signage content creators. 
The MSG sphere might get a twin
The massive LED sphere in Las Vegas is set to open in 2023. Once completed, this project will be the largest spherical structure in the world, featuring more than half a million square feet of LED displays. This will, indeed, be the largest LED screen in the world.

What's more interesting than a colossal display ball is the fact that it might have a twin in the east end of London. Madison Square Garden's MSG Entertainment division is backing both of these projects. The London sphere is planned to be very similar to its US counterpart. It is intended as a giant concert and special events venue. Given the quantity of LED walls within the sphere, it will offer some truly immersive experiences. The London project awaits approval from the London Mayor Sadiq Khan, which is not considered a certainty.
New opportunities in 2022: Increased summer travel 
Based on the latest research from OAAA and Harris Poll, there will be greater opportunities in travel for OOH advertisers this summer. According to research, 85% of consumers plan to travel this summer, including long-distance and international trips. This also means they will be engaging more with outdoor activities and go to outdoor venues.
The increased summer travel in 2022 brings many opportunities for advertisers, especially those near tourist attractions and key transportation areas. Check out the full study for details. Some of the highlights include: 
85% plan summer vacation travel 

79% plan to drive and 46% plan to fly 

53% are likely to hike or camp at parks 

48% will spend at least two weeks on vacation 

63% plan to stay at hotels, while 28% plan to stay at resorts.
Digital screens in place of fridge doors?
There are many examples of displays in stores. These uses typically seek to enrich the customer experience, not weaken it. One such solution appeared in a few popular stores, including Walgreens last year. Instead of a clear refrigerator door that shows shoppers what's inside, they're now greeted with high-tech screened doors with visuals of what's inside. 
This doesn't appear to deliver much usefulness to the consumer other than being high-tech and offering neat visuals at the cost of accessibility. Some users reported that these displays at times didn't indicate products that were out of stock, and even made it difficult at times to find what they were looking for. From the business side, of course, these displays offer a new way to advertise. Yet, is the tradeoff worth the benefit?
The digital cooler screens at Walgreens made me watch an ad before it allowed me to know which door held the frozen pizzas

— Elwood Blues (@ElwoodBluesClue) December 31, 2021
According to CNN, other major retailers are looking at doing the same, including Kroger, CVS, GetGo convenience stores, and Chevron gas stations.
Global display demand on track to full recovery
According to numbers by the market research firm Omdia, global public demand for displays is almost back to pre-COVID levels.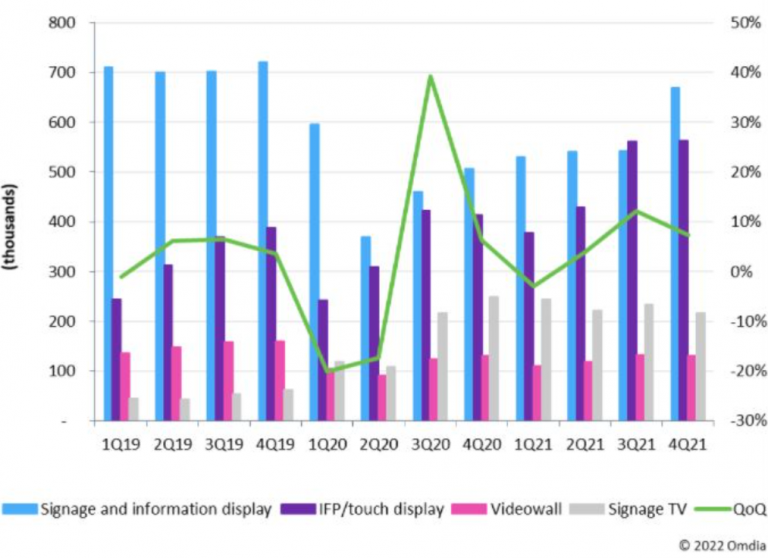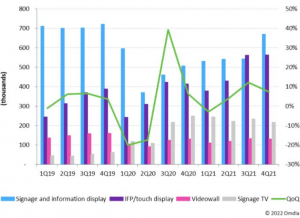 Omdia's Research and Analysis Associate Director, Tay Taehoon Kim broke down the numbers. He noted that the global public display shipments grew 10.2% quarter-on-quarter in Q4 of 2021. Paying close attention to the fourth quarter of 2021, he noted the standouts. Demand in Asia & Oceania grew by 63.3% compared to Q3, with India and South Korea as primary contributors. Demand in Eastern Europe was another standout with 40.6% growth, with Poland being the main contributor.
In an upcoming article this month, we'll take a closer look at the numbers from 2021 to see just how well the Out-of-Home industry has done globally when it comes to recovery.
Building strong content rotations and schedules
This month, we focused on our blog on providing essential guidelines for building quality content through digital signage software. It's not all about picking the right font, or choosing the most stunning image background for an ad. Building content rotations heavily depends on the location of the display, so we covered three main points in the customer journey where you should focus your efforts on.


Once the content rotations are created, it's time to build the perfect schedule for them. This can be done days, months, and even years in advance. Once your unique schedule setup is created, all you need to do is tweak the content, and it will adjust itself within the schedule. This is a great way to take advantage of digital signage software to the max. It really makes it easy for yourself to handle digital signage in the long run!