Working hand-in-hand, digital signage and mobile devices offer plenty of clear benefits which yield stellar results. Since we've already seen just how beneficial this union is, now we seek to understand why it's so powerful. 
What is it about this combination that makes people whip out their smartphones and choose to connect them to your display? What is the end result you should hope for once this interaction begins? Is there a clear sign that tells you when you're using mobile interactivity adequately, and which result will tell you that you're doing it wrong? In this article, we answer all these questions. We start off with the main feature that makes this union possible to begin with. 
The potential of interactivity
Interactivity is the main reason why digital signage and mobile work so well together as it has the greatest potential to engage and influence the viewer. The simplest path to some form of interactivity would be through a QR code any user can scan and take appropriate action on. This is ideal if a potential customer wants to learn more about a product advertised on the display. Scanning the access code allows them to take the information with them and direct them to an online location you want them to visit.
Another common reason people interact with displays is entertainment. Fun and games are always a sure way to catch attention. Of course, interactivity can be done through touchscreen displays. It is most definitely appealing and most convenient for most users, but putting mobile into the mix enables the business to track information and analytics and get something more from that interaction. Let's talk about that goal.
Continual engagement
The point of mobile interactivity isn't to give the user a new innovative or fancy way to interact with the display. The reason why we want the user to interact through their own mobile device is so that the engagement continues long after they leave the location of the display. This is where mobile apps come in as they provide additional content for the user and provide you with more engagement opportunities. 
Naturally, this engagement will only continue if you offer the user something worth their time. After all, we can't expect people to download mobile apps on a whim without getting something in return. Loyalty programs are a great way to persuade people to interact and engage on a higher level, continuously. Remember, mobile interactivity needs to be rewarding for the consumer in order to be appealing. And, ultimately, it needs to be rewarding for you. If you don't see a boost in your analytics, sales, or customer loyalty, you can safely say that you're not utilizing the potential of mobile interactivity well.
Powerful analytics tracking
Mobile devices are the perfect way to collect invaluable analytics for any business. But the challenge has always been to get the user to give up this information without discomfort. Digital signage helps us break down this barrier by inviting the user, in no unclear terms, to engage and share information. With a digital display having the potential of displaying a variety of customized content, the connection between business and consumer can feel more genuine, making the user more comfortable. Furthermore, the content can become even more personalized the more you know about the user.
Once the barrier is broken down, the user becomes more connected to the business. As they interact and become a loyal consumer, custom data can be sent to their devices. This is based on their preferences, behaviors, previous purchases, etc.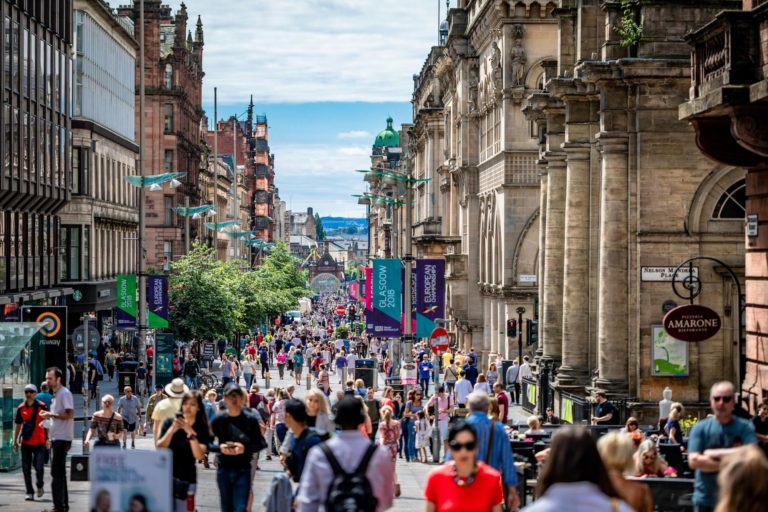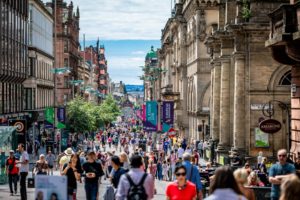 As the user opens up and forms a bond, it becomes significantly easier for any business to learn more about customer demographics and their preferences. In the long run, it opens up a clearer road to communication and feedback since—every once in a while as the loyal user interacts—it becomes easier to ask for more specific feedback and obtain specific information in return which is the key to making any business adapt and grow.
Benefits relevant to COVID-19
The global pandemic has successfully made everyone uneasy when it comes to interacting with touchscreens. This is yet another reason and a good opportunity to add mobile interactivity into the mix. Users can feel safer interacting through their mobile devices. It's another plus for the business to offer the helping hand and make that option available.
Additionally, mobile tech has proven quite useful in other ways. We recently covered some fresh tech developments, and one of them was brought into existence solely because of COVID-19. One of them is BrightSign's BlueFox Count app which uses sensors to count mobile phones in the store. You can then send this data to the store entrance, showing the occupancy of the establishment. Furthermore, this information can be tied to automatic doors which will allow entry only at a certain level of occupancy.
A conduit for social media and creativity
On its own, digital signage is a canvas for creative, eye-catching, and jaw-dropping campaigns bound to spark conversations on Twitter or Facebook. Social media has long been a tool intertwined with digital signage. 
However, when we take digital signage and add mobile devices into the mix, the potential expands tenfold. The user can now interact quicker and easier than before. With social media access set up on their devices, it's practically effortless for anyone to make a Twitter post at any given time. So let's give them something to share! Your customer plays a quick interactive loyalty-program game for which they get a small discount or a special gift. At the game's end, they get a button offering to share their score on social media. The link is formed and now you have a path to engage that consumer further via their social media accounts. In this instance, the mobile device acted as a bridge between your digital signage and social media.
Also, on the topic of creative campaigns, mobile interactivity is an additional tool in your creative workbench. The content can change based on the user's input. So you'll find that any campaign idea you have can now be viewed from a different angle.
Social media engagement
Having discussed social media and interactivity, why not use your social media channels as sources of content? You can share interactions with your users directly on your digital signage. This is a sound way to invite people to interact on the spot, be it to provide feedback or as part of a loyalty program. OnSign TV can help you set this feature up within seconds. You can test it out immediately!