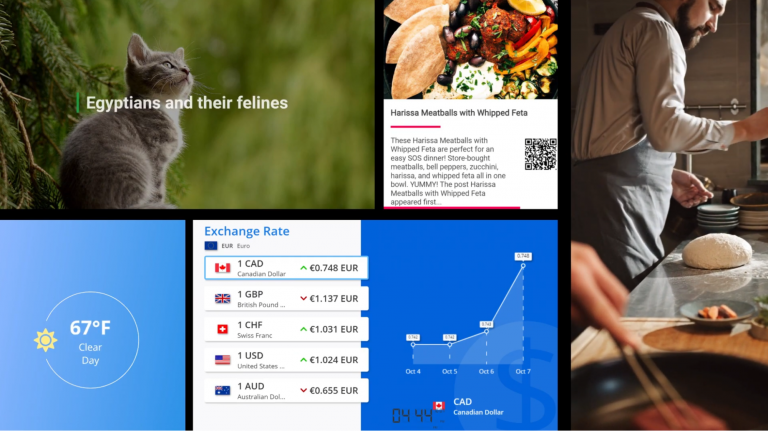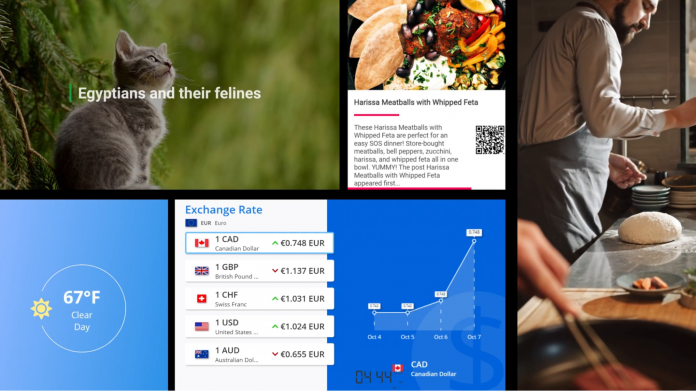 Dividing your screen into multiple sections is a key element of digital signage software. With the introduction of the enhanced Dynamic Composition, you have even more freedom to section your screen in any way you want to and organize content in seconds. Unlike their static predecessor, Dynamic Compositions support apps and videos. It also has other benefits which unlock new possibilities for all of your content elements.
Let's go into the details! If this is your first time hearing about a Composition, don't worry. We're starting with the basics and work our way up to everything you need to know about Dynamic Compositions! 
What is a Composition?
One of the main elements of the OnSign TV platform, a Composition allows you to quickly whip up sales banners, menu boards, and announcements, as you see in the image below. This feature allows you to crop, stretch, and customize images, shapes, and text fields. The end result used to always be a static creation you can tweak and update in seconds. That in itself is a neat tool to have directly within the content management of your digital signage software. With the introduction of the Dynamic Composition, it gets even better! Now you can connect dynamic elements, including videos, apps, as well as dynamic text and images from data feeds.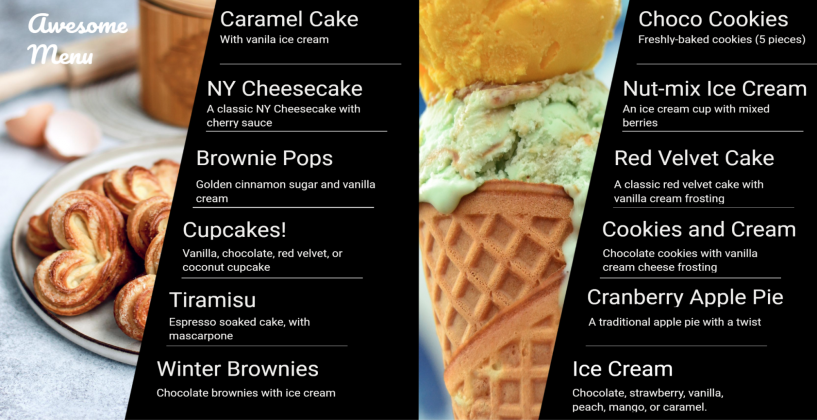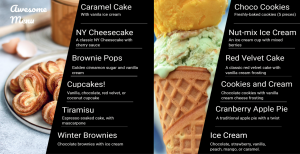 Before this update, screen division was primarily done through campaigns, as you may know. Campaigns allow you to pre-set a screen division and then simply drag items into these pre-set sections. Campaigns are ideal if you consistently divide the display in the same way and make it a lot faster to deploy content by dragging and dropping elements which resize themselves automatically. Meanwhile, with Dynamic Compositions, you have greater freedom to drag, stretch, and organize content more freely to create unique layouts.  
Content settings
As you drag different elements into your new Dynamic Composition workspace, you will see several options on the left side of the display. Some basic settings are shared by all content elements within the composition. These include opacity, angle, outline, shadows, and transition animations. You may also set after how many seconds a particular element appears, and for how long it will stay on screen.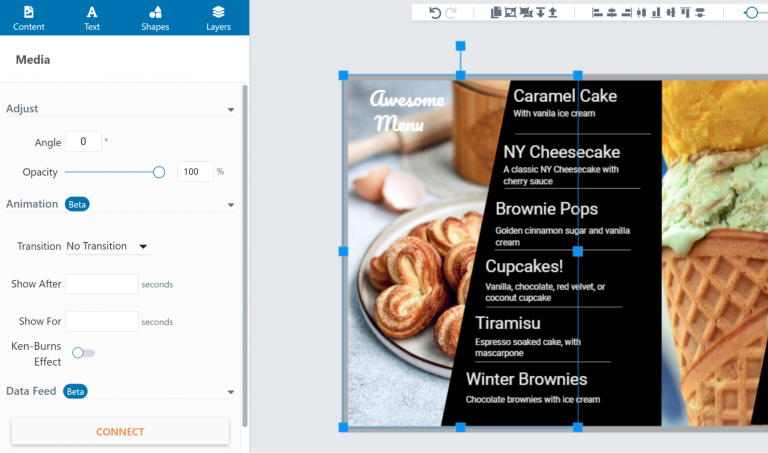 For a more in-depth look at these settings and a step-by-step walkthrough, refer to our video on Dynamic Compositions.
Dynamic text
With Dynamic Compositions, the ways you can use text is exciting and versatile! Connect a text field to a content filled data feed. This text field fetches text from the data feed. As you introduce filters, you can specify precisely which text will be loaded from the data feed. You saw one such example in the video above where we built a data feed containing a list of menu items and then instructed a text field to load those items based on your filters. 
For example, tell the text field to only fetch items which are on special offer. Or only load items which have a specific word in them, a specific price, label, ingredient, or only the latest items added to the list.
Even images are dynamic!
You may have thought there's no way to make an image as dynamic as a video or an app. Well, much in the same way you connect a text field to a data feed, you may do the same thing with images, unlocking new possibilities. Animate your static menu boards by letting text and images appear in sync and rotate through your special offers.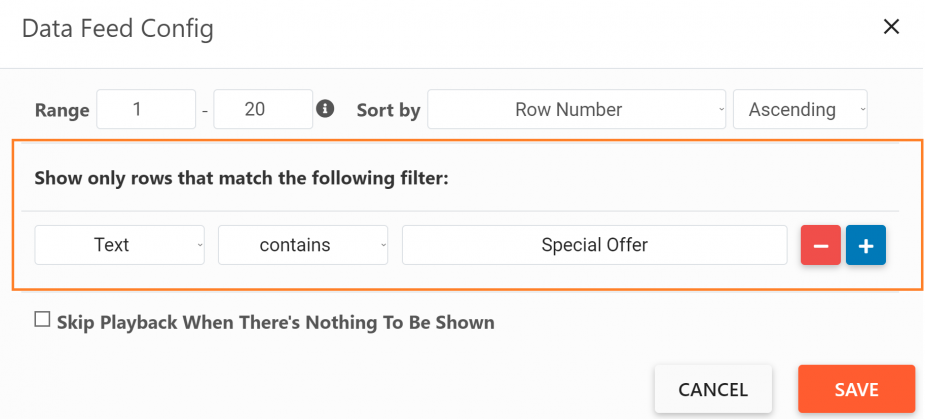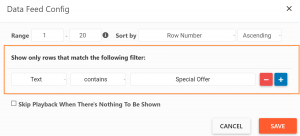 The option to connect to your data feed lets you update your content without even accessing the composition again! Here's how. Let's say you set up a Dynamic Composition to only load text and images from data feed rows which contain a ticked box. To update your entire menu board, all you need to do is untick the items you want removed, and tick those you want to add. With this setup, your Dynamic Composition will do its magic on its own.
Templates
As you set out to create your next composition, you'll find many basic composition templates available. As your ideal Dynamic Composition takes shape, set it as a template for future use. This is especially useful if there are several content creators in your organization. 


To make the creation experience even smoother, lock specific elements of your composition to prevent others from changing them. For example, logos, dividers, or apps which don't need to be changed can all be locked to prevent accidental changes.
The features mentioned above, alongside others, are explained in our step-by-step tutorial on Dynamic Composition. Lastly, if you're not an OnSign TV user yet, use the opportunity to try it out yourself with our free trial!