Another month behind us, and uncharted waters lie ahead. We had hoped for months that the pandemic would impact us less and things would continue a slow ascent into normal. Out-of-Home events were carefully treading forward, but we've hit a bump in the road as Digital Signage Summit Europe, planned for the end of September, has been cancelled due to escalation of COVID-19 cases. We're back to uncertainty. While we wait to see what happens next, let's look at some brighter things! This month we've seen some intriguing new tech, new discussions, and a rather impressive marketing campaign for recovery from the pandemic.
Is there room for humor in OOH? 
A debated topic in the context of OOH, some content creators might be unsure whether to use humor in their campaigns for fear of making it appear less serious. In short, a funny ad works! There is no question that humor can be included as an ingredient in a high quality Out-of-Home content recipe. Besides making sure your humor comes across in writing, it's important to not neglect the additional ways humor can be used in OOH. We've talked on key placement of your content in the past.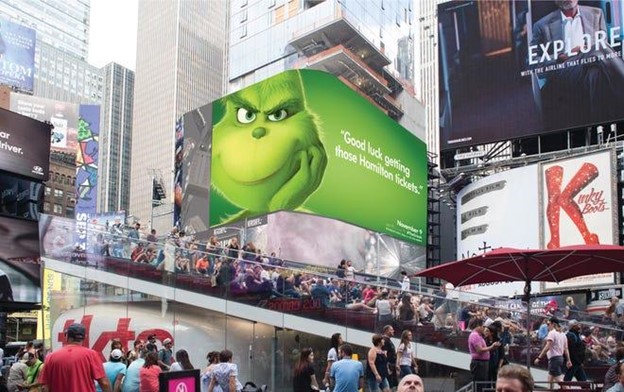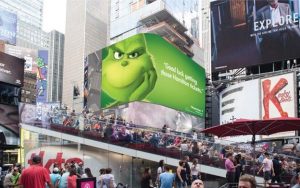 An ad is that much more effective when it connects with its surroundings. It becomes more imminent and real! With humor, placement can achieve a lot, such as in the example above. These type of ads have proven to be more successful at engaging the viewer! In 2018, Universal production studios created an ad to distinguish The Grinch film from other Fall offerings. The Grinch poked fun at the viewer, and surprisingly, this resulted in this animated family film having 18% of its audience come from an unexpected demographic: millennials!
Thus, if you have a funny idea for an ad or a way to bring more attention to your content, try it out!
Korean University uses 99.7% transparent LED glass 
A university building in South Korea has quite the visual accessory decorating its front doors. The façade of the building has transformed into a media device by giving transparent glass the ability to display LED digital media.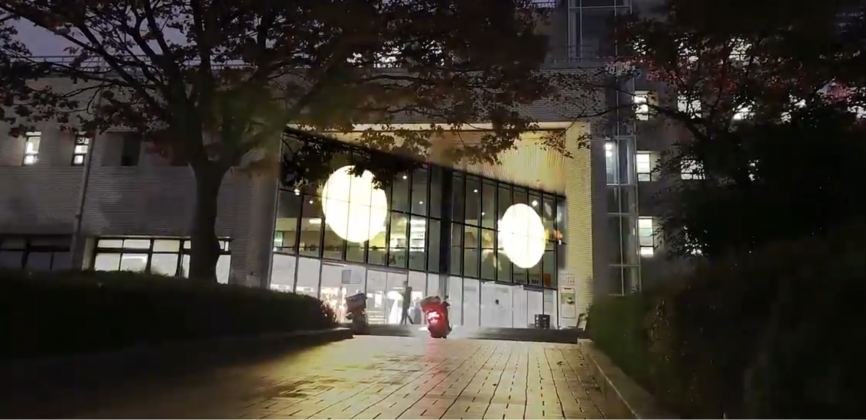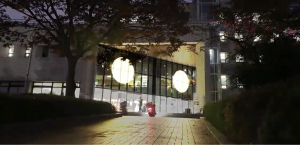 Transparent displays are an enduring trend to be, but there are a few points that may be a discouragement for an investor. While visually stunning at night, the impact is not as powerful in daytime as these displays usually don't compete too well with sunlight. There is also the matter of installation, maintenance, and cost. Of course, transparent digital technology is likely only going to develop further, and become more advanced and popular. This is one exquisite example of its use!
The $4.2 million marketing campaign to rescue tourism
A marketing campaign is currently running in Toronto in an attempt to recover the city's tourism. Running from August 17th to October 30th, this recovery-focused campaign utilizes social media, television, digital marketing, and Out-of-Home advertising. The $4.2 million marketing campaign promotes businesses and experiences which suffered most due to the pandemic. It encourages locals and visitors alike to try out experiences throughout the city, using #NeverHaveIEverTO.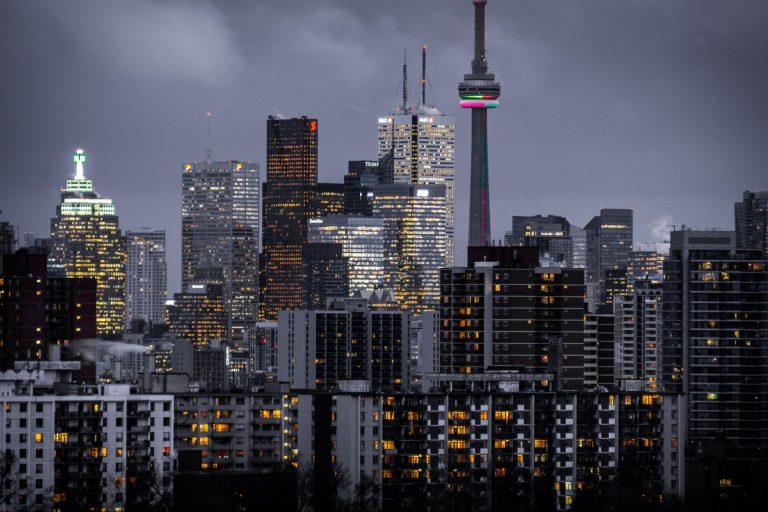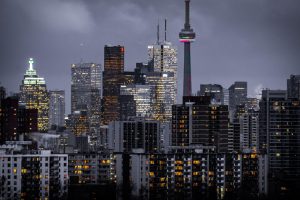 "Never Have I Ever, TO is part of a citywide conversation to get Toronto back on its feet by encouraging all of us to take a fresh look at our own city and explore Toronto's unique experiences," said Scott Beck, President & CEO of Destination Toronto, which crafted the Never Have I Ever, TO campaign.
Another virtual waterfall, but in a surprising location
In the past months, we've seen a few virtual illusions, typically related to waterfalls. Because nothing beats water in this context, right? But what we did not expect was to find it in a school! A Christian K-12 school in Atlanta placed a huge fine pitch LED video wall in its common area. The virtual illusion uses depth and audio to create a truly realistic sensation as water splashes against the virtual window glass. Take a look!
The result is stunning. Of course, we can only ponder on the finances of this visual endeavor, inside the private school. Whether this display will have uses apart from its visual factor or solely has the role of giving an impressive show and creating a unique ambiance, is entirely up to the school.
COVID-19 as catalyst for digital signage adoption?
The COVID-19 pandemic has been more than a bump in the road for all industries in the world. With so much change it has forced upon the world, not the entirety of it has been bad. For digital signage, the pandemic acted as a catalyst to make more businesses recognize its value and choose to invest. In a recent article on our blog, we dove into more detail on this topic. Check it out!
Restaurants are undoubtedly some of the first to do so, particularly drive-thrus. Retail has also been given several reasons to adopt digital signage with the expectations of the consumer having changed significantly as a result of the pandemic. Furthermore, new needs have arisen both for businesses and consumers, and digital signage offers a helping hand to both.
This wraps up this month's digital signage news set. By the next, we'll likely have a clearer insight into how the pandemic will affect the remainder of the year, particularly in terms of outdoor events.