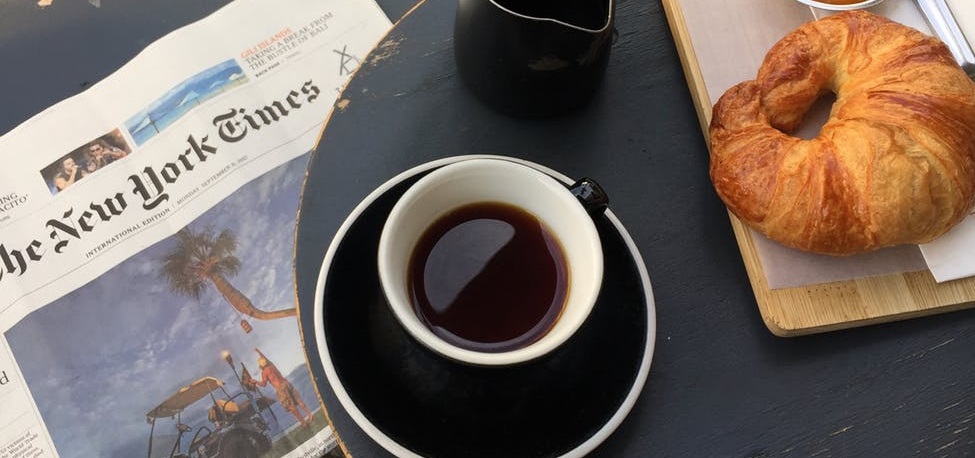 Can you believe, the first half of 2019 is nearly over? Time flies quickly, but the digital signage and outdoor industry is keeping up! At this time of the year, we usually see preliminary stats rolling out about the progress of the year, as well as highlights from important upcoming events in the OOH (Out of Home) world. 
Of course, we also have other, more unexpected news and reports, such as the recent report by OAAA which further supports the value and use of outdoor advertising and digital signage in businesses. With that said, let's get started on this month's set of news and see what has gone on in the past month in our industry!
Digital billboards help find missing children
Lamar advertising joined forces with some of the biggest names in the media to support the "Runaway Train 25" campaign. This campaign was developed to search and find missing children across the country. Over 350 digital billboards in 39 states display photos of missing children.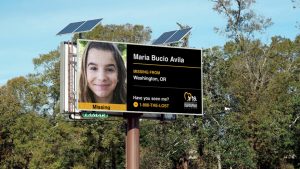 Using geo-targeting technology, each billboard automatically updates and displays the names and faces of children missing relevant to the location of the billboard. The original "Runaway Train" video for the US band Soul Asylum's song of the same name showed 36 missing children. When it aired on MTV in 1993, it helped find 21 of those children or resolve their cases. This digital billboard campaign has begun on May 22nd and will end on July 22nd.
Digital Signage Summit Europe coming in July
Taking place at the Hilton Munich Airport, Germany, you can attend DSS Europe on the 3rd and 4th of July 2019. This leading European strategy event explores the topics business and technology of digital signage and DOOH.
The event planners are expecting more than 400 delegates to attend. They consist of integrators, manufacturers, customers, agencies, network operators, and marketers. The ticket for the DSS Europe conference allows access on both days to the conference as well as the exhibition area. The standard ticket price is €750 (plus VAT). Be sure to check out the confirmed exhibitors and more details about the event, if you're considering attending.
Top quotes heard at the OAAA convention 2019
The OAAA (Outdoor Advertising Association of America) convention has wrapped up recently, and Billboard Insider compiled a list of the top quotes heard at the event. Among other brands, the quote of OAAA president and CEO, Nancy Fletcher, stands out.
"I want to leave with you the single most important lesson I've learned in 40-plus years in OOH.  The OOH industry would in no way be where it is today without collaboration," she said.
Another listed quote was made by Publicis Chief Growth Officer, Rishad Tobaccowala, who noted that "nothing supplements social media like your industry. Even a static billboard is like Instagram on steroids." This is oh so true, and every creator of digital signage content should be aware of the massive potential between social media and digital signage.
New data on the effectiveness of OOH campaigns
Speaking of OAAA, a series of new reports from this association has used attribution data to highlight the effectiveness of OOH in a full media strategy. This analysis pinpoints that OOH boosts store visits at a range of 50-127%. It also increased purchase consideration, intent, and ad recall, elevating these by as much as 13-66%.
Rick Wilson, associate professor of marketing at Texas State University, analyzed 45 case studies from several markets across the US. Among other points, he established that the OOH industry embracing digital technology and mobile advertising allows for its easy integration into media plans.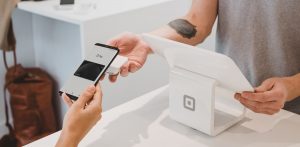 On a similar topic, be sure to check out a recent article published at oohtoday highlighting why marketers value and appreciate Out of Home advertising.
OOH rises by 6.8% in the UK in the first quarter of 2019
For our final portion of news from the past month, we're going overseas to the United Kingdom. Outsmart reports that Out of Home revenue for the first quarter of 2019 in the UK had a total market growth of 6.8% compared to the previous year. In 2018, the market value was £267 million in Q1. This number has risen to £285 million in Q1 2019. In more detail of the overall market growth, classic Out of Home is growing at a rate of 3.1%. Meanwhile, Digital Out of Home has had a growth of 10.9%.
Based on new data which shows increased number of digital screens, this means digital generates 36% more impact than it did 12 months ago. For more detail, be sure to check out the full revenue report over at Outsmart.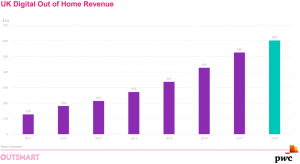 And that's it! Next month, we will have crossed the halfway point of 2019. At that point, we'll hopefully have more concrete data about the global growth of OOH and DOOH to report. Regardless, we'll likely see plenty of other interesting news that may emerge by that time!