Another month is over and done, containing all sorts of news, ranging from new display technologies to potential issues possibly on the rise! Among them is the much talked-about North Carolina bill on outdoor advertising. It finally reached a conclusion of a sort, though it may not be the most optimal one for the industry. In other news, experts of the Out-of-Home industry discuss a technological feature not living up to expectations. That's it for the initial sneak peak. Let's get into the details!
LG deploys cutting-edge transparent display
The highly anticipated LG Transparent OLED digital signage display is now shipping by LG Business Solutions. Paper-thin and see-through, content on this display is augmented by what's behind the screen. It delivers high picture quality while maintaining the factor of transparency, doing so much better than standard transparent LCD displays.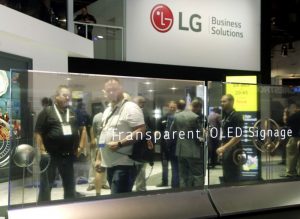 An excellent use for transparent displays would be an overlay with products. With the product in sight through the transparent display, product information could be provided alongside. Naturally, this is only one example. 
"Just think about the possibilities in hospitality, retail and other environments where business owners are looking to create a truly one-of-a-kind experience," said U.S. vice president of marketing for LG Business Solutions, Garry Wicka. 
Visit the official site of LG to see the full specifications of this display.
North Carolina Governor Vetoes Billboard Bill
The North Carolina Outdoor Advertising Association recently issued a press release about House Bill 645 - Revisions to Outdoor Advertising Laws, after Governor Roy Cooper vetoed it. 
Had it been accepted, this bill would have allowed companies to relocate their billboards when the government took over the property where the billboard was placed, or when the landowner chose not to have signs on their property anymore. It would have prevented local governments from interfering. Instead it would've relied more on the owners of the properties and their decisions.
The NCOAA press release describes the governor's move as "misguided". The bill would have allowed the cutting and trimming of trees blocking the view of the relocated sign. Governor Cooper suggested the main reason for his decision was the protection of the environment. He named the tree-cutting part as the issue.
Furthermore, "Governor Cooper's veto of H645 places the burden of millions of dollars in just compensation payments on the Department of Transportation when future billboards are removed because of highway projects," according to the press release.
JCDecaux deploys Interactive Relax Zones
In other news, JCDecaux appears to be experimenting with "eye-candy" as Dave Haynes of 16:9 would say. Their Polish operation unit at Warsaw's airport deployed an "Interactive Relax Zone" for passengers. It includes interactive smoke and hologram information about real estate investment, which might strike some as an odd mix.
While it certainly is an eye-catching feat of technology, it is unclear how much of an impact it's going to have on sales. If it does become successful, we will definitely see more of these relax zones popping up, at least in JCDecaux' operated fields. Though judging from 16:9 and our own assessment, such a scenario is currently unlikely.
Fear of bacteria found on a touchscreen display rises
Touchscreens are everywhere as they're a part of modern life. And while their functionality is greatly appreciated, one of the most basic factors of its maintenance is often ignored. Smartphones can carry up to ten times more bacteria than most toilet seats. And yet only an alarming 16.5% of surveyed Americans actually clean their phones! 
Still, with dangers of bacteria becoming more widely known, users are more aware of the potential risks of using public displays such as ATMs or self-service touchscreens. This is a matter that each and every business using touchscreens should think about. Especially since last year's McDonald's incident with filthy touchscreens, which will likely haunt them for a few more years. 
There are plenty of ways to maintain the cleanliness of your displays. One mentioned in the article from Digital Signage Connection on this topic is Kastus. This nano-technology company produces antimicrobial coatings designed to protect glass, ceramic and metal from harmful bacteria. Still, while solutions like this are impressive, know that much can be achieved by the usual daily clean of all your touchscreen surfaces!
Are holograms a fad?
Seeing holograms in sci-fi shows and movies certainly excites us to see them become an everyday reality. However, as their earliest forms are coming to life, they perhaps aren't delivering as strong of an impact as expected. When asked whether the excitement for holograms is long lasting or a short-lived one, the pros of the Out-of-Home industry bet on the latter.
Most believe it's a fad, while some do see potential in it. If used properly, holographic technology can do wonders, but only at the right place and in the appropriate context. With the visual effects of science fiction entertainment constantly on the rise, perhaps we are growing spoiled and our expectations might become too high to remain in a long-lasting awe of the holograms of today. This will likely change once holograms advance further and become difficult to distinguish from the non-holographic environment.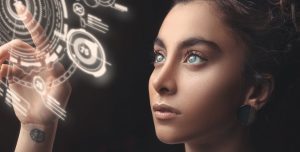 While holograms might be a fad, we know for certain the digital signage industry is not! It keeps rising and bringing us news each month. We gladly accept new tech and innovations, but as you can see, sometimes the news isn't always as pleasant as we hope. Though it can prepare us and, if nothing else, at least the news such as the rise of hygiene awareness can make you, as a digital signage owner, aware of one potential issue that should be addressed.