Digital signage apps are an easy way to bring pre-formatted content to your screens and attract more eyes to your displays. We covered several general uses for digital signage apps for all types of operations in part 1. There you get to know apps for broadcasting news and weather, as well as ready-to-use content channels of intriguing facts on an array of topics, among others. 
In part 2 we look at apps in more specific contexts. While they may be primed for use in certain scenarios, as you go through them, try to think of ways you can apply them to your own needs. Let's start off with the simplest app of all.
Clock apps
They truly are the most common apps in the digital signage world. After all, everyone needs to keep track of time. 
The style of the clock app you plan on using matters. You want it to match the theme and other content on your displays. That's easy to achieve. All of them are fully customizable. But more important is the purpose, which is why there are so many of them! Take a look.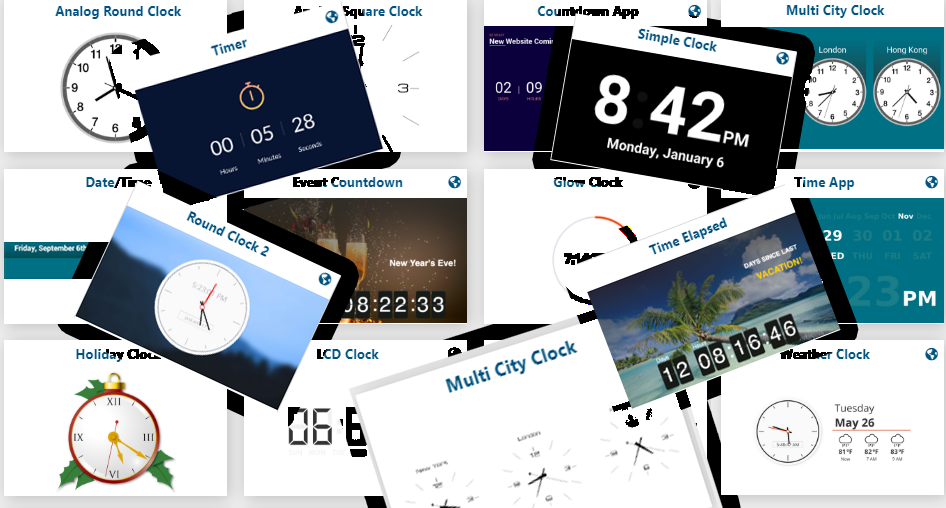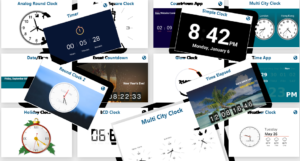 If you find tracking multiple time zones at once is important, at airports, hotels or international banks, for instance, you need a multi clock app to cover three time zones at once. 
Holiday countdowns as well as weather-time and date-time combinations are also available. This is where screen splitting comes in handy, in case you don't want to dedicate too much of your screen to entire weather and time setups. Countdowns and timers are valuable tools, for event or sale countdowns, for example.
Meeting room and calendar apps
Providing a visual kick for your external audience with digital signage apps is top of mind. But don't forget the potential of digital signage apps for internal use! Connect your calendar to meeting room apps to highlight which meeting is taking place where and when it will end. You can also showcase upcoming scheduled meetings and events taking place. This way, with easy to see availability, you ensure efficient use of meeting rooms. When we say meeting rooms, the same goes for conference rooms at hotels or business centers with an even broader audience than within your company.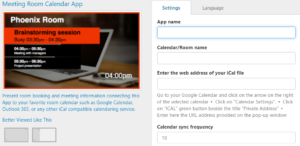 Additionally, speaking of apps for internal use, consider using reminders. They're ideal for broadcasting across multiple displays. Birthdays, anniversaries, employee of the month announcements, or any other type of information relevant to your business can be set up in a quick and visually pleasing manner. This type of use is great to maintain not only staff efficiency but also to keep their morale up by recognizing their individuality.
Sports apps
Although sports apps are, surprise surprise, typically used for sports, brainstorm on how the following uses can be applied to your own digital signage requirements.
Sports apps involve a variety of tables. These are great for posting score updates in any activity. You can customize the app appearance by changing the table components, as well as the background image. Maybe you have a company internal or industry wide competition going. Create that competition spirit that drives your team to strive. 


Combine these apps with some of the digital signage apps we covered in part 1, such as RSS feeds, sports content feeds, and announcement apps, and you already have a rich content rotation on your hands.
Finance apps
The most recent currency exchange rates or general news in the field of finance are perhaps not the most exciting pieces of information for most displays, but there are locations where they are more than relevant. 
Banks are the first location that comes to mind for using finance apps. A scrolling currency exchange app fits in nicely on the bottom or side of any bank screen. Add some news on finance, guidelines for users, and a hint of entertainment, and you have an automated content rotation set up.
Bus stops, airports, or train stations are high traffic places where people typically hold more than one currency in their pockets. They welcome a display reminding them of the exact value of the new currency they will need to deal with on their trip. As an objective source, it puts into perspective the exchange rates of nearby exchange offices.
Airport apps
Speaking of airports, if your business is in the vicinity of an airport, or if you find that your hotel guests would value flight data, here are a few digital signage apps you could incorporate in your content rotation.
Flight status updates are beyond easy to set up. All you need to do is specify your target airport for which you'd like to have the data, and the app does the rest! Should it fit the customer's needs, you could dedicate a display solely to this purpose.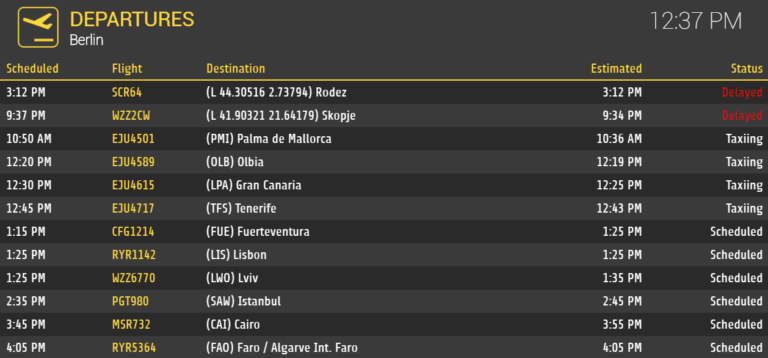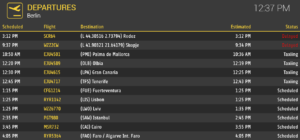 Otherwise, you can simply include it as an occasional occurrence in between your other campaigns. If want to dedicate only a portion of your content rotation for this, there is a neat little app you can squeeze into one part of the screen to provide it. The Weather+Exchange-Ticker app rotates between a quick note of weather for the specified location and the exchange rate for the currency of your choice. On the OnSign TV platform you find both these apps under the "Other" category.

Custom digital signage apps
All OnSign TV apps can be customized to fit your content theme. But if you want to get more customization, you can commission OnSign TV to create your own apps. We've developed hundreds of apps, and all that's needed to get started is your description of the app operation. Many feature requests stand at the ready, since it's likely that your requirements will match one of the existing presets in our pipeline. If that indeed is the case, your app will be created quickly and will be in your hands for free! Of course, you'd need to be an OnSign TV subscriber to obtain this benefit.
In case you're not already a user of OnSign TV, remember that you can try it out free of charge with the 14-day trial, no credit card required!