Quality apps have become the hallmark of good digital signage software. And rightfully so! Digital signage apps offer a simple way to wrap dynamic information up into a visually appealing package which you then can deliver to the customer. Apps can be as simple as telling the time and date, or as ample as a digital menu board fed by a Google sheet as its source for menu items and prices.
Here, we take a closer look at restaurants to highlight which of the many digital signage apps available at OnSign TV can be the most of use. Of course, the value of each app depends on the restaurant type, the customer base, and the preferences of each individual business. Let's get to the first item on the menu.
1. Casual Menu Board app
Naturally, in a restaurant environment, we start off with what's on the menu. Menu apps are a direct road to sleek and eye-catching menus and make order placements easy and exciting. Choose from any of the OnSign TV menu apps nd customize fonts, font colors, and the app color layout to ensure it fits your business theme. Take a look at the Expert Tips video below to explore the design and setup of the casual menu board app.

The casual menu board app above draws on a data feed for input, which makes updating the content quite easy. Data feeds are essentially data tables which apps use to automatically organize data. If you're using a Google sheet as the data feed source, updating the sheet itself will result in an update on the menu. It's that easy! This is particularly useful for items with market prices or seasonal specials, and for broadcasting to multiple displays or locations at once. 
2. Modern Sales app
An app to feature products, the Modern Sales app puts a single product into the spotlight. While the name sounds like it's mostly geared towards retail shops, any business can customize the app to fit its style. For instance, set up the app to feature a promotional menu item or a food and drink combination in an inviting way. Here's how it works:
As you'll find with most OnSign TV apps, they're highly customizable to add the identity and style of your business to the mix.
3. RSS Feeds
A continuous stream of data, RSS feeds are great sources for digital signage content. Depending on your consumer base, location, or whatever the shared topic of interest is among your patrons, you can find quality RSS feeds to catch attention.
When it comes to RSS feeds, use campaigns to divide the screen and display RSS content in one corner while filling the other divisions of the screen with other types of content.
4. Social Media Apps 
Social media content covers a lot of ground in terms of content types. Set up social media feeds for the purpose of providing testimonials, raising brand awareness, encouraging more social media activity, pushing special promotions, or just as fun content filler for your screens.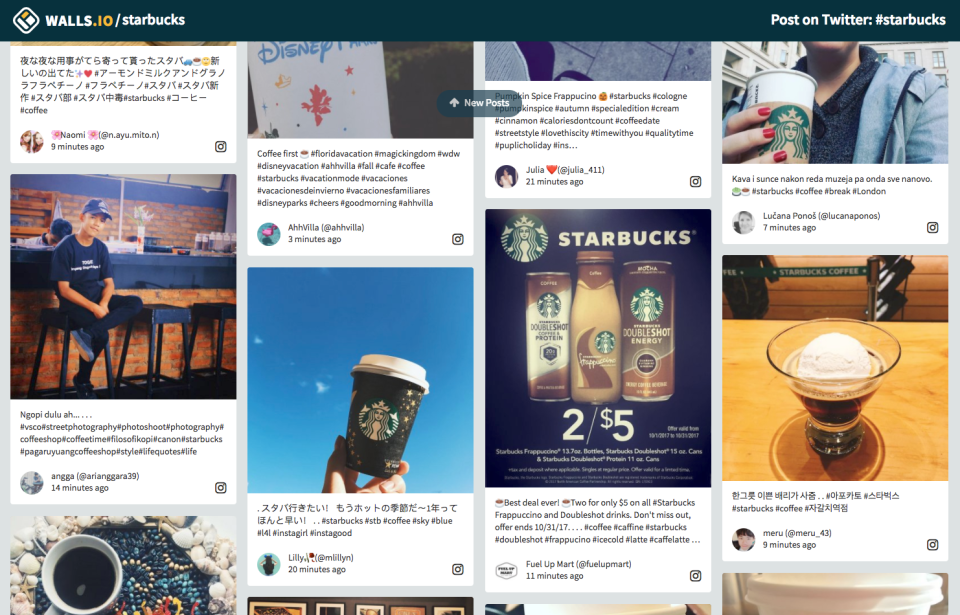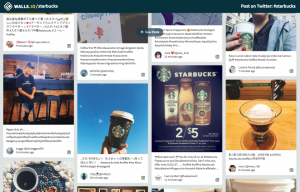 Social media apps like Walls.io or TaggBox collect user-generated content from all social media channels and to be built into a social media wall and broadcast on your displays. Meanwhile, if you're looking for something channel-specific, you can always use one of OnSign TV's apps dedicated to Instagram, Twitter, or Facebook.
5. Weather apps
The most common topic in the world, weather can be delivered in more ways than one through digital signage apps. Make weather information as specific or as broad as you like, be it a daily or weekly forecast, or a forecast for multiple locations at once. You'll find this useful if your guests are travelers, or if your restaurant is located near a travel hub such as an airport or a train station.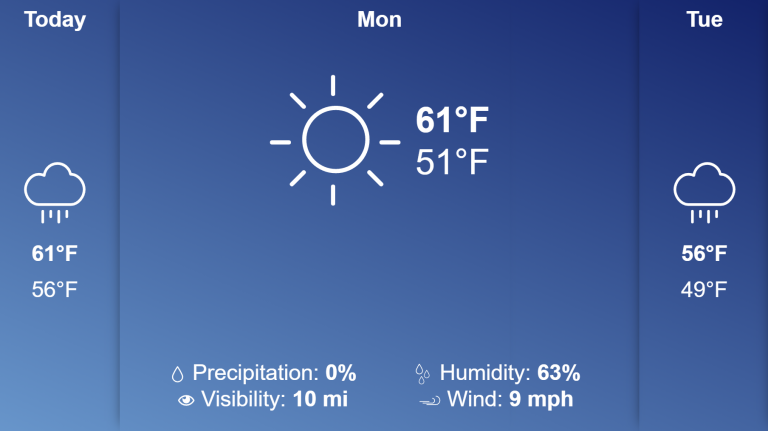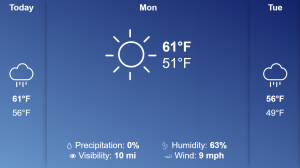 You don't need to broadcast weather data non-stop. With digital signage software, you can simply schedule it to make an occasional appearance alongside your usual content.
6. Clock Apps
A perfect component to include in restaurants, especially in casual eating, clock apps come in a variety of styles which you can customize. Certainly not the most exciting app to use, but it can be of value as a component within your content. Dedicate an entire display to elegantly display the current time and date, or place it in the corner of all of your screens where it won't get in the way, but is still of use.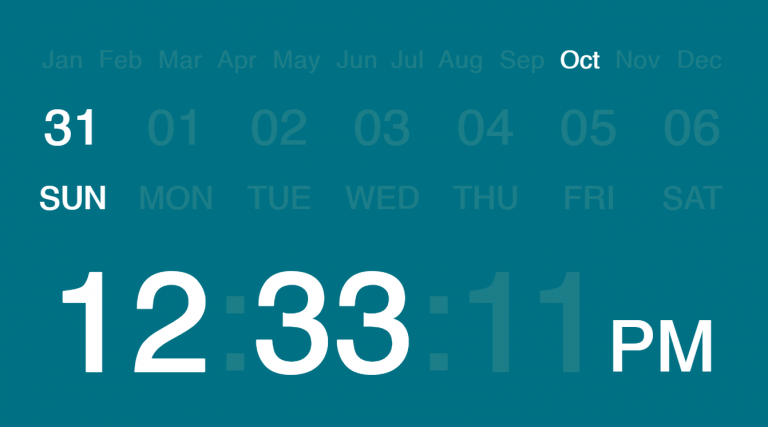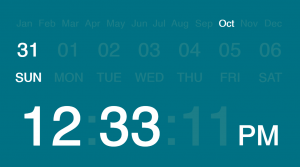 Speaking of time, you also have the possibility to set up countdown apps to tick down to big events like the New Year, or something smaller like a special deal that's about to run out. If you want to be extra dramatic, you could even put a countdown for menu changes that occur throughout the day, from the breakfast to the lunch menu.
7. Other apps
At OnSign TV, there is quite a selection of digital signage apps to choose from. Some of them you'll find suit you more, based on the way you run your place and the options you offer to your customers.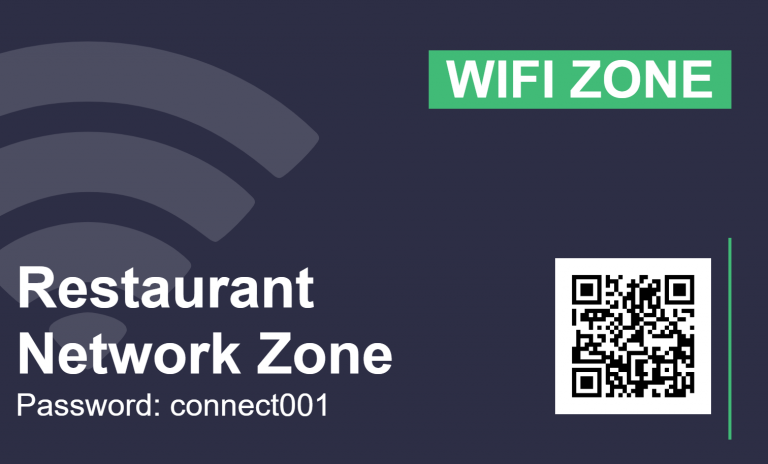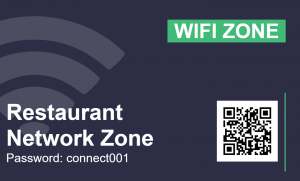 The WiFi App, for example, is a great way to allow guests to connect. It's quite easy to set up, and even has a QR code which can be scanned for faster access. There are also apps that enable replicating content from a website, such as the Website Link App. 
Based on the location of your restaurant and the identity of your customer base, there are plenty of apps you'll find useful in general. For example, set up text scrollers, sports tables, flight information, exchange rate data, or just plain entertainment. There are apps for all of these, and more. It all boils down to what you need the most and what your guests will appreciate. 
QR codes are also a valuable asset in enabling touchless interaction. Through a QR code, you can allow customers to scan the menu or even interact with staff. This eliminates the need to touch paper menus that others have touched. You can also use apps in the kitchen and staff room for displaying daily plans and schedules, for recognizing the employee of the month, for celebrating birthdays, and many others.
Explore each and every single app OnSign TV has to offer for free!