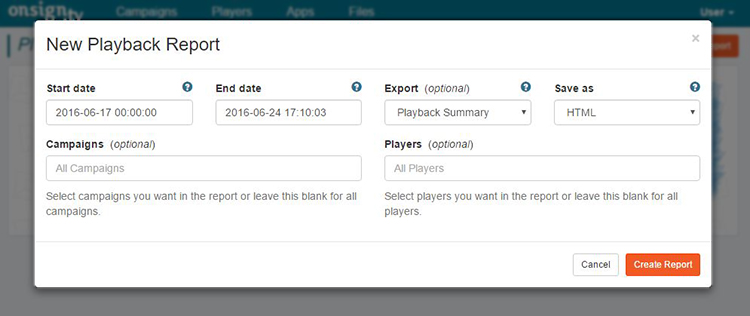 For the past month we've been testing a brand new feature called **Campaign Reports** and now we think it's ready for prime time!
**Campaign Reports** allows you to download detailed proof of playback report in an archivable format, with the click of a button:
![](https://onsign.tv/media/tumblr_inline_mlq8o7OP0r1qz4rgp.png)
We've always supported proof of playback, but until now it was displayed on each player and there wasn't an easy way to archive them for future reference.
Now you can get a report containing the exact *date*, *time* and *player name* of each successful campaign playback. It's possible to choose the current week or the past 4 weeks. With each report you'll also get a playback summary, so you can feel the pulse of how your campaign is being played across all your players.
The reports are in `CSV` format, which can be easily [imported into **Microsoft Excel**](http://office.microsoft.com/en-001/excel-help/import-or-export-text-txt-or-csv-files-HP010099725.aspx), or [imported into **OpenOffice Calc**](http://www.ehow.com/how_7166817_import-csv-openoffice.html), so you can generate all sorts of graphics from the data.
As a bonus we now send – as attachments on our weekly summary email – reports of all your campaigns for the past week. Be sure to enable them in your preferences:
![](https://onsign.tv/media/tumblr_inline_mlq8jl24nf1qz4rgp.png)
*Eduardo Felipe*,
Project Manager.
OnSign TV