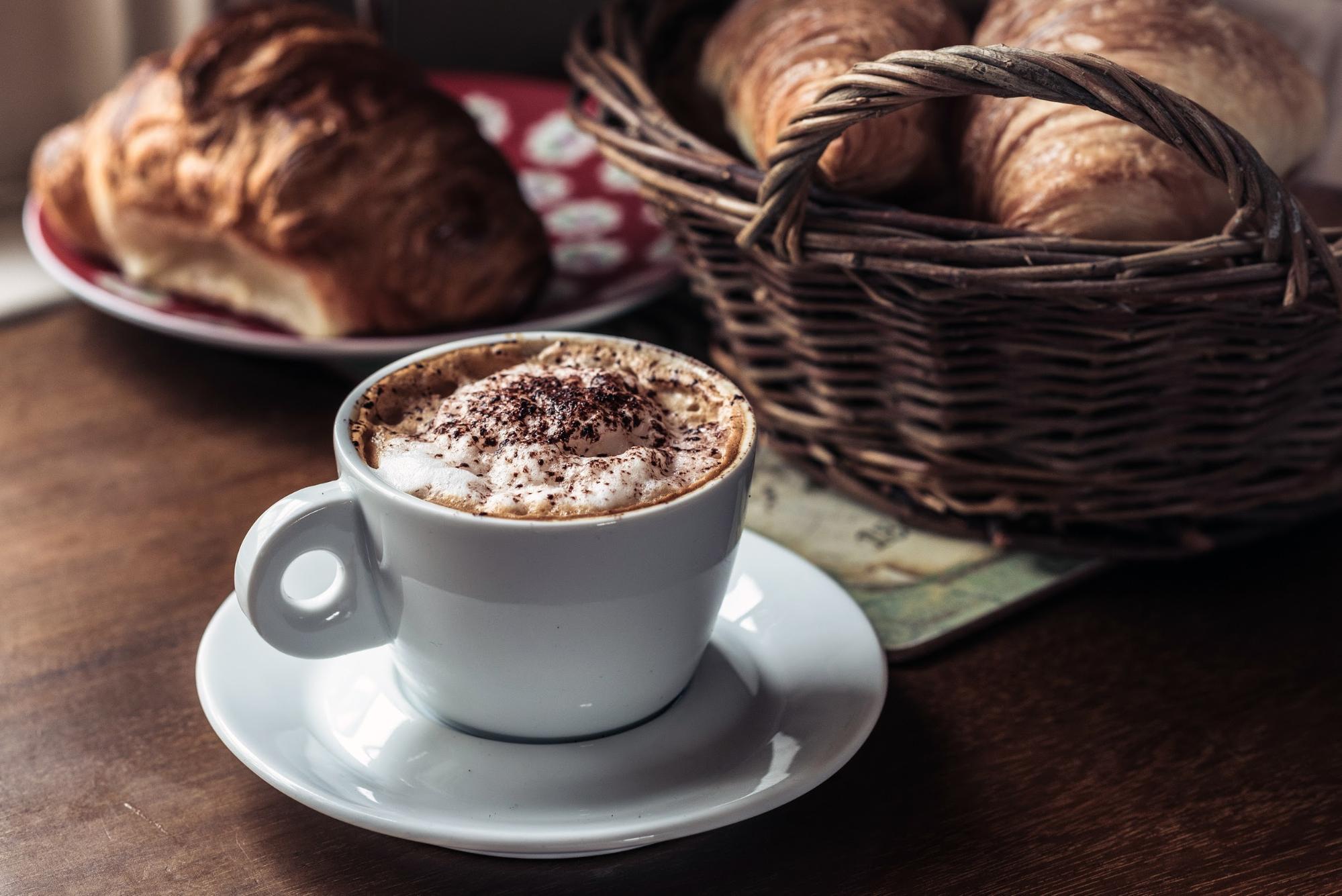 Digital signage is a versatile tool finding a home in many businesses. Still, it must be used carefully in places heavily reliant on ambiance. Along with a few other cases, any regular coffee shop is on the top of that list as people don't go there to just make a quick purchase and leave. Many stick around for a while talking with a friend or getting some writing done.
Digital signage in a coffee shop has many benefits, and we'll take a closer look at how to apply some of them to have the desired effect of elevating the customer experience. We'll also see how inappropriate use might cause the opposite effect. In the end, it's up to you to decide which of these uses would be beneficial for you based on your goals, target audience, and style. 
For here, or to go?
We'll explore several digital signage uses applicable to a coffee shop, but the ideal use predominantly depends on the specific atmosphere you wish to create. 
On one end of the spectrum we have coffee shops with the focus on selling drinks and snacks for people on the go. They walk in, they buy, they leave. You often find this kind of coffee shop in transit hubs or business districts. Digital signage can adapt to the rhythm of this type of consumer and provide them with the information they need to make this and the immediately following part of their day more convenient and comfortable.
And on the other end we have coffee shops focused on creating the ideal setting to relax in. In this case, the rhythm of the consumer is slower and more focused on the experience rather than just sipping coffee. They typically want something to sip on with their Wi-Fi. These are also the places where you'd take a friend and let hours pass in conversation. Digital signage can adapt to this setup too, as well as a hybrid of these two styles. Observe the following uses and benefits while keeping the style of your own coffee shop in mind and see how they can be applied. 
Entering the coffee shop
Let's go through the customer journey, step by step. Before they even decide on the drink they want, coffee enthusiasts first see your shop from the outside. 
If your focus is to sell coffee to the person who has to be at work in ten minutes, then listing prices, daily discounts, fast payment options or the occasional new offer on your storefront can fulfill an important role. The customer wants their coffee fix ASAP. As they walk by, they immediately see what's on offer. Or perhaps they see a drink that sparks their interest, and they decide to walk in.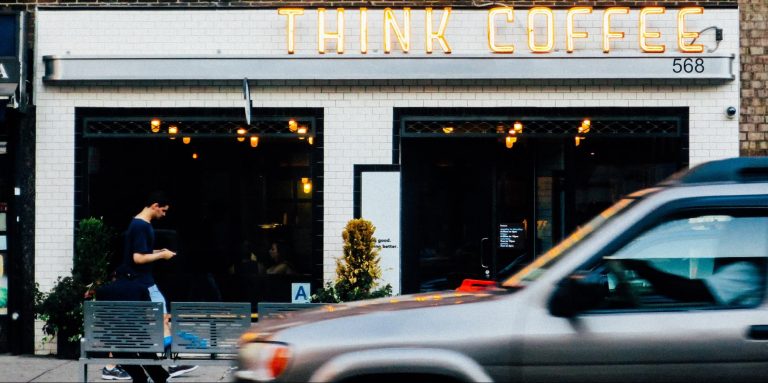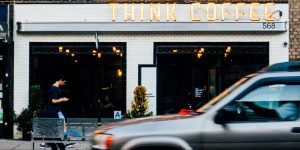 A different scenario: If you spent a lot of time and money on the interior of your coffee shop to have a cozy and relaxing vibe, you want your displays to match it. You might be thinking how a display can possibly do that if it lists products and prices. Aren't lists and pricing cold and boring? That may be true, so don't use them! You may want to invest in high quality content and visuals instead.
A video of the process of coffee making, whether recorded inside your shop or animated by an artist, can be very stimulating. Add to that the scent of freshly ground coffee beans, and the effect will be hypnotizing. In this context, your audience doesn't care as much about the cost of coffee as they do about the ambiance and feeling of comfort inside.
Purchasing a drink
Your customer came in through the door. It's time to order.
Digital menu boards are a great way to share daily offers and new flavors with your customers, or to get them to try something different like a mocha or hot chocolate. Unless they're thirsty for a glass of water, the coffee enthusiast in front of you will expect the drink they're about to order to elevate their mood. This is why they'll appreciate to see new varieties.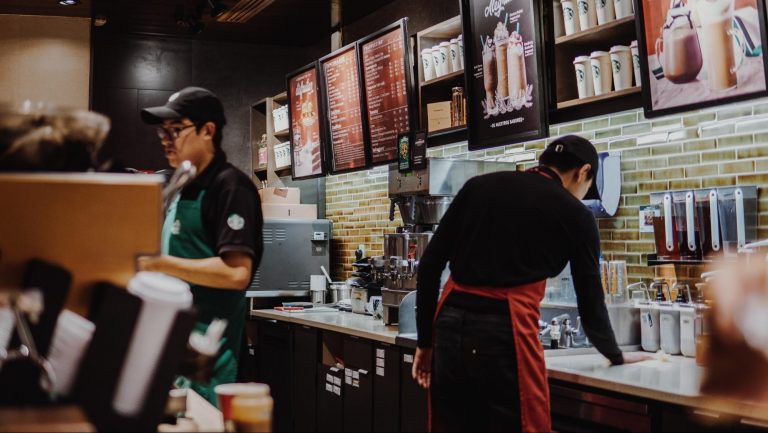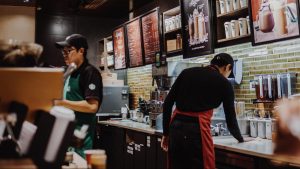 Menu boards are a staple in any order at the counter establishment like a coffee shop is one. Their primary purpose is to give the customer choice and guidance, so put that on the forefront. Digital signage technology will allow you to easily adjust the color scheme to fit the interior and lighting conditions. 
A darker background with a stylish white font will be better in most cases than a cream colored background dark font combination. For a more ambiance-focused concept, invest in creativity! A visibly steaming cup of coffee in the corner of the display can be a nice touch. Or, for special offers rotating throughout the year, why not have a set of videos for it. A cup of coffee or a milkshake gradually drunk over a short time span is a mouth watering visual. Get the creative juices going!
Enjoying the ambiance
We may have overused the word "ambiance" a bit, but that's because it's very important, especially at this step. Now, with the drink in hand, your customer either leaves or has a seat and we'll focus on that in an instant. Of course, in some cases, the customer may be seated first and only then have someone take their order. You may consider using interactive tablets for ordering, if that's the case. Regardless, we now have a seated customer. How can digital signage endorse further?
If you aim for the extreme level of relaxation and comfort, you could use digital displays purely for the visual appeal. For example, a burning log in wintertime is a nice touch. This is one way how digital signage can enhance the interior theme of your coffee shop. Then, progressively, you could use digital signage to provide information. Using digital signage software, you can section the display into multiple parts. Information like upcoming events, daily weather and, yes, special offers, could all be great additions. It's up to you to decide how much is too much.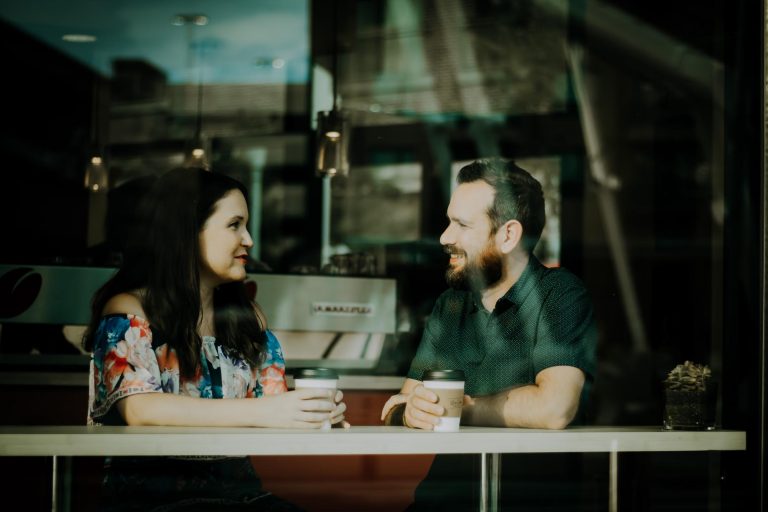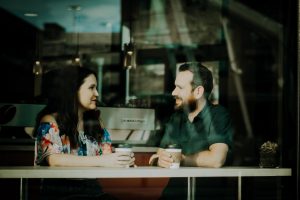 It is entirely possible that you find your interior doesn't need digital signage, and that using it for menu boards and storefronts is enough. Establish what you want to offer in your coffee shop, who the ideal consumer is, then with that knowledge use our guidelines to realize your goals.