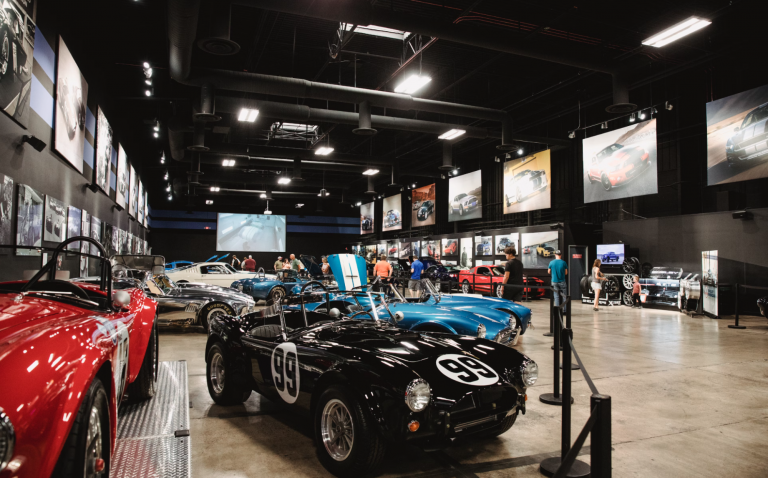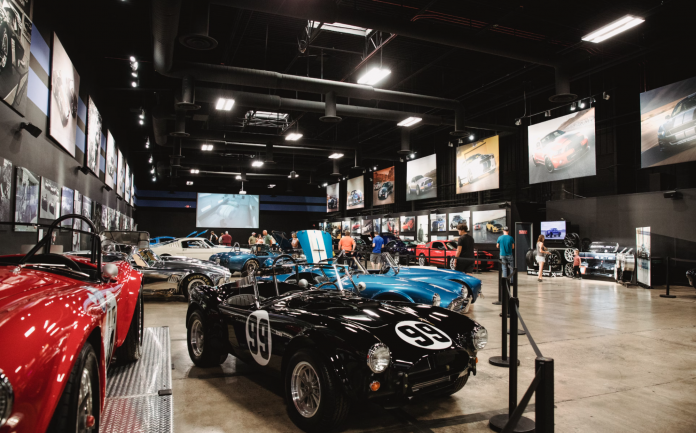 Trade shows are a beehive of information as every booth has something special to offer. In such a dense environment, digital signage can help you make the entire experience more successful. As a small business exhibiting at a trade show for the first time, you can stick out and engage more visitors. For bigger businesses with larger or multiple booths, digital signage can help organize the experience and guide visitors more seamlessly. So let's begin at the beginning!
A welcome message
Greet visitors to your booth with a warm welcome message and immediately give them some guidance. Using trade show digital signage, highlight what there is to see at your booth. Introduce your team by name, so that your visitors know who to talk to for a demonstration of a product or service. For event organizers, welcome messages can be placed at the very entrance to the event and give new visitors a good start to their experience. Accompanied by a layout of the event, with booth locations, it's even better!
Meanwhile, for businesses which take up a larger portion of the floor, welcome messages can direct visitors where they should start their exploration. This not only gives them direction, it also makes the flow of traffic through the area smoother.
Product demos
Digital signage is a fabulous tool for product or service demos, even outside of a trade show environment. Prepare videos which demonstrate your offer clearly to anyone who decides to glance at the display. Focus on what it is that makes your business unique. If customization is a big part of what you do, feature the best of custom creations you built for your clients. For instance, hair industry trade shows will be the ideal place to feature the most complex and intricate creations you've done. Keep in mind that product demos are a great time investment. You can use them online and across your in-store digital signage too!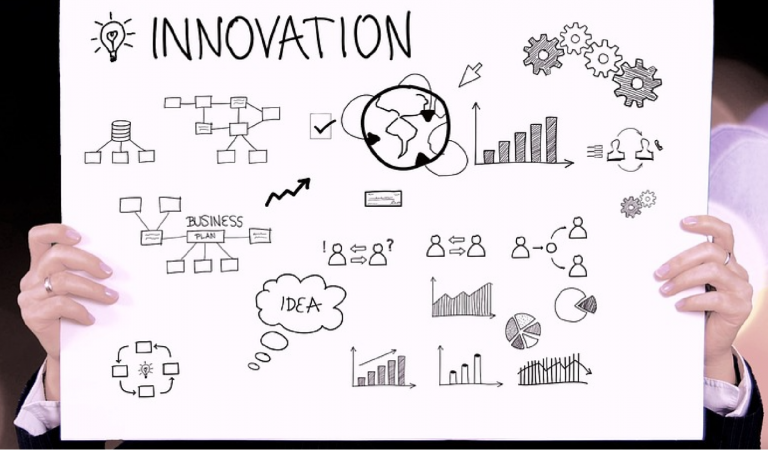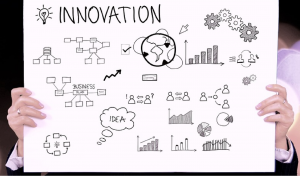 Read more about constructing a strong product demo via digital signage on our blog!
Testimonials
Collect and display short video testimonials from satisfied customers who have successfully used your software, product, or service, showcasing real-world examples of its effectiveness! Given the trade show context, there will be a lot of traffic flow. Trim the testimonials to their essential bits in order to make them quick to read. Naturally, don't alter the core message, merely the way it's presented.
Interactive content and tutorials
The possibility for interactivity is definitely present with trade show digital signage, but it depends on what your business is about. For products, allow visitors to interact with your digital signage to access additional information, specifications, design variations, customization options, etc. For software, let users go through interactive tutorials where you guide them step-by-step on how to perform an action. 
Services too can make use of digital signage interactivity. If you offer a large variety of services, don't try to cram them all on display at once. Let visitors interact with the digital display to select the one they're interested in, then show them additional information, pricing, package offers, as well as demonstrative videos on how the service is performed. This is a great opportunity to show the cutting edge advantage which makes you stick out!
Real-time updates
Keep attendees informed with real-time updates on any changes. If an offer becomes unavailable, a new one emerges, or if you have a set plan on what you're presenting for each day of the event, keep everyone up to date via digital signage.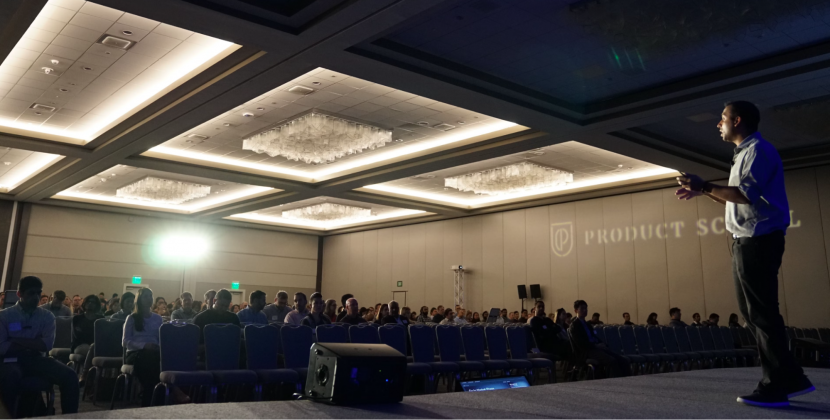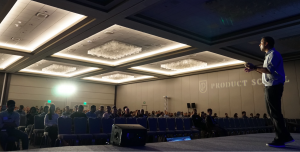 Real-time updates are even more important for larger events at trade shows. Display session changes, speaker schedules, or last-minute announcements that might be of importance. 
Interactive maps
Trade shows are a densely filled space and walking just a few steps shows you something new to see. As such, using digital signage for wayfinding is a brilliant idea! For the event as a whole, displaying wayfinding screens will help visitors find their way or discover new locations to visit. As we said earlier, key points across the trade show floor, such as the entrance, are excellent for this use.
Meanwhile, even if you're a small business with a humble booth, wayfinding can still be an option! As you set up an on-demand interactive map on your displays, your visitors will thank you. Furthermore, across the many days of the event, people will remember where to turn to should they need wayfinding, so your helpfulness sticks out in their memory. Event organizers typically post interactive maps online. It's a simple matter to load up these web pages on demand to your digital signage.
Digital goodies
At trade shows, everyone has their smartphone at the ready. With that in mind, offer digital giveaways such as downloadable resources, e-books, or discount codes accessible via QR codes displayed on digital signage. Essentially, let people just walk by and engage immediately. As we talked about maps, in case you have multiple booths, or if you're directing visitors somewhere, perhaps your store in town, set up directions accessible via QR-codes. 
Distributing this sort of content digitally eliminates the need to print and distribute printed material, so that's a win-win!
Social media wall
You can quickly build a live social media feed through digital signage software, encouraging attendees to participate in the conversation and share their experiences. Add a hashtag unique to the event, and display content which appears on social media on your screens. For instance, get people to engage by taking selfies at your booth, then share them on the media wall.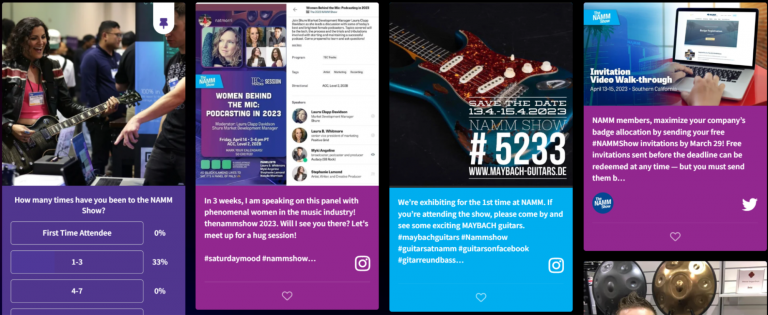 Behind-the-Scenes content
Offer a sneak peek into your company culture and the development process of your software, product, or service. Show any fun clips or content that shows the business from within, making it more unique and relatable. For example, show "day in the life" videos of your team.
Balance is key!
With all these uses, you won't run out of content to show across the many days of the trade show you're attending. But do spend a bit of time organizing the way in which this content is presented. Build intricate campaigns and compositions, and schedule them through digital signage software to appear at key times and days of the event.
The content which describes your business identity and key offerings should always be the dominant type. All the others, such as social media or behind-the-scenes content, should be complementary to the main content aimed at attendees. Read more about content types and how to best organize them. And, of course, put it all into action with a free trial from OnSign TV!
Cover image by Jason Leung.