Just one month left and 2021 is over. How time flies! This month, we have nothing but good news, thankfully. The return of DSE in 2022 becomes an increasingly solid event by the day and we have a rather wholesome update for it this month. Apart from news on big events coming back, we also have stats on the mix of Out-of-Home advertising with social media, particularly from the point of view how Millennials and Gen Z respond to it. We also had a glimpse at consumer Insights for 2022.
700+ exhibitors taking stands at ISE 2022
In exciting news, Integrated Systems Europe reports that more than 700 exhibitors have registered for the event in Barcelona and expect even more in the coming days. It's taking place in under three months, by the way! 


For context, ISE hosted around 950 exhibitors in 2020, just as the COVID pandemic started to grow. In 2019, the attendance was around 1,300 exhibitors. Keeping these numbers and the current context in mind, 700+ exhibitors for 2022 is a rather positive result. ISE further confirmed that there will be six technology zones across the new venue in Barcelona. Learn more and register on the official ISE website.
DSF joins DSE as Trade Association Sponsor
The Digital Signage Experience (DSE) is solidifying their plans by the day. The event will take place in March, 2022, in Las Vegas, if there are no major pandemic-related issues emerging by that time, of course. The latest bit of news about the event is the arrangement the Digital Signage Federation (DSF) has made with Questex to join the conference as an official Industry Trade Association Sponsor. DSF had been, in part, funded by the private company which managed DSE each year before its bankruptcy last fall. The assets of the company were auctioned off and picked up by Questex. 


With DSF back in play as official Industry Trade Association Sponsor at DSE, DSF members will receive special discounts and passes. Marian Sandberg, VP/Market Leader for DSE at Questex said that "the DSF has been a steadfast partner and proponent of the event since its inception and, with this critical relaunch of the event in 2022, we're proud and grateful that the DSF has again endorsed the event now under new leadership by Questex."
An advantage of the social media and OOH combination
According to a survey from the Harris Poll and the Out-of-Home Advertising Association of America (OAAA), Gen Z and Millennials are open to engaging and sharing OOH ads when they are additionally posted on social networks. Most of them take actions, such as downloading an app or making a purchase online.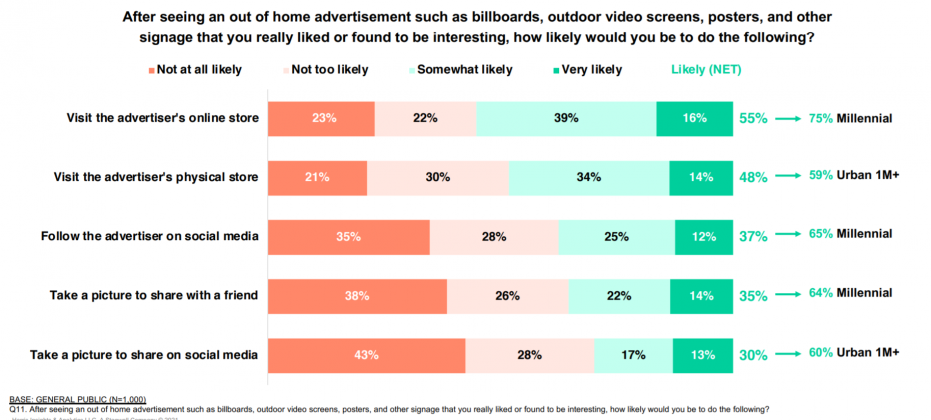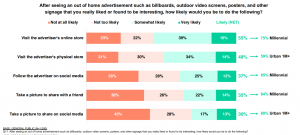 Anna Berger, president and CEO of OAAA noted that these results should be a wake-up call to all digital marketers. "Although Americans, particularly young Americans, are wary of targeted online advertising, they have a growing appetite for advertising that speaks to their needs," she added. On the other hand, advertisers should not be too aggressive in their approach based on current consumer insights for 2022. The matter of sharing personal data for targeted ads is still an important topic. Gen Z and Millennials mostly worry that their data might be used for ad targeting across the internet.
Consumer insights and intent for early 2022
The same research report by Harris Poll and OAAA contains a variety of insights for the year ahead. Apart from the aforementioned data, the report also indicates that COVID is no longer an obstacle for most future travelers, at least for the upcoming winter. 48% of travelers have either already made plans to travel or intend to do so in the first half of 2022. 27% claim to be waiting to see more COVID-related news before planning.
The survey was held online in October, with an audience of 1,000 adults from the general public. Some other data from the report includes the following:
45% find contextual OOH ads more interesting 

74% are concerned about privacy and personal information 

34% are interested in augmented and virtual reality 

40% recall seeing an OOH ad reposted on a social media platform.
Apps every restaurant could use
With trade shows and travel on peoples' minds, we wrap up this month's set of digital signage news with a recent article from our blog listing a few of the apps ideal for any restaurant looking to engage the average consumer! Digital signage software like OnSign TV usually offers a variety of apps you can customize. This helps to really blend with the style of your business. This includes fully customizable menu boards and apps for featuring single items at a time. RSS feeds, social media apps, as well as clocks and weather apps can also be great visual assets.
There are more than a hundred customizable apps available on the OnSign TV platform. Give all of them a test run for free!