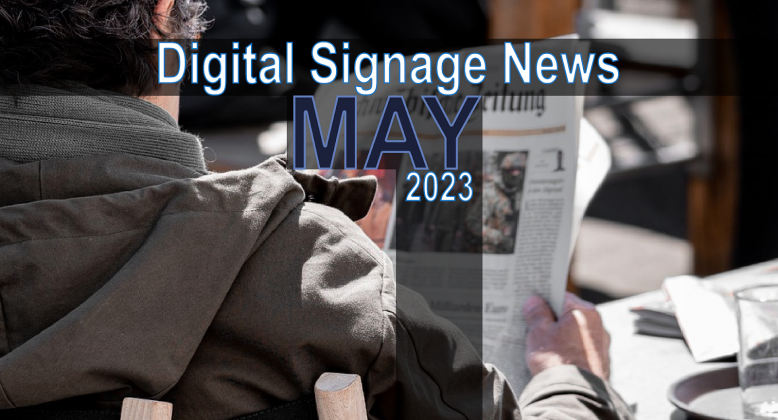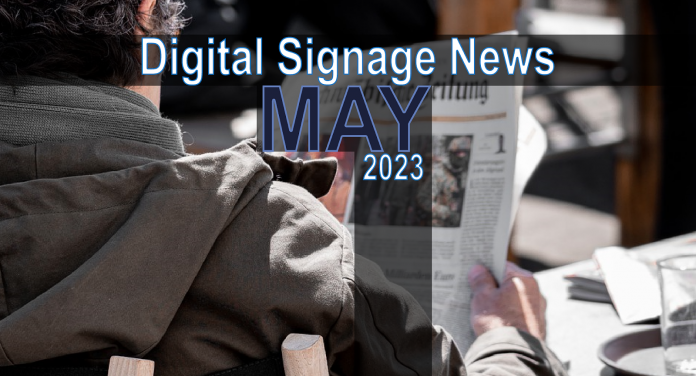 We're wrapping up a strong month for digital signage, having the pleasure of seeing very positive numbers, predictions, as well as exciting tech, as usual! It is now confirmed that the beginning of 2023 provided powerful results, despite tough challenges which emerged with the year's beginning. This month, we learned a bit more about the digital part of Out-of-Home and the future of the DOOH market. To accompany the numbers which confirm its power, we also had the pleasure of seeing yet another awe inspiring digital installation which shows what creative digital signage is all about! Let's take a look.
What is the future of the DOOH market?
Recent figures from WARC revealed that the Digital Out-of-Home sector is expected to grow to $11.5 billion this year. Furthermore, research showed how the digital aspect of Out-of-Home will continue to grow. The forecast predicts that in 2023 digital OOH will account for 25.4% of all global OOH spend. This is a strong increase up from 17.8% in 2020. 
Digital signage is expected to continue its growth consistently in the years ahead. An important matter to consider is the limited inventory. With most Out-of-Home advertising taking place on the traditional paper format, it will take some time for digital to take up a larger part of the industry. In reality, traditional Out-of-Home sites dominate the field for cost and ease of deployment. Still, there is no doubt that digital is superior, and that the future of DOOH will be powerful. This is very clear based on the fact that its ad spend continues growing each year. But its expansion will simply take time. For instance, one prediction based on current data is that DOOH's share of inventory will increase from 6% to 10% by 2027.
Q1 2023 was the second highest ever in Out-of-Home
According to numbers by the Out-of-Home Advertising Association of America (OAAA), the first quarter of 2023 was the second highest in first quarter volume in the history of Out-of-Home. Pretty exciting! It accounted for $1.82 billion, which is greater than Q1 2019, the year pre-Covid-19. This provides concrete proof that the industry is back on a steady rise into the future, despite the impact of the pandemic. It certainly aligns with the well-established notion that the future of the DOOH market is bright. In fact, we must also keep in mind the economic headwinds taking place in Q1. 
"Our medium is well-positioned to connect with consumers at the most critical moments to drive awareness and engagement, which is why OOH continues to thrive," said Anna Bager, President and CEO of OAAA.
5 out of 10 OOH product categories increased by 25 percent or more compared to Q1 2022, including:
Legal Service +40.4%

Religious, Charitable & Humanitarian +37.5%

Colleges & Universities +29.5%

Domestic Hotels & Resorts +29.1%

Quick Service Restaurants + 24.5%
For more stats, including the top ad spenders in the field, take a look at the full report at OAAA.
The Oculus enchants millions of visitors yearly
Speaking of the awesome power of digital signage, if you ever needed to see it in action, here's the perfect example! The Oculus installation blends architecture and music with the flow of water and the aesthetic appeal of digital technology. The Seminole Hard Rock Casino & Hotel, in South Florida, is home to The Oculus: an exciting feature at a focal point in the area connecting the Guitar Hotel, Hard Rock Live Theater, Retail, and Casino.
The Oculus is lined with hundreds of lights which transform the surrounding space to fit with the theme of music. It truly offers a captivating performance blending so many different elements together. Its purpose is to enhance the consumer experience at a key circulation point which sees millions of visitors every year. It is indeed a one-of-a-kind use for this technology, but it serves as an ideal example of what happens when we focus purely on the creative and artistic side of digital signage.
InfoComm 2023 is coming up!
The largest professional audio-visual trade show in North America, InfoComm 2023, will take place from June 10th till June 16th, 2023, in Orlando, Florida. The event's showrunner, Rochelle Richardson, recently provided a comprehensive breakdown of what to expect at the event. This year, there will be a particular emphasis on education and partnerships. Before the event's kick-off, there'll be the Higher Education Summit. This half-day program will talk about AV/IT challenges in colleges and universities. 


InfoComm is just around the corner, so be sure to visit the official InfoComm website for more information on the event, if you're still unsure about attending.
"How do I create a digital signage design?"
This month on the OnSign TV blog, we put a focus on building new content and coming up with content ideas for the next digital signage campaign to deploy on your screens. Even if you've been a content creator for years, sometimes it helps to get a bit of assistance with brainstorming. For example, experiment with new screen layouts and layout rotations. Look into using external tools which integrate with the digital signage software you're using. OnSign TV, for instance, is compatible with Google Slides, allowing you to reuse content from other areas and import it into your digital signage. 
Additionally, if you're looking for content ideas in general, take a look at these manifold suggestions to fill up your content rotation with quality sources! With that, we wrap up another solid month for the digital signage field. We look forward to June, as we have insightful content planned for you on our blog, specifically in terms of making the most out of your digital signage software.
Cover image by PatrickLFC93.