If you've driven around town or gone to a train station recently, you will probably have noticed a lot of digital signage. The phrase seems very sci-fi but the idea behind it couldn't be simpler: in short, we're dealing with signs that have merely been digitalized, a process that ensures reliability, increased efficiency and an easy way to keep up with technological advancement. But what could digital signage and smartphones have in common?
The era of the smartphone has already taken off and it's rare to find a person who doesn't spend enormous portions of their day absorbed by the screen of their smartphone: e-mail, social media, text messaging, wireless connectivity, the modern mobile has it all and is rapidly becoming advertisers' number one priority when it comes down to marketing their products, brand and company image. What's more, smartphones are changing how we act and think – products that we used to buy online can now be purchased via a mobile device. Banking and finance have been revolutionized by the capabilities of mobile payment systems. Consumer data and the way the average citizen goes about their day-to-day activities are undergoing constant change thanks to the smartphone.
There is a gap that needs to be filled and you may have already noticed how brands are reaching out to their consumers via mobile platforms. QR codes or 'Quick Response' codes are two-dimensional barcodes that have become popular with mobile users: simply scan the code and obtain a mass of information on anything in a few seconds. Thus, the consumer is quickly informed about a product, event, or other announcement without having the need to search for the aforementioned elements online – which optimizes the user's experience and allows a brand to plug in to a larger target consumer base.
![Sample QR Code](https://onsign.tv/media/signage-qr-code.jpg)
ADIO Chiropractic QR Code by Michael Dorausch
Another way consumers are being targeted is through pop-ups. Now these little commercials that sometimes appear whilst a person is playing a mobile game or using a specific app can be annoying and even detrimental to the whole user experience, inducing frustration and in some cases driving the potential client away. However, when used correctly, companies can reap immense benefits. A study conducted by BIA/Kelsey expects that in 2018, locally targeted mobile ads will represent at least 52% of overall US mobile ad spending. For example, if someone downloads an app from, let's say, the Apple store or the Google Play store, they're not voluntarily giving up a portion of their phone's internal storage in order to be bombarded by incessant ads that disrupt the user experience. Apps are the way forward in terms of advertising and reaching consumers, but you have to be able to cleverly market your brand so that it seamlessly blends in with what the consumer is actually doing.
If your app offers users an intuitive map that utilizes a smartphone's GPS technology, you could now and again invite the user via a small and non-intrusive pop-up ad to like a certain page on social media, or visit a specific website (like a hotel for instance). For gaming apps, it's essential that the actual gaming isn't interrupted abruptly by ads that cover the whole screen and which tend to be hard to get rid of. Pop-ups and ads in general on smartphone devices should be easy to quit, but engaging enough to attract new viewers.
Smartphones are increasingly becoming an essential part of our everyday lives.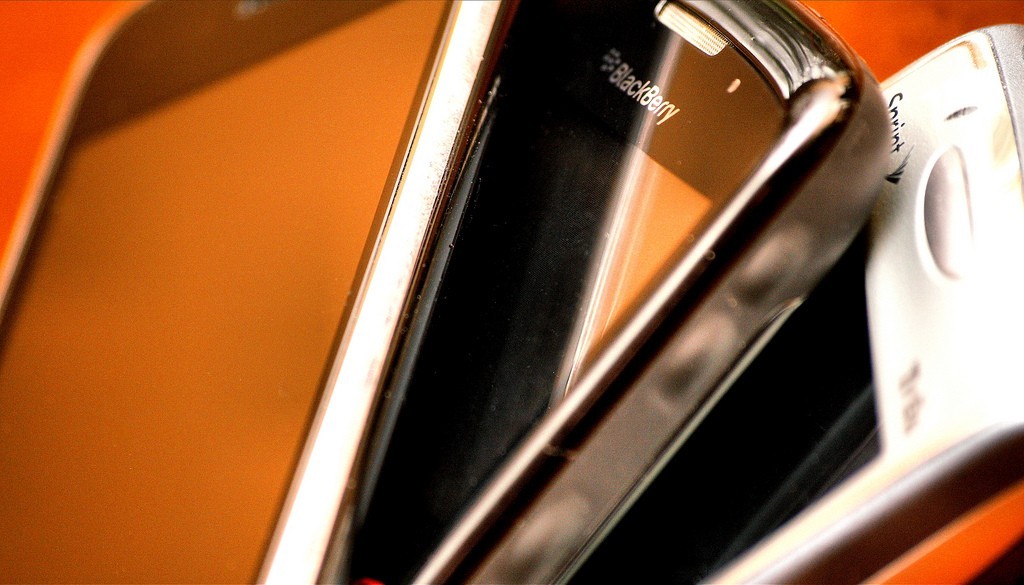 Smartphone Evolution by Phil Roeder
Another example of how digital signage is embracing smartphones is Phone Italia that manufactures custom smartphone-charging stations. When users decide to charge up their cell phones with the devices that can be found in various public spots like malls and cafes, various ads such as small movies, photos and real-time news are displayed to the consumer. This is a clever way of carefully directing the consumer's focus to what you are able to deliver, as when the phone is charging, chances are the phone's owner will be looking at the screen with not much else to do. The devices from Phone Italia are equipped with touchscreens and integrated Wi-Fi; what's more, Phone Italia staff can remotely manage and publish targeted content to consumers.
Smartphones are the latest stepping stone between the advertising world and consumers. In an interview with Digital Signage Today, the COO of Gimbal, Kevin Hart, stated that
"If you think about it, everyone has a digital signage [screen] in their pocket going forward, because it is a screen that's in front of us. And when we bridge that gap from either traditional out-of-home or digital out-of-home … it's a great opportunity to continue that conversation with consumers. […] It has a more natural connection and it brings it to something that is frankly personal as well, my phone. And it's that type of engagement where, if I trust the message on my personal device, there is a better conversation to be had because it is a one-to-one type of engagement."