December is a special month. Yes, it may be stressful with all the end-of-the-year obligations, bills, taxes, and preparations for the year to come. Still, it also has a very pleasant side involving winter ambiance, celebrations, friends and family, and, of course, gifts! In this article, we'll leave the stress behind and focus on the positives. We will see how to aptly use digital signage to bring out the best December and the holiday season has to offer. 
You will also find plenty of ideas for one-of-a-kind campaigns not confined just to the digital display. We'll show you ways to enhance the customer experience and provide special offers, with a twist or two, where digital signage will act as an enhancement to make these efforts more realized.
Let's begin! The season is over before you know it.
1. The ambiance of winter
To begin, let's draw on the visual power of digital signage.
Although December is commonly associated with snow, in many corners of our planet, the season doesn't always adhere to our ideal image of it. While some locations have an abundance of snow, others meet Christmas and the New Year without it.
Whatever the case may be this winter where you are, you can bring the snow feeling inside using your digital displays. The bigger they are, the more effective they will be at this task. A video wall would be ideal for setting up an indoor-winter atmosphere, be it a snowfall video loop, or your regular content with a snowfall overlay. Of course, if you don't have a video wall, don't go out to purchase one just for this, but if you've always thought about getting one, maybe these applications of video walls tip over the decision marker.
You have many choices when it comes to setting up ambiance. An indoor snowfall could be accompanied by a cozy fire crackling on one particular display. On another could be the visual of mugs and cups of steaming tea, hot chocolate, accompanied by cookies. This inviting, cozy, and warm ambiance would be particularly pleasant for coffee shops or restaurants. Walking by on a cold December evening and spotting a freshly brewed beverage would tempt anyone to step inside and order one.
There are two kinds of people…
For many, winter is a time of joy and festivities, at least up until the New Year. But there are many others who would much rather fast forward to a warm July or August day, sitting by the pool. You can make this a reality with your digital displays. If for any reason you find this alternative might be good, be it based on your audience type or the merchandise you sell, know you can do it! This is an especially good idea come January or February. At this time, past the holidays, the winter blues sets in, and many anticipate it to end.
The typical summer theme is filled with vibrant, lively, and warm colors. With your displays, you can enhance this vibe by displaying sunlight and beaches. Of course, don't forget to change the indoor decor to accompany any display visuals, regardless if it's a winter or summer theme you're going for. Bonus points for syncing your staff uniforms to the corresponding theme.
With the visual aspect covered, now let's take a look at the second greatest asset of digital signage: adaptability and content updates.
2. Special snowfall campaigns
Any business actively engaging in sales will have something special planned for this time of the year. Surely you've prepared unique offers and discounts, but why not take it even further?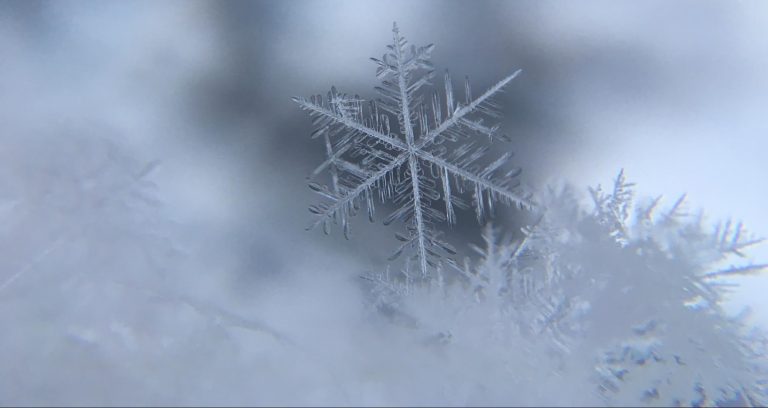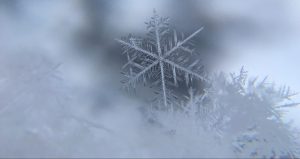 With the ease of updating content on your displays, you can adjust your offers based on particular factors. Snowfall could be one of them. Your storefront and indoor displays can inform customers of a special discount available only when it's snowing. The cashier could simply apply a 10% or 20% discount on the purchase if it snows outside. You can include a weather forecast in the content rotation for this purpose, to essentially announce when there might be a discount.
Connecting the visual of snowfall to a discount in your store will leave a lasting impression. People may remember your store at any time of the day if they see snow.
3. Temperature-based campaigns
In one of our recent editions of digital signage news, we showcased the great success of a summer Burger King campaign. The hotter the day, the greater the discount. In a different scenario, you could invert this to apply to winter.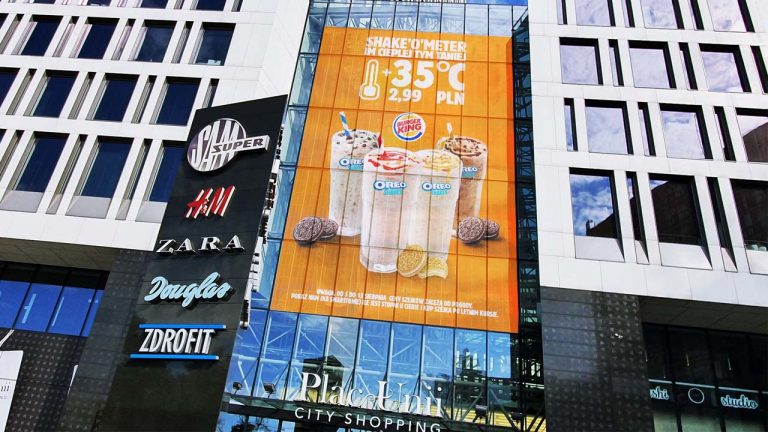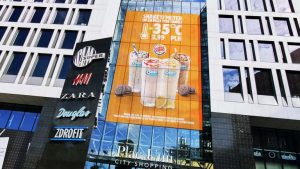 Research upcoming weather for your location and establish which temperatures can be expected. Ideally, create the campaign so that there's always a discount happening, even if only a small one. 
For example, let's say you have a coffee shop, and at your location, the standard temperature during the day is 5°C. If it drops below that, offer a selection of beverages at a $1 discount. At 0°C this could be at $1.5. And if it's extremely rare for the temperature to reach -5°C or -10°C, offer a $2 discount when it does. This rewards anybody who in the cold of winter makes it out to you. Another option would be to offer an extra cup of hot chocolate, or a warm cookie or muffin if the temperature drops that far. 
Connecting the discount and the cozy atmosphere of your shop to the bitter chill of winter will also leave a lasting impression, and people will remember your offer on their cold winter walks.
4. Day-based campaigns
You may be familiar with the New Year's countdown, only instead of seconds, we're switching to days. For each day of December, counting down to the New Year, give your customers a unique offer. You could give special discounts or small gifts for every purchase specific to each day. Certain days could have larger gifts than others. If you operate on those days, December 24th and 25th should stand out, wouldn't you say? And, of course, the 31st should be the greatest of them all, ensuring people meet 2020 with a smile. 
Connecting each day of the month to something special in your store can not only make people curious what you'll discount next, but also plan ahead. If they know that in a few days there will be a discount on shoes, clothing, or furniture, they'll know when to drop by. You could take many extra steps here, including allowing for a reservation on purchases. This way, your customers don't have to fear a certain product will escape their hands by the time the discount day arrives. 
Such a countdown also works well as an Advent calendar practiced in some regions of the world where you open a so-called door behind which a small gift is found for every day of December till the much anticipated Christmas. 
5. A more convenient shopping experience
We've talked plenty about the many ways to create a better customer experience overall, but this time we focus specifically on the holiday season.
In the snowy magic of winter, there is one thing nearly everyone does: shop! To make this more convenient, use your in store analytics to see at what times of the day your store typically is most crowded, and more importantly, when it won't. With this knowledge in mind, you can set up a quick campaign on your displays to show peak hours. This way, customers won't necessarily focus on just one time of the day to visit your store, but may be more evenly scattered throughout the day. Not only does it make things easier for you, it also makes it better for them as they can have a more pleasurable shopping experience without a massive crowd.
6. Targeted ads for winter gear
We kept this particular idea for a bit further down in this article because, let's be honest, it's nowhere near as exciting as the prospect of indoor snowfall, temperature based campaigns or daily discounts. It still is a very important and effective use, nonetheless, and likely something you already have deployed on your displays.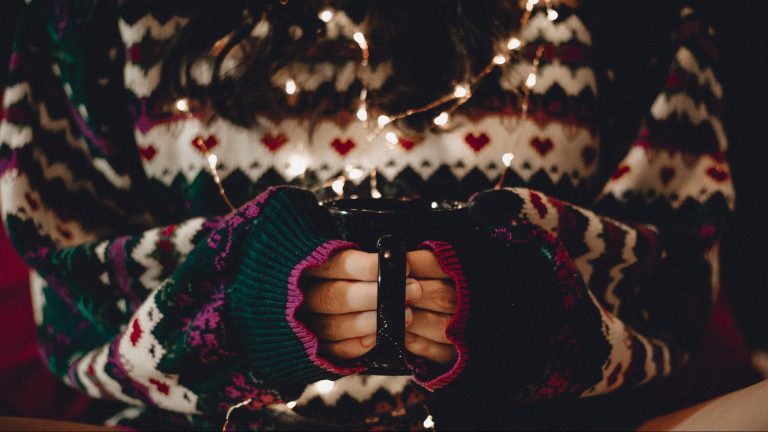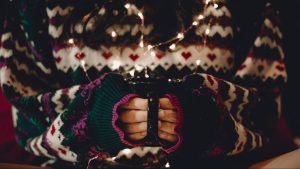 Although most people already have their winter gear ready by this time, many are looking to upgrade and refresh their wardrobe. Targeted indoor and outdoor ads for discounts on winter shoes, coats, gloves, or caps could be an excellent way to become the provider for this need. It can be effective for any type of goods specific to the season. Apart from clothing, products like winter tires, hand and foot warmers, or winter-specific gadgets can be great ad campaign material.
7. Christmas gift recommendations
The fact that anything can be a gift makes this idea non-restrictive based on the type of industry you're in. Be it clothing, candy, shoes, or a set of tools for fixing the pipes, anything can be made a gift. This idea can increase your sales, if you know how to advertise it right.
Keep it simple. There's no need to imply who the gift is for based on gender or age as that might put off potential customers. A set of tools could be a great gift for a father, brother, or mother. Sometimes, we just need a nudge in the right direction to remind us that a special loved one would appreciate a particular gift. All we really need is the visual of the product combined with gift wrapping. This immediately makes us think who we could give this to, we know someone who might enjoy it. Complementary to this campaign, offer free gift wrapping.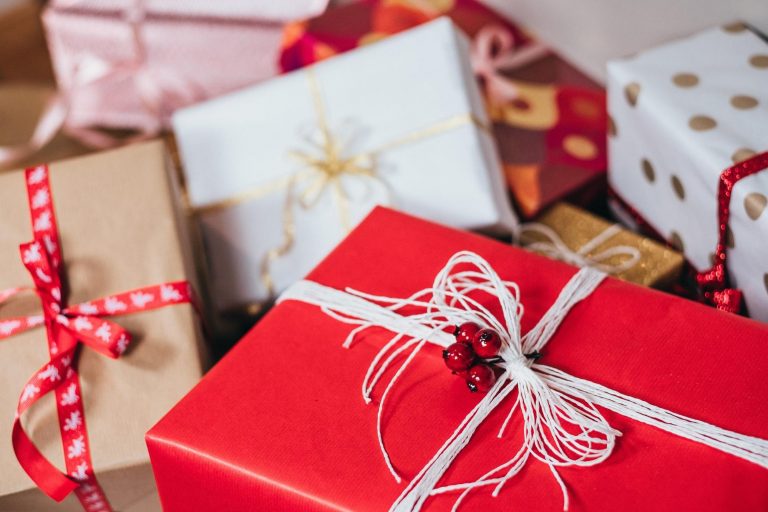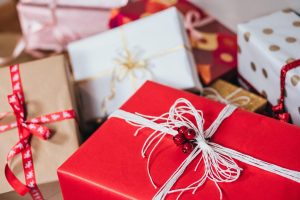 Hopefully, one of these ideas may become a reality for your business, as they're certainly going to bring you closer to your target consumer. Even if none of them fit perfectly to your set up, use your digital displays in some unique way during this month, as this is the best possible time for their potential to shine through. Be sure to check out our article on the benefits of digital signage during the holiday season as it will certainly help you make your holiday-based ideas a reality.