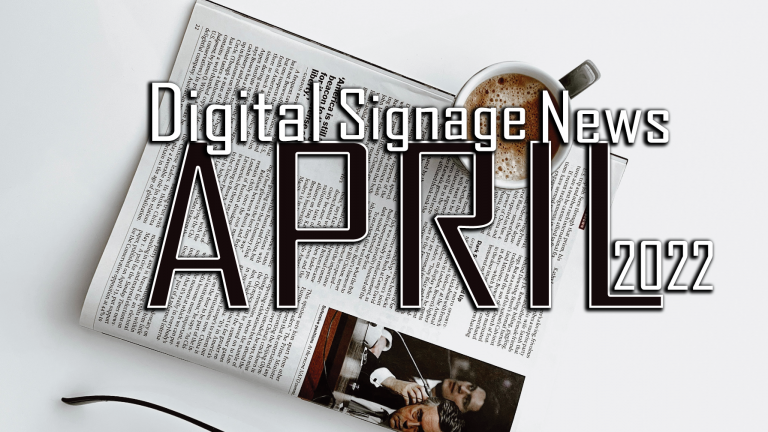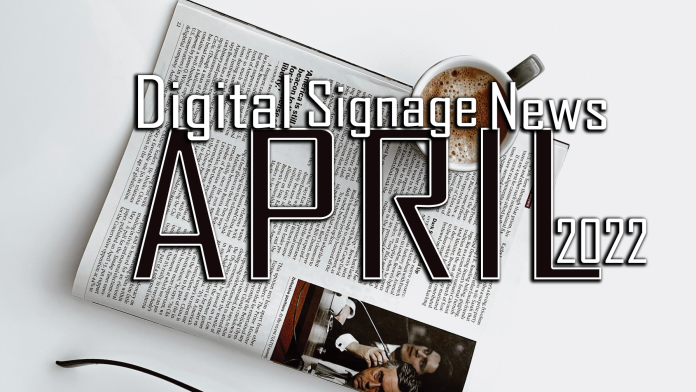 Now, that we have concrete numbers for the start of 2022, April delivered some promising news! It's going to be a good year, unless something surprises us, which wouldn't be the first time. The first quarter achieved high numbers for Out-of-Home. We also look ahead and prepare for big OOH events in the upcoming months. If that isn't enough, this month we saw a 60 feet tall hologram in multiple locations across the globe, as well as some useful stats when it comes to engaging consumers.  
800+ Exhibitors booked for ISE 
Integrated Systems Europe 2022 is set to take place between May 10th and 13th and is not only one of the big OOH events coming in May. Last year's ISE moved from Amsterdam to Barcelona, but was faced with the challenge of COVID-19. This year, the event will take place in full swing. For comparison, 2019 and 2020 counted around 1,300 exhibitors. Thus, while 800 is impressive given the circumstances, the event is not back to its regular numbers just yet. Some of the bigger brands attending ISE this year include Microsoft, Panasonic, Zoom, Sony, and Samsung.


ISE 2022 will feature trade show halls and five days of conferences, starting already the day before the exposition. Within this much time, there will be quite a lot to see as many innovative brands look to debut products there before they make their way into the market.
The colossal HALOgram breaks records
This month, Paramount+ commissioned a public event for one day in four cities around the globe. A 60ft tall hologram of a character from the game-inspired TV series Halo, Master Chief: Spartan 117, had all eyes on it. One of the locations where this hologram was shown was the Sydney Harbour. Although, as Dave Haynes describes it, it's not actually a hologram since it's technically an image projected onto a surface which does not meet the definition of a hologram, but we keep in spirit with the pun. The surface in question is a silver-infused gauze curtain which enabled the projection of this massive sight. 
The same hologram was also installed at famous locations in Mexico City, São Paulo, and Toronto. Each of these installations weighed over 24 tons, and required over 100 meters of metal trussing to support 126 square meters of specialist hologram gauze.
Q1 2022 looks promising for the US 
US ad spending surged by 13% during the first three months of 2022, based on the Standard Media Index analysis. Digital advertising (+24%) and OOH (+72%) are on top, with significant increases compared to Q1 2021. Meanwhile, the only media that has not improved were magazine ads (-24%) and TV (-0.1%).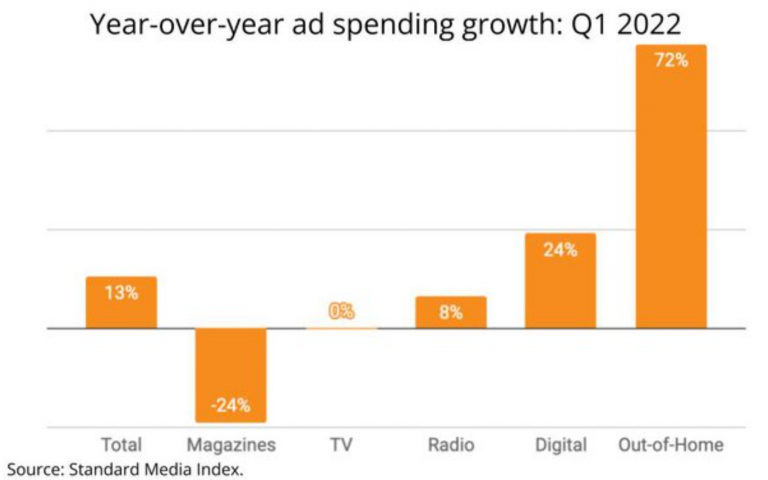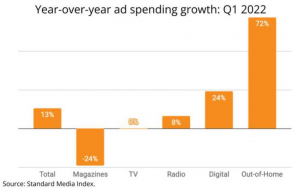 In terms of media owners, Google's ad revenue was at its record peak of +10% in March. Disney ad revenue jumped +8% in March, as did Facebook ad revenue, +16%. The growth for Out-of-Home in general is in line with the numbers from 2021 which showed a global growth. Q1 delivered excellent results for the industry, and we may hope the rest of the year follows this path.
The main events of 2022
The coming months are high season for some big OOH events. In case you're interested in attending any of them, there's still time to register. Take a look at the event plans and the exhibitor lists. Most importantly, as with any other event you might be attending, pay close attention to COVID-19 protocols as the requirements vary depending on the event. These are the big OOH events coming in May and June 2022:
Special occasions shopping shows potential
This month on our blog we explored the potential of digital signage in the context of special occasions. According to research, consumers truly appreciate when digital signage comes to their aid in picking out a gift during a special day where gift-giving is at its peak. At the very least, digital signage helps customers to brainstorm on gifting ideas and possibilities. Of course, not all businesses offer products or services which make for an ideal present. In that case, gift cards come in handy as they can bridge that gap and still offer a gifting opportunity. 


Regardless of what your business sells, you can take advantage of special occasions and add another piece of compelling content to your digital signage database. Read the full article on our blog for a more in-depth look!