Restaurants are one of the main industries which can benefit from digital signage – and that in multiple ways. Digital menu boards, entertainment and employee training are just some of them.
For the popular and fast-paced restaurant chains which derive substantial sales from on-the-go customers,  drive-thru digital signage turns a simple window in the wall into a thriving experience.
Digital drive-thru menus can boost sales up to 8 percent for quick service restaurants.
Drive-thru sales are extremely efficient for a fast food restaurant of any size, and this efficiency can be pushed even further with digital signage. For starters, the competition in the fast food industry is tense and having some uniqueness can greatly draw sales.
Digital signage became a common component found indoors for most fast food restaurants and it only seems logical that this evolution should be taken outside. With up to 70 percent of sales occurring at the drive-thru window, it is clear where the focus should be brought to.
1. Faster and better quality of service
Digital signage can provide a faster and higher quality service in a standard drive-thru. Overall, it can immensely contribute to the amount of sales and customer satisfaction in quick-service restaurants.
Promote special deals or best selling items. This not only encourages more purchases, it can also speed up the ordering process as the buyer doesn't have to read through your entire menu.
Suggest complementary items on the menu. This can lead to an additional purchase or even provoke an upsell by encouraging the customer to buy a product that's on a more expensive side.
Rotating offers throughout the day is sweet and simple with a digital menu at hand. The breakfast menu can vanish at 11 AM and a lunch menu can easily take its place. Highlighting unique offers throughout the day is another way to improve the mute sales conversation. This eliminates the indecisiveness an occasional customer will face and speeds up the ordering process while keeping the food and content fresh alike.
With this example of benefits for restaurants, you can imagine how these benefits can be applied to other industries or establishments. Essentially, drive-thru digital signage can be applied to any environment where people need a product or service immediately, neither of which they can obtain online or in advance. It is best if the product is not too elaborate or customized as this maintains the two key components: efficiency and speed.
2. A promising return on investment (ROI)
Drive-thru digital signage relies on targeted marketing messages which can be easily changed and accomplish more than static signage ever could. With that in mind, digital menu boards can be quite a pricey investment, still being relatively new. The good news is that the ROI for digital menu boards in drive-thru environments delivers on its promise. Quick service restaurants are estimated to get a ROI for their digital menu board investment at some point in between 9 and 18 months, according to Eclipse Digital Media.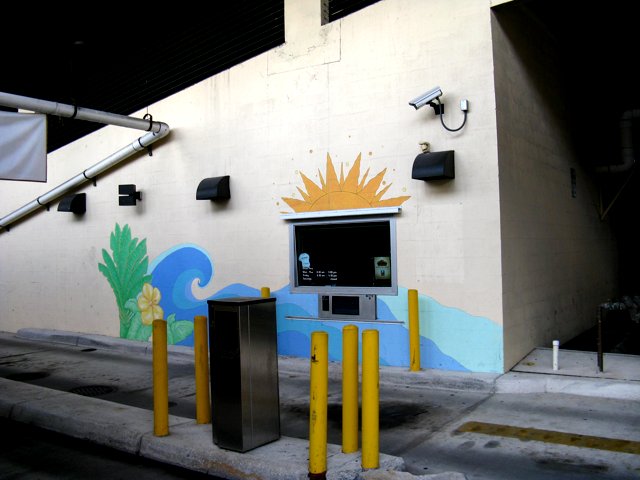 Although the results vary for individual operators, digital signage may be the cutting edge and keeps the brand up to date which in itself positively influences sales. "Implementing digital is a brand building exercise. It's keeping it relevant; keeping it modern," said Oliver Vagner, principal architect of Solution Forge LCC.
3. Drive-thru digital signage beyond restaurants
A matter worth mentioning is that drive-thrus aren't solely for restaurants. Look at the bank drive-thru technology and the potential it holds. Many banks are using it: Wells Fargo for example, has 14,000 drive-up banking lanes across 4,000 locations. The reason this alleged trend of drive-thru banking hasn't grown faster may be attributed to the complexity of deploying digital signage outdoors.
Worries over safety, visibility and exposure to the elements are eliminated when deploying digital signs inside a bank. Thus, building an entire outdoor network may appear as a challenge. With all the benefits of digital signage, it is no wonder this trend is growing as it can provide that edge to overpower the competition.
All these digital signage benefits which show in the inside of a bank branch can also be applied in the drive-thru lane:
Increased productivity

Decreased waiting time

Provision of more information with ease (special offers or promotional trials)

Enhanced customer loyalty through communication and branding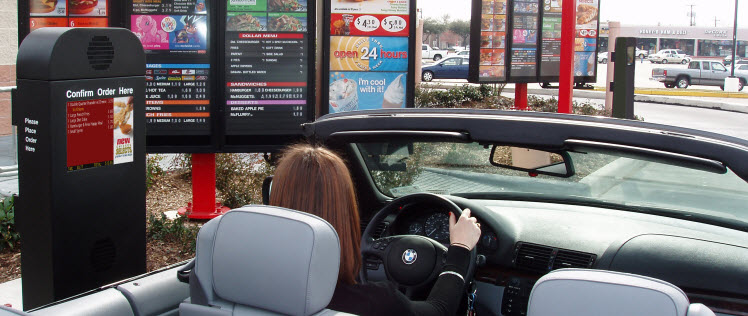 As we observe the benefits of drive-thru digital signage in both a quick-service restaurant and a bank, it's clear that these benefits aren't limited to these two environments. They can also be applied to any industry which opens itself up to the convenience and efficiency of drive-thru selling. Shopping is a great example and drugstores or convenience stores are highly eligible.
Despite the obvious benefits of adding signage which is digital to the drive-thru spot, it's still not entirely commonplace. Exactly that can be an advantage for any establishment with the proper application for it, looking to find the advantage over the competition.
Images by Clyde Robinson, s2art and RDS.