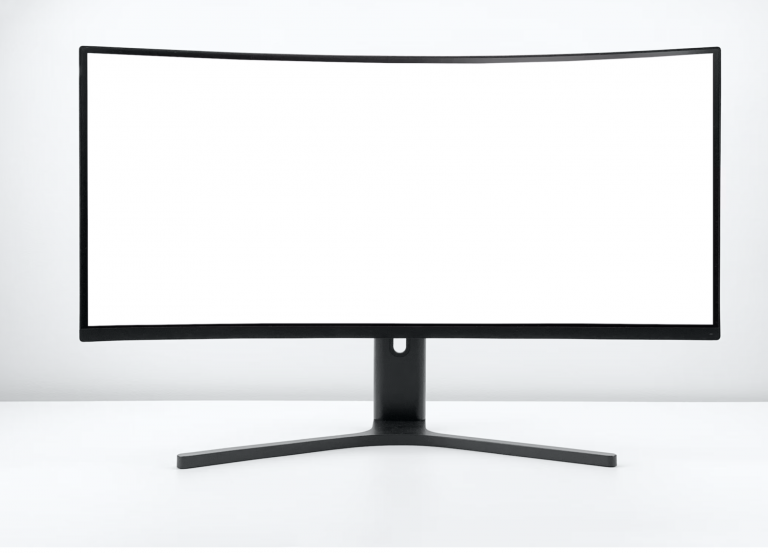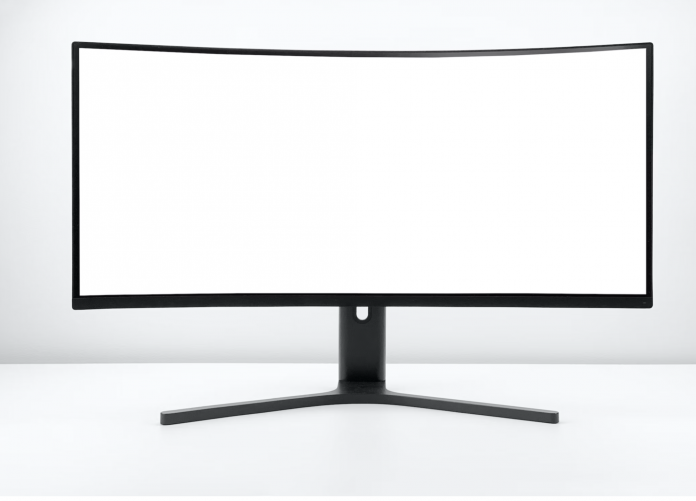 In a world of flat technology, curves catch the eye! Yet, is appearance alone worth it to invest in curved displays over the dominating flat ruler? In the scope of replacing a display or two, the change might not make a colossal splash. It will simply elevate the appearance of your content. Then, when you dedicate yourself to truly building content designed for curved displays and using them with a specific use case in mind, you might just find it worth the investment! With that said, let's consider the main benefits and reasons why you should consider investing in curved digital signage displays.
Increased visual engagement
No matter the content on them, curved displays immediately draw attention to themselves simply because they are curved. Even if the curve is subtle, our eyes pick up that something is unusual. That in itself, in this day and age, is a very powerful feature which will have stares flying at them to examine them closely. This feat works exceptionally well if the content itself is engaging at a glance. Essentially, the display type ensures the glance. It's up to you what you'll do with it!
Another benefit is that curved monitors offer a larger perceived field of view. Due to the curvature, our eyes will pick up more detail at once. While this in itself isn't such a colossal advantage over the traditional flat variant, it does make for a slightly more immersive and enjoyable viewing experience.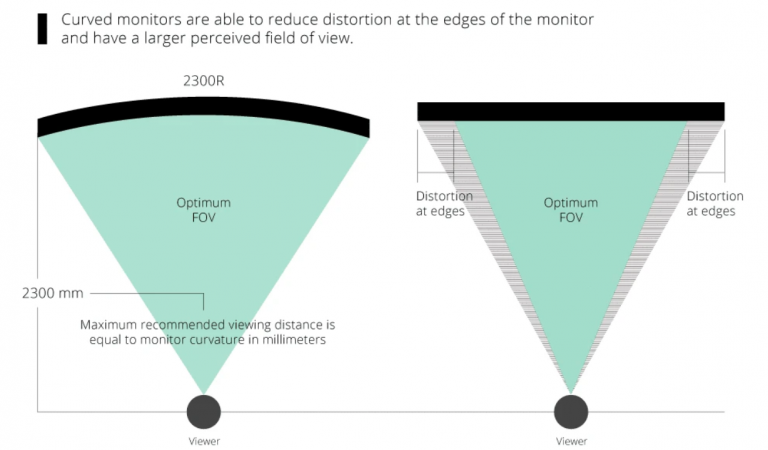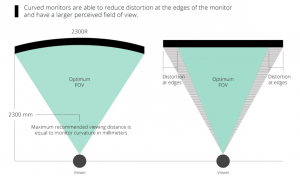 An important point to highlight is the context for using curved displays. While they're exquisite when observed directly, they might prove less effective when viewed from certain angles, such as a person walking by.
Enhanced product showcase
Tying into the topic above, curved displays work best when you can easily predict viewing angles! Thus, curved displays are excellent for showcasing products, particularly in a retail environment. As the consumer approaches the product at hand, the curved display provides a more memorable and unique experience as it displays information about the product. This particular application works because you can predict the exact location and viewing angle of the customer. It works even better if you set up the display to run content as a lift & learn experience, when the product is picked up.
The curvature itself provides additional surface area for more product information, as well as an extra visual kick. But still, the curvature alone won't seal the deal in this context. Be sure to check out our article on properly using digital signage for product demos. 
Convey a modern appearance
Utilizing curved displays demonstrates a commitment to innovation and modern technology, enhancing the image of your business. Curved displays are, simply put, cool to look at. We have to be honest and say that they are not excessively superior than their flat counterparts. After all, in the digital signage world, the content is king. But they can provide a modern and sleek aesthetic which can set you apart.
We discussed the visual engagement factor above. But engagement with regard to interaction is also more likely to happen if on top of quality content, the frame it's delivered in is highly appealing to the eye.
Stand out from the crowd
The ability to stick out is useful when surrounded by other businesses. This extends to your presence elsewhere. For instance, trade shows or exhibits are areas where you truly have a limited amount of time to make an impact. In such a case, you want to pull all the stops and use every trick you have. A curved display to feature products, engage consumers, or to simply act as background décor can be of use to etch yourself in the memory of visitors.
Immersive brand experiences
As brands focus on building unique and memorable experiences, the means these experiences are delivered through can leave a lasting impact. Interactivity, for example, is more inviting and exciting through modern technology. It goes a further step forward when built around the content it's displayed upon. With software such as OnSign TV, you can section up your display in any way you choose. You may even build a video-wall consisting of several displays. A social media wall on a canvas of that size could prove interesting.


You may also consider using curved displays to build pillars which display visual content. Whether this is informational or aesthetic is up to you. Consider the content elements you're already using, your brand image, and the style of your overall digital signage content and appearance. The result you come up with can be as simple as a single curved display or as complex as a 360 degree guided visual tour. For instance, in this London movie multiplex, a curved LED display subtly blends with the environment to transform the area without sticking out too much.
Consider the ways you may utilize such displays for your own business. Then, of course, turn to OnSign TV when the time comes to deploy your content!
Cover image by Mediamodifier.