We've restructured our widgets management to make your life easier, it's now possible to reuse a single widget in multiple campaigns!
In the past, you would have to configure your digital signage widgets each time you wanted to add them to your campaigns - even when you wanted to use the same widget in different campaigns. But now when you add a widget, it'll be immediately shown as an option for you to reuse it when needed. Plus, specifically for weather widgets you don't need to set geographic coordinates anymore. Just type your forecast location, as you can see below: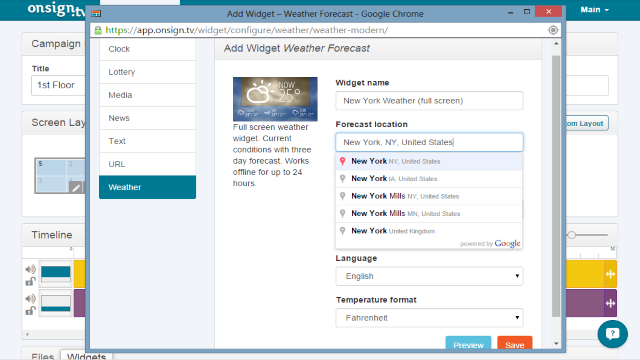 We've also divided our digital signage widgets into 7 categories: clock, lottery, media, news, text, URL and weather. Now all you have to do is click + Add Widgets when creating a campaign, then choose one of the many options we offer and customize it the way you want by setting your widget properties. Just don't forget to give your digital signage widgets meaningful names so that you can easily find them afterwards.
​Once you Save your widget, it'll automatically appear on your Widgets tab. Just drag and drop your digital signage widget to your timeline and that's it! Next time you want to use that widget with the exact same properties (format, language, etc) in another campaign, you won't have to add it again: just reuse the same one. Note that we've fixed widget thumbnails as well, making them really match your widget in terms of color and properties.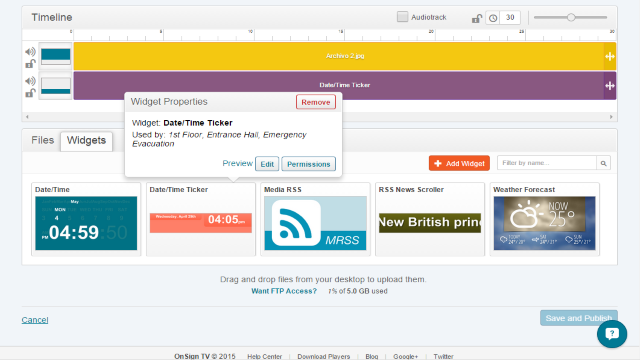 Bear in mind that when you Edit a widget, you'll be making changes to every campaign using that specific widget. Now there's no need for you to manually go to every single campaign and change your widget properties. Once you edit your digital signage widget, it'll be changed in every campaign with that widget.
Do you realize how Reusable Widgets make your digital signage easier to be managed?
And that's not everything... stay tuned for further updates about our widgets restructuring! This change just paves the way for you to make your own widgets through OnSign TV, which is something we hope to implement very soon.